Special Interview: Akira Itsuki

These days Akira Itsuki is no longer just a cosplayer, but is also releasing CDs and photo books as an artist! Her popularity has spread far and wide! She is no longer just known in Japan, but also in various places throughout the world! We spoke with her about some of her experiences of travelling abroad!
What's her beauty secret? Plenty of sleep!?
Q: The event is just about to start, can you tell us what you are looking forward to?

Itsuki
: This is my first time on Jeju Island, and also my first time in Korea. As this is the first time that this event has been held, I was a bit nervous about how it would pan out, but it's been so great!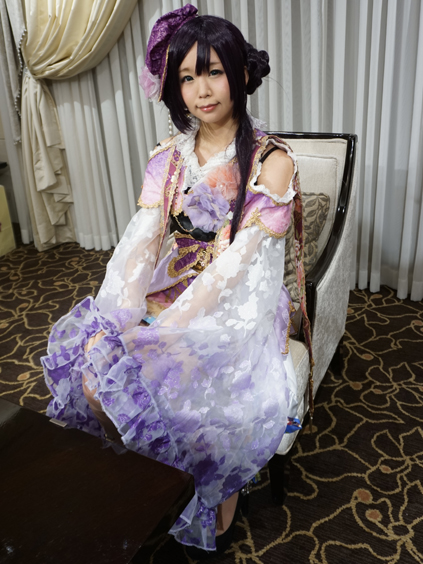 Q: Your cosplay outfit today has lots of frills, and the graceful colors make for a really elegant picture! Can you tell us about your cosplay character?
Itsuki: I'm dressed as Nozomi Tojo from the January "Tennyo" (Angelic) Version of the "Love Live!" School Idol Festival game.

Q: What was the reason for choosing this cosplay outfit for today?
Itsuki: It's really lovely and also at this event there's cosplayers from all kinds of different places and many of them are wearing really bold, exciting costumes. So that's why I've gone for this outfit.

Q: What is your stand-out item?
Itsuki: I'm always getting myself in a kerfuffle, today I was stressing out about my wig!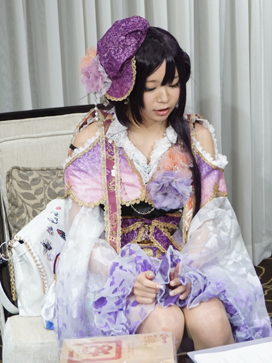 Q: It's so cool to see you talking in this way (being so open with us). Do you have any beauty tips, or any routines that you maintain in order to stay in shape?
Itsuki: Nothing in particular... Before an event, with one eye on the show, I will do some muscle training. And then make sure to get lots of sleep.

Q: How much sleep do you usually get?
Itsuki: When I fall asleep, I really do sleep! I sometimes sleep around 12 hours. When I don't have plans I get around that much sleep.
Then, I'll go to the beauty salon. When I have the motivation, I like to going to the salon and going to get my nails done. Your nails are so cute!

Q: (Itsuki complimented the nails of the asianbeat interviewer!) Thank you so much!! I was participating in this event, so I wanted to make an effort!
Itsuki: Looking at your nails sparkling really raises your spirits, don't you think!

On my first trip abroad I tried hotpot in Chengdu, China...
Q: You mentioned that this is your first time in Korea, but have you taken part in any other overseas events?
Itsuki: Mainly in Asia, I've been to a few places in China. Guangzhou, Shanghai, Chongqing, Chengdu... places like that. I've also been to some other places, like Bangkok, Laos and Taiwan...

Q: Wow! You've really travelled a lot! Were there any experiences you had abroad that left an impression on you, or was there anything that surprised you?
Itsuki: Well, I don't have many major troubles or concerns (when it comes to travelling).
But when I was in places like Chongqing, or Chengdu in China, basically all the food was spicy! I guess that's because it's Szechuan cuisine! The first time I went abroad I was in Chengdu, so it was nothing but Szechuan cuisine! I can't really handle spicy food, I like Korean kimchi, which I can just about handle, but when it comes to really spicy food, that's really tough (lol)! I do eat hot pot, but when I see that dark red soup simmering, I feel a little scared! When the food is really spicy, that's comes as a shock!

Q: Was your throat alright afterwards?
Itsuki: After that I chose not to have the spicy stuff. I would have hot-pot with soup that's not spicy, I would tend to go for the white soups.
But even though the pot on our table would usually have white and red soup (to choose from), and when I would look at the tables around us, they would only have the red soup! And I thought to myself... "that's incredible"... The locals really are accustomed to that kind of hot, spicy food!

Q: How was the food in Thailand and Laos? What about coriander and that kind of thing?
Itsuki: Oh, I'm not good with coriander! I like Thai food like Pad Thai, food that doesn't have coriander inside. I don't have any particular idiosyncrasies, so I'm not such a fussy eater, which means that I can try all kinds of delicious foods. When I go abroad I don't have any major stomach complaints. I'm able to get by without too much trouble.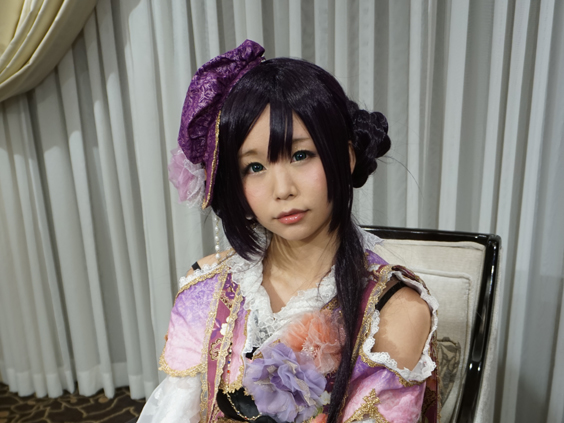 "I would love to go to Fukuoka and try the ramen!"
Q: asianbeat is a site that is run by Fukuoka Prefecture, have you been to Fukuoka?
Itsuki: No, I've not been, but I would love go. I would love to visit Fukuoka and try the ramen! It's Ichiran (a chain of ramen restaurants that originated in Fukuoka) that made me think to eating Fukuoka Ramen. I just love Ichiran!

Q: Ichiran's flagship store is in Nakasu, Fukuoka! And there's also a ramen museum called "Ichiran's Mori," which is kind of like a huge ramen amusement park!
Itsuki: Wow! I want to go! When I said that I love Ichiran, I was surprised at hearing that its flagship store was in Fukuoka!

Q:Unfortunately there is no Ichiran Ramen here today, but we did bring some famous Fukuoka sweets with us. We've got green tea flavored hiyoko manju (baby chick shaped bun filled with bean paste) and mentaiko (spicy pollack roe) flavored senbei (a kind of Japanese rice cracker), which is called "menbei" for short! And also some candy made with "amaou" strawberries grown in Fukuoka!
Itsuki: Oh, that sounds great! I want to try them right away!

Q: We're so happy that you like them! Giving you some of our local treats to try is a part of our plan to make you fall in love with Fukuoka (lol)! Finally, do you have a message for your fans and for the asianbeat readers
Itsuki: Right now I'm active in Asia and Japan, and I really hope for that to continue. Thank you to everyone for your continued support!
PRESENT CAMPAIGN!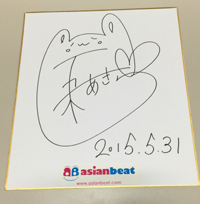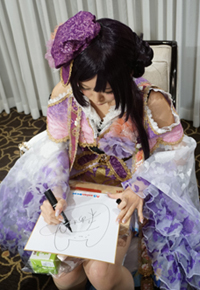 [Prize] We are giving away Akira Itsuki autographed cards to TWO lucky asianbeat readers!
[Application Period]
Until August 2nd (Sunday), 2015 (Japan Standard Time)
The application period is now over. Thank you!
The two lucky Akira Itsuki's autographed cards' winners are...
由雨ノすけ san
黃韋綸 san
* Winners will be announced on the 4th August 2015!
(asianbeat will contact you directly, so please make sure to include your e-mail address!)