Special Interview: MON

Dressed in a gorgeous, eye-catching cosplay outfit, Mon really shone at the event!! She gave us such courteous and polite answers during our interview and has just the sweetest voice!!
"My body is feeling the strain a bit, but thanks to everyone's amazing support, I'm in really high spirits!"
Q: How did you find today's event?

MON
: All the Korean fans were so great and really supported us, I had such a fantastic time!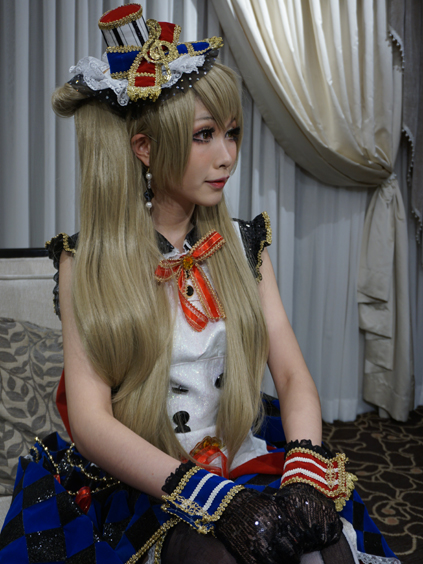 Q: We could really feel the heartfelt enthusiasm of all the participants!! Everyone was so excited!! There was so many people participating in the photo session and contests, are you not tired?

MON
: My body is feeling the strain a bit, but thanks to everyone's amazing support, I'm in really high spirits!
Q: That's so great! All the guests were so happy to meet you! Can you tell us about the cosplay outfit that you are wearing?

MON
: I'm dressed as Kotori Minami from "Love Live!"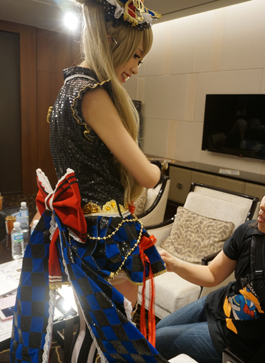 Q: What was your reason for choosing this outfit?

MON
: There's so many opportunities to appear on stage at today's event, so I went for a bold outfit that would really shine when I went up on stage.
The outfit was made over a considerable amount of time from material I had chosen, after I had decided that it would be from be the anime "Love Live!" I was committed to having an outfit that would really sparkle, and worked on creating something that would shine on stage.
And because "Love Live!" is an anime about idols, I decided to make something which just screams "idol!" There's a big bow on the back of this outfit, which I just love! And I'm obsessed by the skirt, the surface material and the lining were made separately and joined together at the last moment. Oh, and I really love this hat!
Q: A lot of care and attention has gone into this outfit, hasn't it! There's so many fine details, we are so impressed that you made it!
Changing the subject, we've come here today from Fukuoka Prefecture, which is famous for its tonkotsu ramen and mentaiko, have you been to Fukuoka Prefecture?MON
: I know it, but I've not been. I like ramen, there's tonkotsu ramen restaurants in Taiwan, I'm not sure if it is the same as what you find in Fukuoka, but I have tried it.
Q: You mentioned that you love ramen, but is it not difficult staying in shape? Is there anything you do in particular?

MON
: I'm not on any special diet, but I do often have troubles with my stomach.
"I would like to go sightseeing around Japan once a year!"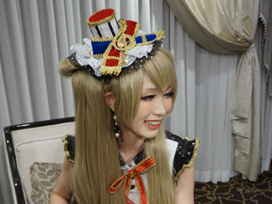 Q: Is there any food that you have to be careful with, or that you can't handle?

MON
: I try not to eat greasy food.
Q: Isee. What about sweet foods, we've brought some famous treats from Fukuoka for you to try! It would be so great if you picked up some information about Fukuoka!

MON
: Thank you so much! It's a dream of mine to go sightseeing around Japan once a year! Just this past month I went to Tokyo, but on my next trip I want to visit Fukuoka!
Q. There's direct flights between Fukuoka and Taiwan, so please visit! And finally, at asianbeat we do our best to pass on news and information to the rest of Japan, Asia and the entire world. Do you have a message for the people that read asianbeat?

MON
:... Well, what can I say??
Q: Mon, you are so cute when you're thinking!!

MON
: Japan is such a charming place, it's a country with so many attractions! If it's possible I would like to visit again and again! It would be wonderful if everyone found the articles and interviews about today's event interesting. And if it's alright to say, I would love it if people could learn a bit more about me!
Q: We'd like to see you more on asianbeat website sometime near future!

MON
: (In Japanese) Definitely!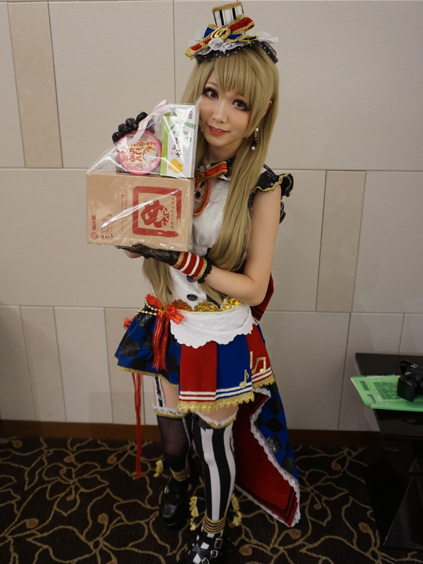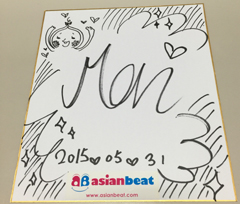 [Prize] We are giving away MON autographed cards to TWO lucky asianbeat readers!
[Application Period]
Until August 2nd (Sunday), 2015 (Japan Standard Time)
The application period is now over. Thank you!
The two lucky MON's autographed cards' winners are...
한일러 san
薰薰 san
* Winners will be announced on the 4th August 2015!
(asianbeat will contact you directly, so please make sure to include your e-mail address!)