The big 3 roller coasters… Titan MAX, Venus GP and Zatarn!(1/14)
If you talk about Supewa… This is probably what comes to mind! "Titan MAX"… One of the scariest roller coasters in the park!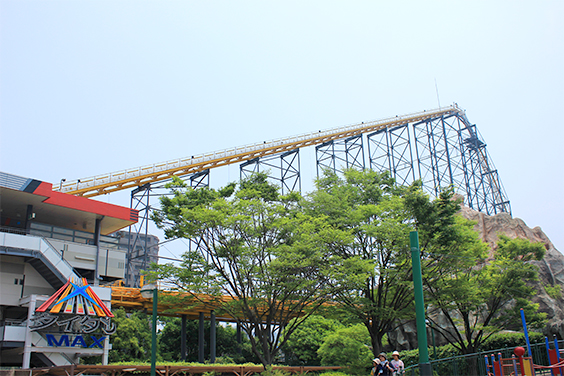 If you're talking about Space World's most famous attractions, look no further than the "Titan MAX" roller coaster! At its highest it's 60 meters off the ground and features 60 degree drops! A 3 minute ride that zooms around a 1530m track… With this roller coaster you will experience thrills, speed and the effects of gravity all at the same time. "Titan MAX" was renewed in 2015, taking all these thrills and excitement to a whole new level! The cars barely cover your body, so you do feel exposed. And as you start moving, it becomes quite difficult to put your feet down on to the floor (of the car), then when you start dropping it feels like you are floating mid-air!
The cars in this thrilling roller coaster speed around a dynamic course that features all sorts of twists and turns, including an 8-shaped curve (a bit like a camel's humps). As you speed through the track you won't be able to prevent yourself letting out a few screams! After the refurbishment it also became the first ride in Kyushu to adopt "Sound MAX." The system that was added means that you can now enjoy music while riding around the roller coaster, which further enhances the whole experience. Perhaps one of the scariest and most exhilarating attractions in Space World, a major reason for its popularity is that you only have to be over 120cm to get on the ride, which adds to the fear factor!
Titan MAX (タイタンMAX )
Fee: 1,000 yen (* If you do not have a free pass)
* Please note: Those that can't wait can skip ahead in the queue by buying a "Titan MAX Yusenken (Priority Ticket)" (1,000 yen) at the ticket machines in the VICKY Lounge.
Capacity: 24 people
Restrictions: Must be taller than 120cm to get on the ride (children under 130cm tall must be accompanied by a guardian). Not accessible to wheelchair users.