Fukuoka Otaku Map-ver. 痛(Two) - HKT48 Theater(1/14)

In this edition check-out our exciting report on Fukuoka-based idol group "HKT48" and their "HKT48 Theater," which plays home to their local activities! In this jam-packed article we've got all the photos and info from one of their recent live performances, so please read on!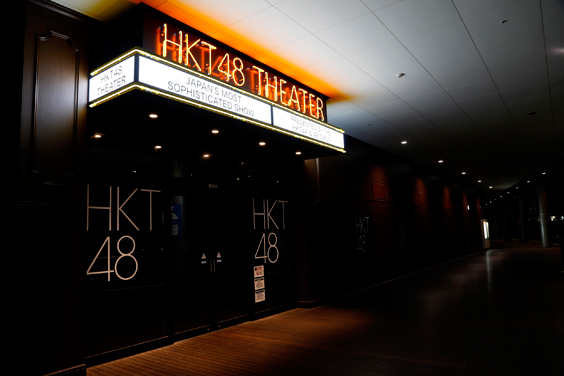 The HKT48 Theater is situated next door to the "Fukuoka Yafuoku! Dome" home of the professional baseball team "Fukuoka Softbank Hawks," who are one of the great prides of the local regions. In the theater lobby there is original merchandise, coin lockers and huge panels featuring the faces of the group members!
Let's get things started by introducing the shop!
All kinds of merchandise can be found inside, from items that you wear and use everyday, such as T-shirts, wristwatches and tote bags, to goods like fans and glow sticks, which will come in handy if your cheering on HKT48 live in concert!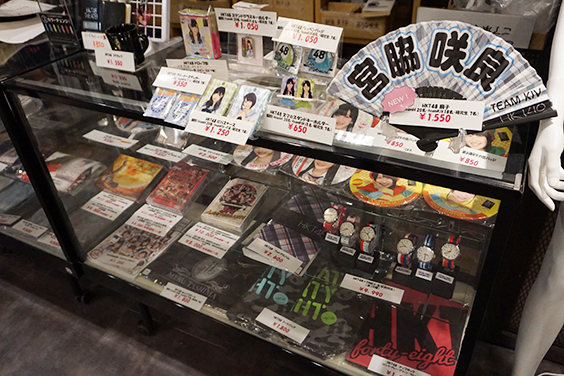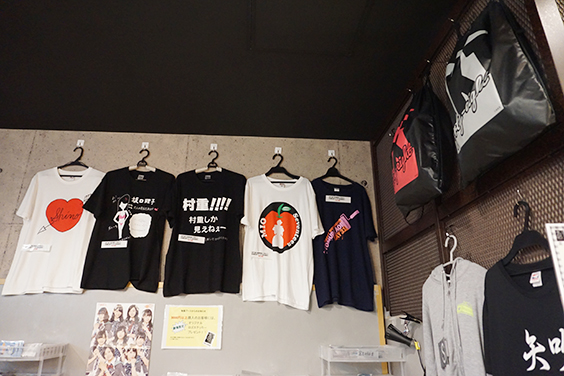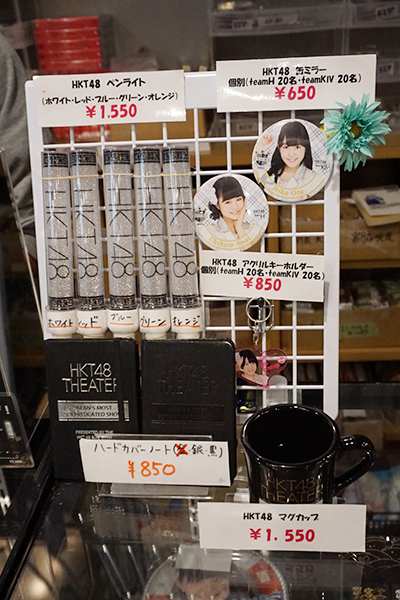 The "Glow stick (pen light)" is amongst the most popular items inside the store. These are the glow sticks that you always see at an idol concert. HKT48 logos are printed on them and they illuminate in 7 different colors!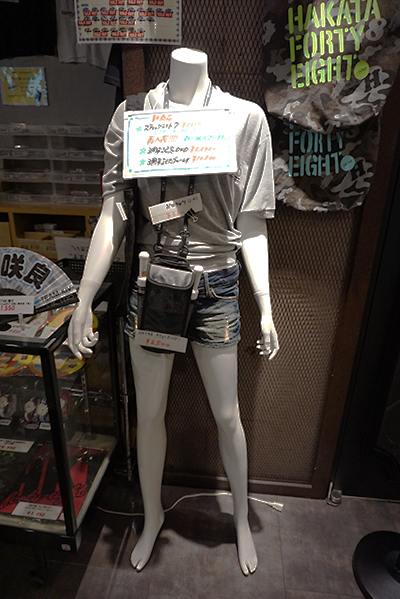 This is what someone would look like who has been fully kitted out and got all the goods they need to attend a performance! If you are planning to go along to a concert, make sure to reference the manikin and get hold of everything you need!
Luggage and bags are not allowed inside the theater, but you need not worry as you can leave your valuables and belongings inside the coin-operated lockers. (If the lockers are full there is also a cloakroom you can use.)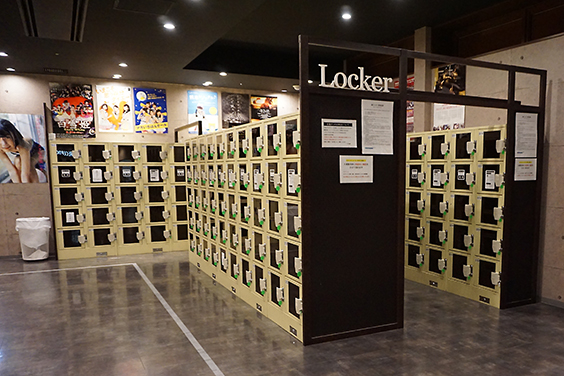 Beside the lockers the "HKT48 Newspaper," which is distributed to (fan club) members who registered with their mobile phones, is on display. The newspaper has been handmade by members and you can really feel their individuality come out in the various features, such as the "photo studio," the 4 panel cartoon strip, the columns and the "poem corner." It's really worth a look!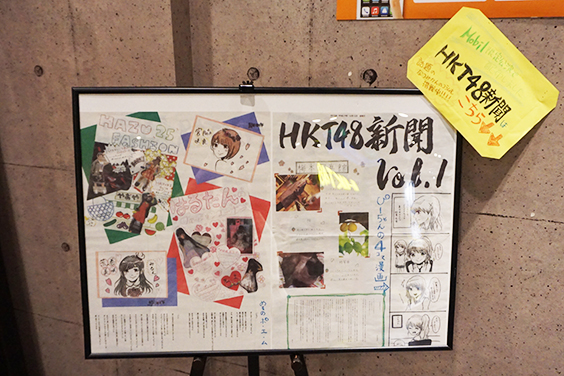 The maximum capacity for the HKT48 Theater is 300, making it the largest venue among the AKB48 Group theaters! (As of July 2015) There is 260 seats, standing room for 38 people and space for 2 wheelchair users. You can see the stage clearly from any seat inside the venue, so you can enjoy the concert in comfort!
For people who want to go and see HKT48 live in concert, but don't know how to purchase tickets, here's what you do...
You can not buy tickets for performances by the AKB48 group on the day, so beforehand you have to register (free of charge) as a member with the "AKB48 Group Ticket Center." Once you have been issued with a membership registration ID, you can apply for tickets for performances at AKB48 Group Theaters, concerts and various other events!
Step 1: Register as a member!
Click the new member registration ("新規登録") button in the upper right hand corner of the "AKB48 Group Ticket Center" website. Please follow the steps and register all the necessary information.
("AKB48 Group Ticket Center")
https://ticket.akb48-group.com/home/top.php
Step 2: Once you are registered... Login!
Click the login button ("ログイン") in the upper right hand corner of the "AKB48 Group Ticket Center" website.
Once you are registered as a member please login using the AKB48 Group ID issued to you, along with your password.
*Please note, in order to apply for the theater performances, concerts and various events that you are interested in you have to be logged in.
Step 3: Login completed... Apply for the performance you want to see!
Double check the information regarding the theater performance, concert and event you are interested in.
F.Y.I.) The application for general category tickets is open from midnight 0:00 to 20:00 3 days before the performance.
* Depending on the application, the deadline for submitting might vary.
Step 4: Register the names of those who you will be going with!
Please be sure to register the names of the family and friends who will be attending with you!
Step 5: Application complete!
Confirm your application by checking the "My page" section of your account.
Step 6: Check the results! Find out if you have been selected!
For the general category tickets, the lottery (to decide who gets tickets) will take place 2 days before the performance, prior to 15:00. You can check the results on the "My page" section of your account. Those who have been selected will receive a mail notifying them of their selection.
* Those who have not been selected will not receive a mail. Those who have been selected should arrive at the venue 30 minutes before the show starts. Tickets will be issued at the venue, on the day of the performance.
* For those selected, please be sure to bring identification/documents to the venue that confirm who you are. (The same goes for those accompanying you.)
Ticket Prices:
General category tickets for male: 2,100 yen (tax included)
General category tickets for female (as well as elementary, junior high and high school students): 1,100 yen (tax included)
Preschool children: Free
Here it is... What the fans have been waiting for... Our report from the live show!
Here's all the latest from HKT48 3rd Stage "Saishu beru ga naru (The Final Bell Rings)" live performance!
This was the 4th live performance of "Saishu beru ga naru (The Final Bell Rings)" by the AKB48 Team K. Aside from HKT48 Team H, SNH48 Team SII and Team X, and JKT48 Team KIII have also done live versions of the show! Within the group various teams are performing their own version of the concert!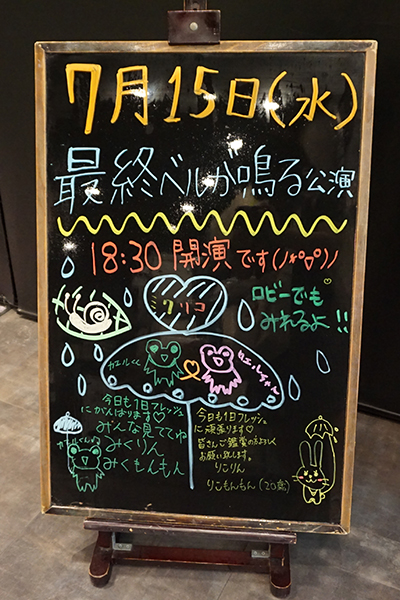 HKT48 Theater is HERE!
HKT48 Theater
Address
: [Nishitetsu Hall] 6F SOLARIA STAGE, 2-11-3 Tenjin, Chuo-ku, Fukuoka
2-2-1, Jigyohama Chu-o ku, Fukuoka-shi (Inside the Hawks Town Mall complex)
[*Relocated at the end of March, 2016]
Official Website
:
http: //www.hkt48.jp/
*For further information, please visit the official website.
PRESENTS
All the info. on asianbeat's present campaign!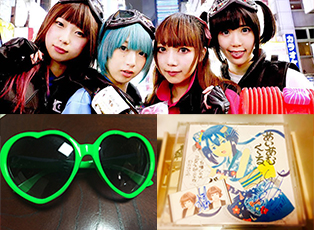 * Win a signed goods from Gekijoban Gokigen Teikoku Ichiho Shirahata and Hibiki Kunogi!
[Details] Click
HERE
!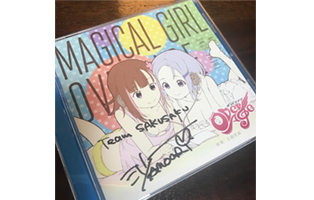 * Win a CD signed by Taketeru Sunamori!
[Details] Click
HERE
!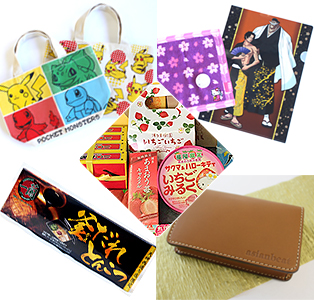 * Take Part in Our Reader Survey and Win a Really Great Prize!
[Details] Click
HERE
!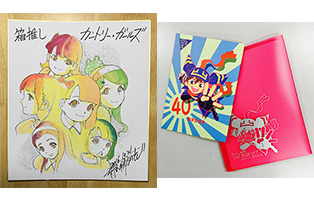 * Win a card signed by Hiroshi Koujina or a Studio Live 40th anniversary book and commemorative file!
[Details] Click
HERE
!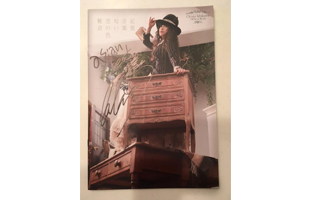 * Win a booklet autographed by Chiaki Ishikawa!
[Details] Click
HERE
!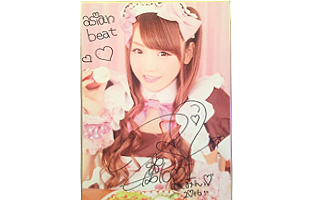 * Win a card autographed by hitomi!
[Details] Click
HERE
!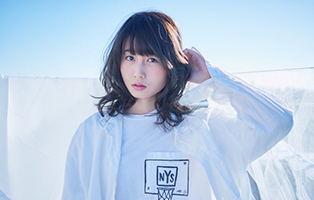 * Win a signed cheki (photo) autographed by Ririko Masuzawa!
[Details] Click
HERE
!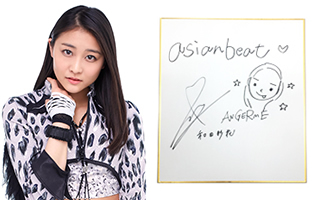 * Win a signed card autographed by ANGERME Ayaka Wada!
[Details] Click
HERE
!