#3 Living in and out of Home(3/3)
Most Prized Possession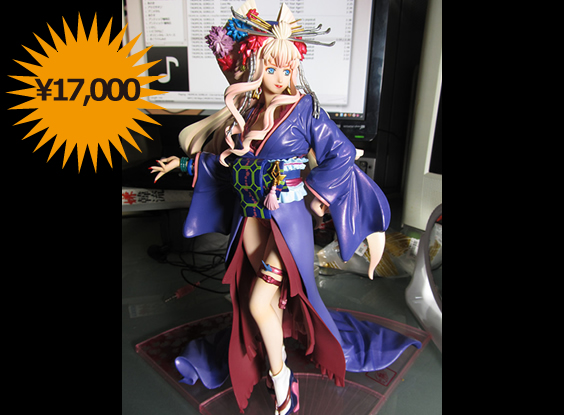 Sheryl Nome (Macross Frontier) figurine – the A-rank prize won in a convenience store lotto draw. In order to win this figurine he continually drew tickets from the lotto until the A-rank prize ticket came out. This ended up costing him around 17,000 Yen ($170). On the day the lotto draw began he toured around to (and also phoned) various convenience stores to check the status of the prizes but everywhere he went the A-prizes had already been drawn. At about the 8th store he visited the lotto was yet to commence so he waited in the corner reading magazines for around 2 hours until the lotto draw began. It ended up taking the whole day.
According to this otaku who spent a whole day drawing lotto tickets to get the figurine he wanted, when you're out to buy otaku goods "if it's cheap just buy it. If it's a little expensive but it's something you want, just buy it." Fingers crossed for him that he gets the car he wants soon so he can escape from the dormitory he's living in now and return home.
The cumulative total after this third installment of Otaku's @ Home is now 3,031,000 Yen!! There's still plenty of otaku's out there in the world though! If you have an otaku room you'd like to show us, we'd like to see it! We're waiting to hear from you!!
Only
6,969,000
Yen to go until we hit 10 million
Part 4 of Otaku's @ Home – Coming Soon!
⇒Otaku's @ Home – Return to TOP
Do you want to be part of Otaku's @ Home?
What does the inside of an otaku's room look like?
What leads one to become an otaku?
We're looking for people who can help us answer these questions!
You don't have to be an otaku, you could just be a collector.
If you have a unique room with a prized possession like the one's you've
seen in Otaku's @ Home, then we want to hear from you!

Send us an email at info@asianbeat.com
We look forward to hearing from you!