POWER OF GIRLS from TOKYO Vol.3 Josen Drum Dancers (ROBOT RESTAURANT)(1/3)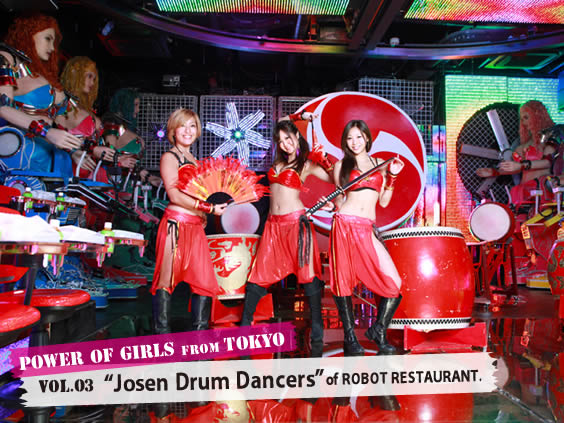 From left: Kagurazaka Nene, Amami Ryo, Maikaze Karen.
Photo/Interview: Taguchi Maki (MIG). Text: Natsume Chie (MIG), Tokoro Arisu (MIG).
It's the latest addition to Kabukicho's cabaret consortium and it has everybody talking. But with constructing costs totaling a reported 100 million yen and a parade of giant robots through the streets of Tokyo announcing its opening, how could it not!? The 'josen' (lit. "women at war") themed "Robot Restaurant" opened its doors in July this year. The cabaret style club features drum and dance performances by the 'josen' female dance unit but make sure to leave any and all expectations at the door because this is a performance like no other. Their show is all about positive vibes and the first-rate service that Shinjuku has come to be known for. The faces of the staff beam with a radiance that erases all worries of daily life and before long you're transported to dream world that can only be described as surrealism at its sexiest.
The three "Josen" members who agreed to take part in this interview are (in the photo) from left: Kagurazaka Nene, Maikaze Karen and Amami Ryo. We were pressed for time so we did the photo shoot right after rehearsals (which takes place not long before the actual performance) and we did the interview immediately after their performance, but the girls were all super excited and it really helped set the relaxed vibe for the interview.
Josen Drum Dancers (ROBOT RESTAURANT): Interview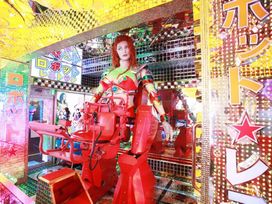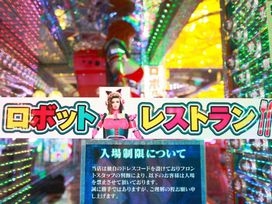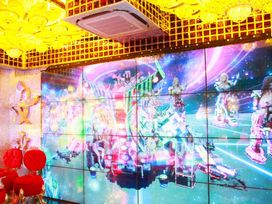 ● The ground floor lobby of Robot Restaurant (all four photos).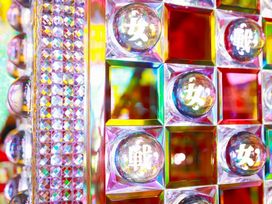 Taguchi Maki: Today I will be speaking with three of the staff at Robot Restaurant, so if you don't mind I'd like to begin. First of all, how long have the three of you been members of "Josen" (women at war)?
Maikaze Karen: We've had a lot of new faces join "Josen" of late, but the three of us all joined at around the same time.
Taguchi Maki: What lead you to join Robot Restaurant as a "Josen" dancer?
Maikaze Karen: I was approached by the HR manager and I liked the conditions and the company's way of thinking, and I guess that's what lead me here.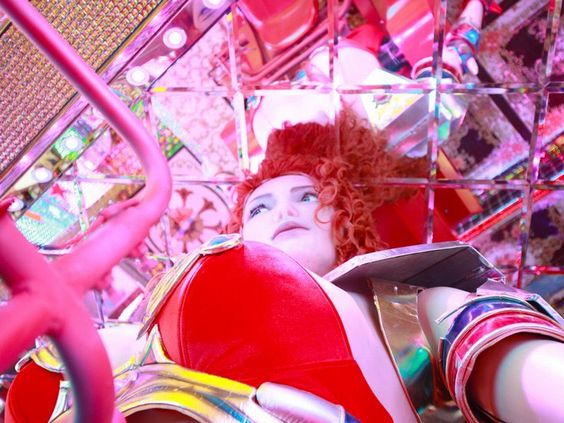 ● The sheer aura of this roof-high robot certainly packs a punch.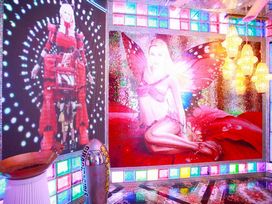 ● Videos are played on monitors throughout the elevator hall.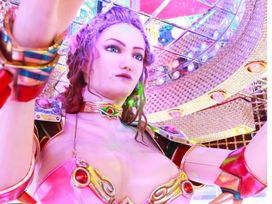 ● The expression on the face of this robot can be altered.
Taguchi Maki: You said you liked their way of thinking. Can you elaborate on that?

Maikaze Karen: Unlike countries overseas, dancers are still treated quite poorly in Japan, but Robot Restaurant really treats its dancers well. That's what I like about them.

Taguchi Maki: Right. It's an important point. And have you always been involved with dance, Karen?

Maikaze Karen: Yes. My father is a hip hop dance instructor, actually. Right before I came here I was in New York training in hip hop and that's when I was asked if I wanted to join "Josen."

Taguchi Maki: You were well and truly into dance then, weren't you? What about you, Ryo? How did you come to start working here?

Amami Ryo: I saw a job advertisement, that Robot Restaurant was looking for a variety of dancers and it peaked my interests. I was originally involved in hip hop but I thought this would be a good opportunity to learn other forms of dance like burlesque as well.

Taguchi Maki: So you were interested in this "Josen" style of dance. What about you Nene?

Kagurazaka Nene: I also saw the job advert. I had done some cheerleading in the past and I thought it would be great if I could apply that to a job of some kind. There was a whole range of dance genres listed in the advert, including cheerleading, so I decided to apply.

Taguchi Maki: It seems like a lot of the girls have had training in dance of some kind.

Kagurazaka Nene: To a lot of the girls, it's everything.
PRESENTS
All the info. on asianbeat's present campaign!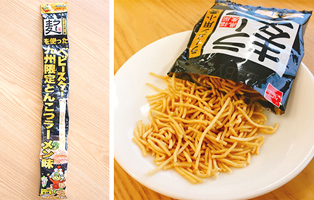 * Win a packet of "Ramugi Baby-Star (Kyushu limited edition tonkotsu ramen flavor)"!
[Details] Click
HERE
!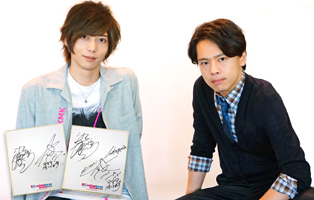 *Win a card signed by Akinori Nakagawa & Toshiyuki Someya!
[Details] Click
HERE
!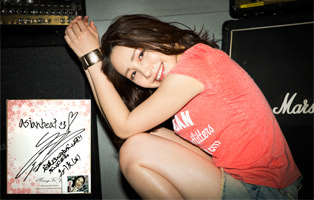 * Win a card and a cheki (photo) autographed by You Kikkawa!
[Details] Click
HERE
!