Press Conference @ Battleship Island

Totally unprecedented! Press conference held on Battleship Island just before it's registered as a World Heritage Site!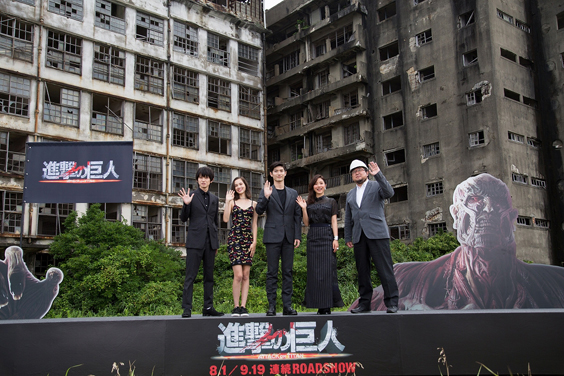 ©2015 映画「進撃の巨人」製作委員会 ©諫山創/講談社
On July 2 2015, Hashima Island (commonly referred to as Battleship Island or Gunkanjima), Nagasaki Prefecture, which was the location of filming for the live-action movie, "Shingeki no Kyojin ATTACK ON TITAN", played host to a press conference unprecedented in nature! On the day Haruma Miura (who stars as Eren, the film's protagonist), Kiko Mizuhara (Mikasa), Kanata Hongo (Armin) and Satomi Ishihara (Hans) joined the film's director, Shinji Higuchi for the press junket, where they spoke about their on-set experiences to over 50 media outlets Here's what the stars and minds behind the film had to say...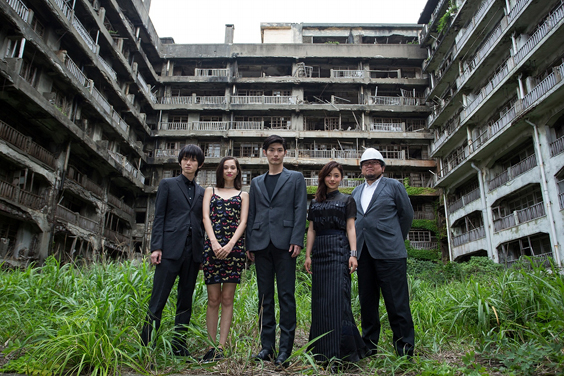 ©2015 映画「進撃の巨人」製作委員会 ©諫山創/講談社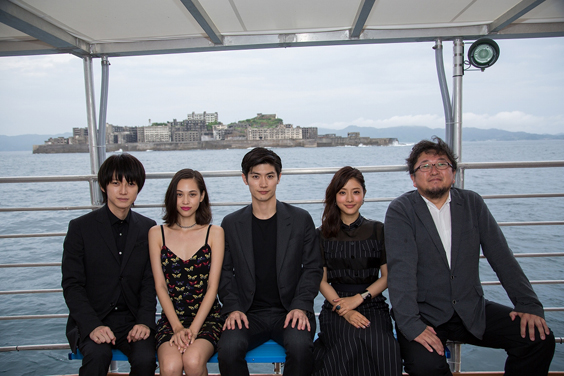 ©2015 映画「進撃の巨人」製作委員会 ©諫山創/講談社
≪Comment from Haruma Miura≫
It was Battleship Island ("Gunkanjima") where we started filming for this picture, and to be back here now that the film is completed to hold a press conference really fills me with happiness. As soon as you step foot on "Battleship Island" you can really feel the history of the place. I think that's something that comes across in the movie. Because of that the sound and visuals of the film really packs a punch. I hope everyone can go out and see it as soon as possible! I hope you like it!

≪Comment from Kiko Mizuhara≫
I'm really excited to be back at the location where we shot the film, it feels really strange!
When we started filming, as soon as I stepped onto "Battleship Island," I could feel the space overwhelm and take hold of me. But rather than scary, back then I found it to be a place filled with a lively kind of energy.
I think this movie is full to the brim with entertainment, so I really hope everyone enjoys it!

≪Comment from Kanata Hongo≫
Holding a press conference at "Battleship Island," which will soon be registered as a World Heritage Site, really gives me a sense of the huge scale of this movie. I was a big fan of the original manga, so I initially felt a little bit anxious, but in the end I feel this is a film which we were able to deliver with strong conviction. I think on the big screen you will really be able to get a feel for the life-like movements of the giants that are created with special "tokusatsu" effects, so if you have a chance do go and see it at the cinema!

≪Comment from Satomi Ishihara≫
I've been doing lots of press conferences, but this is the first one that I have done in front of the sea, so it feels really refreshing. When we began filming, as we were on the boat heading towards "Battleship Island," I started to feel a kind of uneasiness and pressure, but now having completed filming without having any accidents or incidents, I'm feeling a great sense of relief and to be able to hold a press conference here. It fills me with real happiness and joy. Including shooting for the drama spin-off, I've spent around a year playing the character of "Hans," so Iv'e really studied and researched this role. Watching the final cut I felt happy and a sense of satisfaction that I was able build a strong connection with "Hans."

≪Comment from director Shinji Higuchi≫
"Battleship Island" is not just a derelict set of ruins, it's a place that was one day suddenly left without any inhabitants and has since remained in the same state. It's place filled with a sad sense of beauty, that fitted perfectly with the world we wanted to create for "Shingeki no Kyojin ATTACK ON TITAN."

≪Comment from Executive Producer Akihiro Yamauchi≫
With director Shinji Higuchi at the helm, and thanks to a young cast who gave it everything they had, the long awaited film version of the comic "Shingeki no Kyojin ATTACK ON TITAN" has finally been completed! When we started shooting, it was by no means a certainty that we would be able to film on "Battleship Island," so to be back here now for this event makes me so happy.
Creator: Hajime Isayama (comment in full)
When I was a 19-year-old thinking about a story of man-eating giants, I thought to myself "I would like professionals to create this story." And even though I never thought this chance would ever come about, I still went on to develop "Shingeki no Kyojin ATTACK ON TITAN," but with an awareness of the limits of my skill.

A few years passed, and it was decided we would develop a live action version of the story. It struck me that this film was what I had been longing for, the opportunity for top professionals to produce a world of man-eating giants. I wanted to remove the limitations that exist when writing a manga and move away slightly from the manga, so I proposed ideas and concepts that differed from the original work, such as having human kind living on top of buildings and having Jean as a central protagonist. These ideas weren't accepted, but I just wanted for the story to be created with a wider vision.

Jumping ahead to the sequel (which is yet to be released to the public), I got the chance to watch it. And the fear and force that you feel from the on screen giants is really remarkable. I also feel that the giants are depicted with a certain sense of charm, it's a really exciting thing to behold. For me, the film adaptation of this story was not just about recreating the original work, the aim was really to create an interesting an engaging picture. And I think that with this movie we've achieved what we set out to do.
PROFILE
Creator: Hajime Isayama
Born August 29, 1986 in Oita Prefecture, Japan
Awarded an Kasaku (honorable mention) for "Shingeki no Kyojin ATTACK ON TITAN" at the 2006 Kodansha MGP (Magazine Grand Prix).

Won a Special Encouragement Award at the 80th Weekly Shonen Magazine Freshman Manga Award for "HEART BREAK ONE." In the same year at the 81st Weekly Shonen Magazine Freshman Manga Awards "orz" was chosen as a selected work and debuted in "magazine SPECIAL."

The October 2009 issue of Bessatsu Shonen Magazine (a spin-off of Weekly Shonen Magazine) saw the first appearance of "Shingeki no Kyojin ATTACK ON TITAN." Set in a world overwhelming in size and scale, this grand unpredictable story has left fans across the world in awe, and gone on to become a something of a phenomenon, with 50 million copies now in circulation across the globe. In 2011 won the Shonen category at the 35th Kodansha Manga Awards.
PROFILE
Director: Shinji Higuchi
Born September 22 1965 in Tokyo, Japan

Major Works as Director:
Lorelei (2005), The Sinking of Japan ("Nihon Chinbotsu")(2006), Hidden Fortress: The Last Princess ("Kakushitoride no Sanakunin The Last Princess") (2008), The Floating Castle (Nobo no Shiro) (2011) (co-directed with Isshin Inudo), "Kyoshinhei Tokyo ni Arawaru" (Movie Version) (2012), Godzilla 2016 (provisional/TBA) (General director Hideaki Anno) (2016)

Major Works as Special Effects Director:
Gamera: Guardian of the Universe ("Gamera: Daikaiju Kuchu Kessen")(1995), Gamera 2: Attack of Legion ("Gamera 2: Region Shurai") (1996), Gamera 3: The Revenge of Iris ("Gamera 3: Irisu kakusei") (1999), Lady Snowblood ("Shurayuki-hime") (2001)