World Premier @The Egyption Theater

Thunderous cheers at the screening of "Shingeki no Kyojin ATTACK ON TITAN" from overseas fans!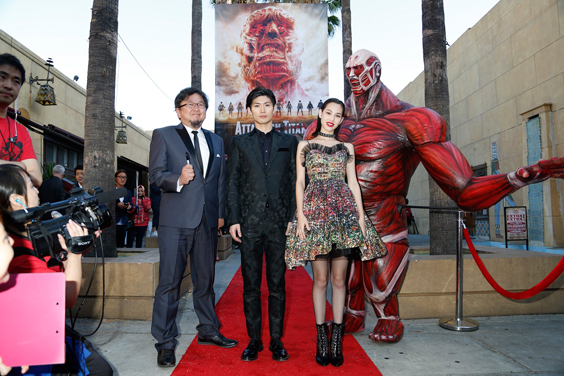 (From Left) Director Shinji Higuchi, Haruma Miura, Kiko Mizuhara
©2015 映画「進撃の巨人」製作委員会 ©諫山創/講談社
On August 1 (Saturday), the much anticipated movie "Shingeki no Kyojin ATTACK ON TITAN" finally opened to the Japanese public. Before its general release, the world premier was held in Los Angeles, USA, on July 14 (July 15 Japanese time) at the famous and prestigious Egyptian Theater.
With the film due to be distributed to 63 countries and regions around the world, the film's premier drew in attention from all over the world. Haruma Miura, who plays the films protagonist Eren, Kiko Mizuhara, who stars as the heroine Mikasa, turned out on the red carpet along with director Shinji Higuchi, and were treated to a spontaneous standing ovation inside the theater after the screening had finished. The director and two cast members watched the film amidst a packed out audience and then made a few comments in response to the cheers from the crowd. Here's what they said...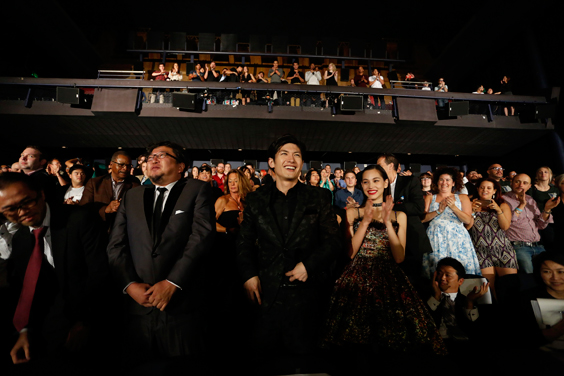 ©2015 映画「進撃の巨人」製作委員会 ©諫山創/講談社
[Remarks and greetings after the screening]<< Comment from Haruma Miura >>
Watching this movie with all of you, and receiving this kind of warm heartfelt greeting is so moving. Me, the crew and everyone involved really put everything we had into shooting the film, so getting a response like the one that we got, in Hollywood, the home of film, was something so special and made me incredibly happy. During the screening I got teary-eyed on more than one occasion, and seeing a Hollywood audience react like this, gave me confidence that people in Japan would also enjoy it. So to everyone in Japan, please be patient, you'll get a chance to see the movie soon.
<< Comment from Kiko Mizuhara >>
(In response to the standing ovation) I really don't know what to say, I'm so touched.
I didn't think I was an emotional type of person, so even I'm somewhat surprised by response. Today has just been the best! We all worked very hard on what was a really rigorous and full-on shoot, so this (response) feels so great, I'm hoping to be able to continue appearing in productions like this, which give a sense of excitement to the audience!
<< Comment from director Shinji Higuchi >>
To be honest, I didn't really know much about the plan to hold this screening here in Los Angeles (lol), but having witnessed the cheers and excitement from the crowd, I can really understand the meaning and significance of putting on a world premier. Getting a reception like this from an audience who are big fans of ATTACK ON TITAN and people who know how to really enjoy films, is really great and I'm so happy!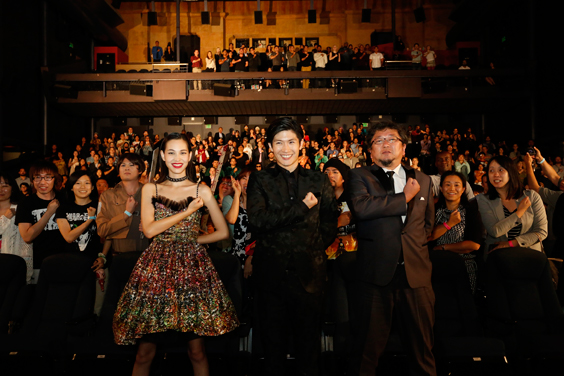 ©2015 映画「進撃の巨人」製作委員会 ©諫山創/講談社