[Report from Kobori in Bangkok] Join me on my trip to Ko Lan and Samae Beach in southern Thailand!
Enjoy yourself and take it easy by Ko Lan's emerald blue waters!
When you talk about Thailand's beach resorts, the most famous names that come up are usually South Phuket, Ko Samui, Ko Tao and Ko Samet. But these tourist destinations are only accessible by plane or long-haul bus journey and the price, as well as time it costs to get there varies depending on when you go. That's why it might be worth trying Ko Lan, an island off Pattaya's coast line. Pattaya is a tourist city that is about an hour and a half from Bangkok by bus without traffic. From there it is only about 30-40 minutes by boat until you reach the emerald blue waters of Ko Lan. With its quite beaches you will be able to enjoy yourself and take it easy. It's definitely a place that is worth a visit, at least once!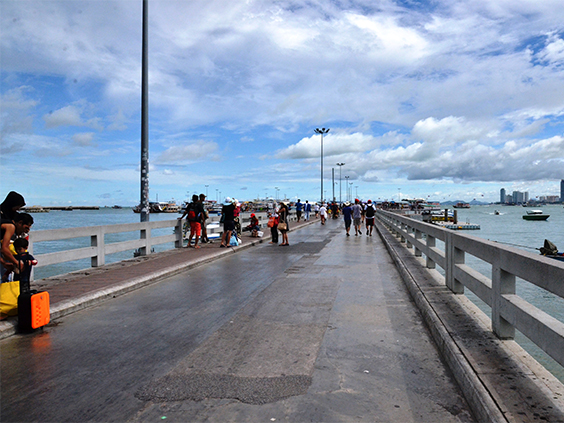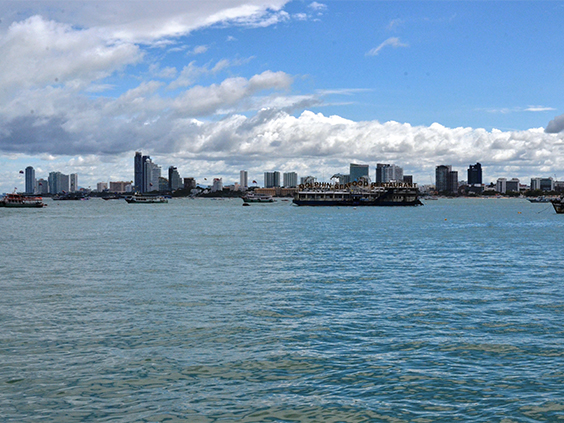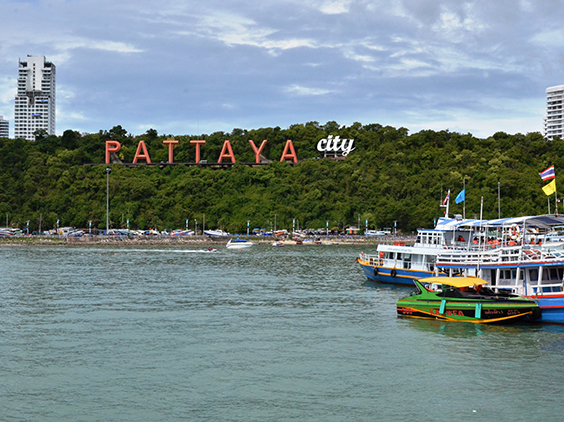 The last time I went, I didn't visit "Tawaen Beach," which is well known to tourists, instead I went to "Samae (ทาดแสม) Beach," which is just on the other side of the island. It's around 40 to 45 minutes by special glass boat from Pattaya Pier, Gate B. It costs 150 bahts to get there, which is a little pricey when you compare it to the 30 bahts that it costs to go one way (per person) on a standard ferry (to Tawaen), but the sense of tranquility that Samae offers is simply incomparable. Once you go, you will notice a huge difference between Samae and beaches like Tawaen, which are usually busy with tour groups visiting from abroad.

It's worth mentioning that there isn't exactly a pier at Samae Beach, it's more like a set of floating blue objects swaying in the waves. Instead of a dock, there is a set of floating blue blocks that are tied together by string, which stretches out to welcome tourists when they arrive.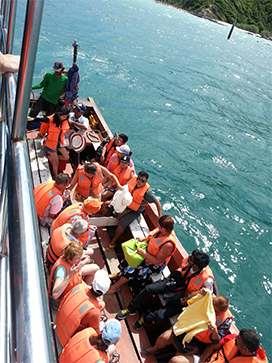 The boat shuts down its engine just off the beach and is met by a small wooden boat, which shuttles back and forth, taking all the passengers to shore. It's really fun, just that alone is worth the trip!
When the waves are big, it's not easy to walk on the big blue blocks; even locals sometimes find it difficult to walk upright. People often crawl their way to the beach, and quite often you will see somebody fall into the sea. But the water by the shore is shallow, so even if you fall in there's nothing to worry about. The most important thing is to make sure you're not carrying any electronic devices.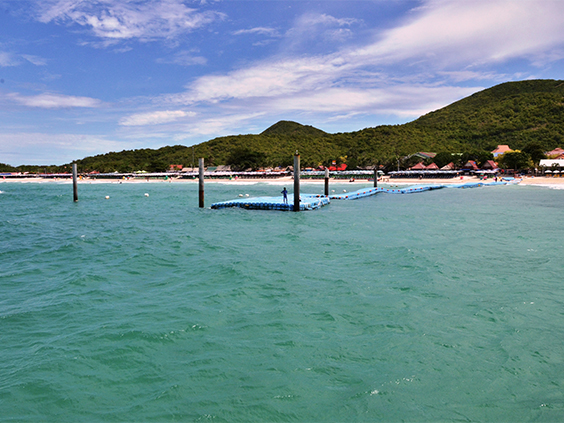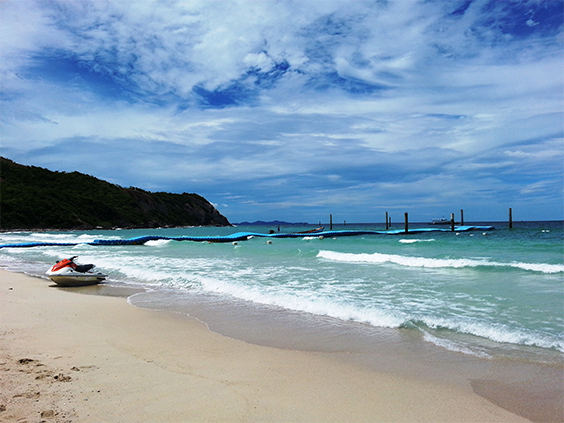 After the 40-minute journey, and once the passengers have gotten off, the main boat heads off shore, or back to the pier at Pattaya. The boat doesn't pick you up until 3pm, so you don't need to have any concerns about missing it... There's no choice but to take it easy and relax! Once you've decided which way you want to face, you can make use of the parasols that are lined up on the beachfront.
Using one of the beach chairs costs 50 bahts. But the price can vary depending on who you speak to, so it's worth checking with a few different people. While you are there you can order simple dishes, as well as alcohol, it really is a slice of paradise! The sound of the waves in your ears and the gentle breeze against your skin, It's a feeling that can't be beaten. While I was there I was so comfortable I dozed off again and again, time just flew by!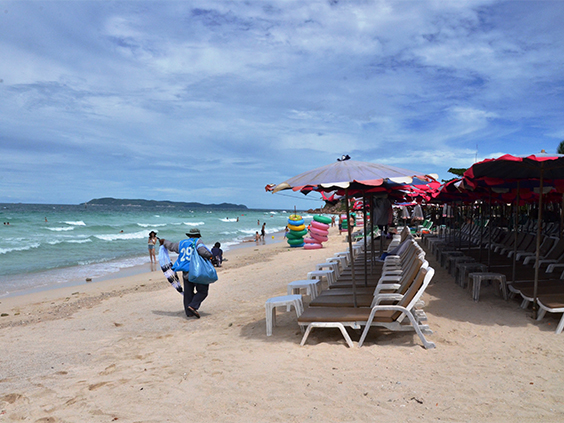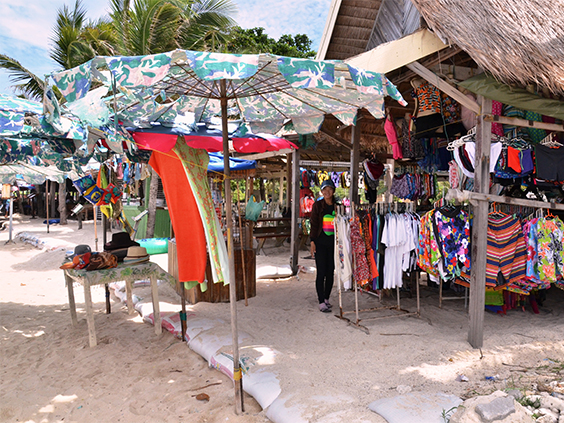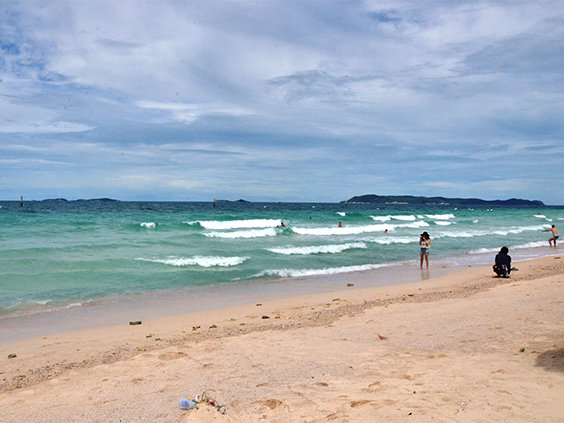 I was thinking that the route back would be the same as our journey to the beach, but we were told by the person in charge that we would have to take a ride on a songthaew (a truck-like passenger vehicle) in order to meet the boat that would take us back. We drove for about 10 minutes over a mountain road and finally reached a rocky docking point, where a small boat was waiting for us. We got on and it took us to the larger glass boat that was anchored just off shore. Each time we hit a large wave a huge splash of water sprayed up against us. If I hadn't been drunk I would have found it all a bit scary.
We reached Pattaya Pier after about 50 minutes and by that time faint clouds filled the sky. I have to say, it was a really easy, relaxing way to spend half a day. I'm not sure exactly why I traveled to Ko Lan, but since returning I haven't been into the sea even once!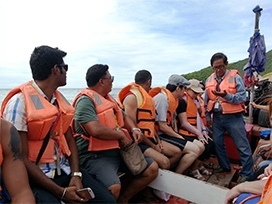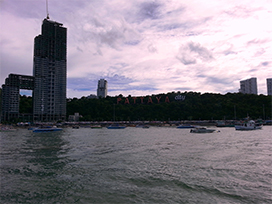 Ko Lan - Samae (ทาดแสม) beach
Overseas correspondent Kobori PROFILE

Former newspaper journalist who ventured alone to Bangkok, Thailand, in November 2011. Regularly employed by Tokyo Shimbun (Chunichi Shimbun Tokyo HQ) and TV Asahi in the local news department. Was in charge of Section 2 and 4 of the Metropolitan Police Press Club for a total of four years. Originally a police reporter but also covers a variety of fields, including politics, economy, society and culture. Currently writes for web magazine "anngle"
http://anngle.org/
– Asian news and info from a Thai perspective.
PRESENTS
All the info. on asianbeat's present campaign!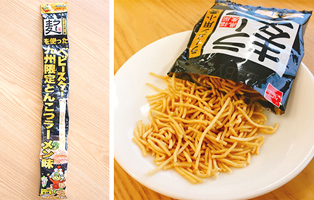 * Win a packet of "Ramugi Baby-Star (Kyushu limited edition tonkotsu ramen flavor)"!
[Details] Click
HERE
!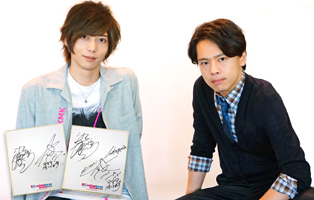 *Win a card signed by Akinori Nakagawa & Toshiyuki Someya!
[Details] Click
HERE
!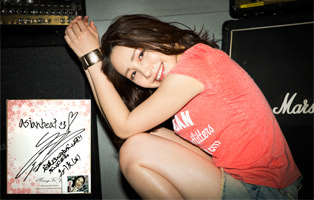 * Win a card and a cheki (photo) autographed by You Kikkawa!
[Details] Click
HERE
!