[Report from Robin in Hong Kong(2)]Buying Cosplay in Hong Kong
Cosplay is big all over the world, and in Hong Kong it is more conspicuous than ever. How do Hong Kong cosplayers find their costumes? The answer is here.
There are cosplay events in Hong Kong, but cosplayers get their costumes from two main sources. One is by creating anime character costumes themselves. Materials include fabric, plastic and dye. Of course making them is an art form in itself. It is wonderful how Hong Kong cosplayers make their own costumes.
The other is buying the costumes. Some people like beginners and those who aren't good at needlework buy them. This is the easiest way and in no time you can transform yourself into your favorite character. You can adjust the off the rack costume yourself, but adjustments are limited compared to hand made costumes. But this is an easy way for beginners to start. If it were me I would buy, but it might be a bit hard to find a costume of my favorite character – Pocket Monster =.=
Net shopping sites are more popular. Here is a link to a Chinese net shop
Compare it to a Japanese shop!
http://cosplay.shopping.ttyy.hk/search.html?k=eva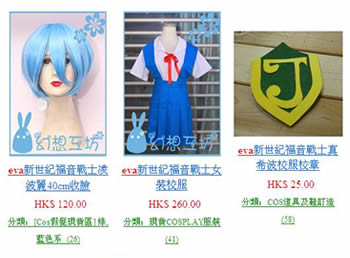 Wigs, seifuku and school emblems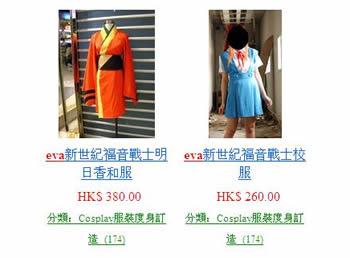 Asuka's seifuku and a rare kimono version costume
Popular cosplay characters in Hong Kong include Evangelion, ONE PIECE, Black Butler, BLEACH, Gin Tama, Saiyuki and Sangoku Busho. Of these, Evangelion has the longest history and its popularity continues today. The Evangelion costumes look like the clothing of the future, and I guess Hong Kong cosplayers want to be the first to wear the style of the future.

As for the costume prices, in Japanese yen they range from 2,000 to 3,000 yen. A wig is about 1,000 yen – a little cheaper than Japan.

Robin
Overseas Reporter Robin Profile

Born in Hong Kong
RTHK DJ
Main DJ on the 16:00-18:00 program Teen's Choice
Teen's Choice 「Teen 空 海 闊」 introduces Japan and Japanese pop music.