[ICON] Naomi Kawase - Film director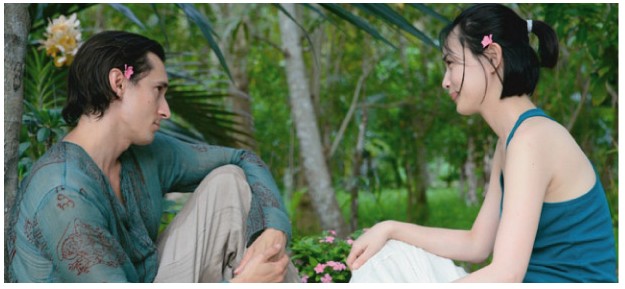 Naomi Kawase, film director
Off to make a movie that can only be made in Thailand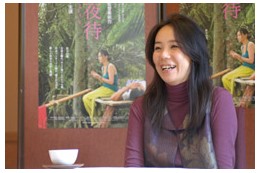 Naomi Kawase won the Caméra d'Or at the Cannes Film Festival for her debut work "Moe no Suzaku", and last year won the Grand Prix for "Mogari no Mori (The Mourning Forest)". She is also busy in a number of other fields, such as working on the "Nara Film International Festival" to be held in 2010 in Nara, her home town.
She is a director under the spotlight both home and abroad, and her latest work "Nanayo Machi" was filmed in Thailand, far away from her hometown of Nara.
Three different languages on location
"My previous work, Mogari no Mori, was a co-production with France, and that experience made me think that I could make a film overseas. I wanted to experience a new stage – the world stage. We were using three different languages on the set and it was pretty hard on the staff, with the actors not knowing what was going on a lot of the time. But I wanted to take on a new challenge – that's what a creator does."
The footage that was shot was not what you would see on a "Thailand" TV show.
"It was my first trip to Thailand, so I had no preconceptions. I just saw that village as it is, and got the real picture, and it was important for Ayako (the main character) to feel the same.
Thailand brims with energy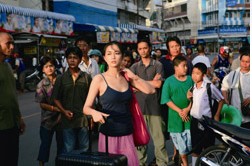 kawaseGoing to Thailand I got to feel the difference to Japan. The first impression was the bright colours.
The flowers and the greenery carry the sunlight - it is as if they are saying "I'm alive". It is something that you could not film in Japan. The houses, forest and rivers are all united in one living world. People, animals and nature travel through the same cycle of birth and death, and this is where I wanted to bring the ending of the movie. Form a Japanese perspective, the villages we filmed were not so well off, but the people were brought together by their generosity. Japan is all about chasing the mighty yen, and living in such a rat race is so tiring. This is the message I wanted to get across.
Actor Kyoko Hasegawa as never seen before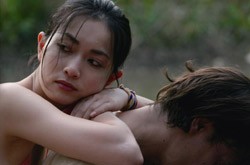 Kyoko Hasegawa plays the lead role of Ayako. Every morning all she was given a single page of script – something that she wasn't quite used to at first, but in the movie she was able to express herself as never before. "Up until now I think Hasegawa was just expected to perform as the script demanded, rather than show emotional subtleties. I think the experience she gained during this filming will boost her to the next level of acting.
Memories of Japan felt in Thailand
The only scene inserted in the film that was filmed in Nara is the Jun Murakami massage scene. What is the meaning behind this?
"When you travel overseas, memories of your life back home suddenly appear. Things that were dear to you, you suddenly realize that they were an important part of your life, and in the case of Ayako, this was her memory of Japan. The function of the scene was to represent what she was in Japan and for her to question herself."
Sharing the chaos with Ayako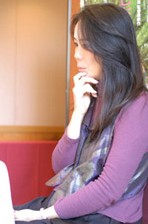 One part of the movie got me wondering. There are no subtitles for over ten minutes until Ayako meets the Frenchman Greg is in the jungle.
"I wanted the audience to experience the "chaos" that Ayako felt in a strange country. When you read subtitles you don't watch the movie do you? Me personally, I can't stand subtitles on TV."
It shows how hard she tried to communicate – overcoming the barrier of language. That is a problem we all face today.
"In the information society all we get is just information, not experience. 'Experience only comes from moving your body and soul. That is why I think it would be good for us to lose everything and test ourselves like Aya."
Hometown Nara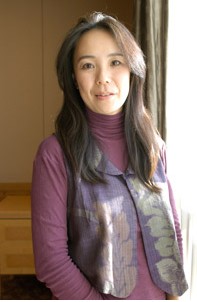 She wants to keep on making films about reality. As I spoke to her I could feel this strong desire. At first I was eager to rationalize why the location of the movie had to be Thailand, not Nara, as in her other films. But according to Kawase, "Even though the location was Thailand, as far as I was concerned it was the same as if I was filming in Nara."
Kawase has the position of executive director of the Nara International Film Festival. On October 24 there will be a pre-festival event featuring Thai's rising animation creator Wisut Ponnimit (AKA Tam-kun). "Tam-kun doesn't talk much so get the kotatsu out and let's make it a family affair on the stage", says Kawase, excited about the upcoming event. It will be interesting to keep an eye on how she will expand her sphere of activity.
For details see Naomi Kawase's official website
http://www.kawasenaomi.com
[STORY]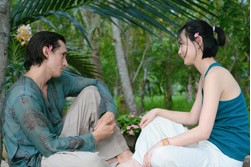 Ayako leaves Japan to travel to Thailand. However, instead of taking her to her hotel, the taxi takes her to the middle of a chaotic forest. She meets a young Frenchman Greg by a river, and he takes her to a traditional raised Thai style house where he lives with a Thai mother and child. Although Ayako doesn't understand the language, she finds comfort in the traditional massage she receives…
Director: Naomi Kawase
Cast: Kyoko Hasegawa, Gregoire Colin, Jun Murakami
Distributor: Phantom Film
Movie web site:
http://www.nanayomachi.com