[NOTICE] Information from the Fukuoka City Transportation Bureau regarding to the road collapse at Hakata Ekimae road. (English)
Information update: Tuesday 15th November 2016
The Fukuoka City Transportation Bureau announced today on their website that "the sinkhole has been temporarily reconstructed and therefore traffic has been able to pass through the road from 05:00 on Tuesday 15th November 2016."
[Reference] Fukuoka City Transportation Bureau (Japanese) :
http://subway.city.fukuoka.lg.jp/topics/detail.php?id=343
---
This is an English translated information from the Fukuoka City Transportation Bureau, regarding to the sinkhole opened near Hakata Station (Hakata Ekimae Road), Fukuoka City.


---
November 8, 2016
10 a.m.
Fukuoka City Traffic Bureau
Road collapse caused by the subway Nanakuma line extension construction (part 2)
On November 8, 2016 (TUE) 5:15 a.m. near the Hakata Ekimae 2 chome intersection a road collapse accident occurred, and overall traffic from Hakata entrance intersection to Hakata ward office south exit intersection will be suspended. The collapse area is with 27 meters, length 30 meters, 15 meters deep.
Following the accident all the water supply, recycled water supply and gas around the area has been shut down.
There are no reports of injuries.
In the current situation, we do not know how long the road closure will last. We will notify details when we get more information.
We would like apologies for any inconveniences this has caused.


Fukuoka City Traffic Bureau : Construction division
Nario

Tel: 092-732-4200・4205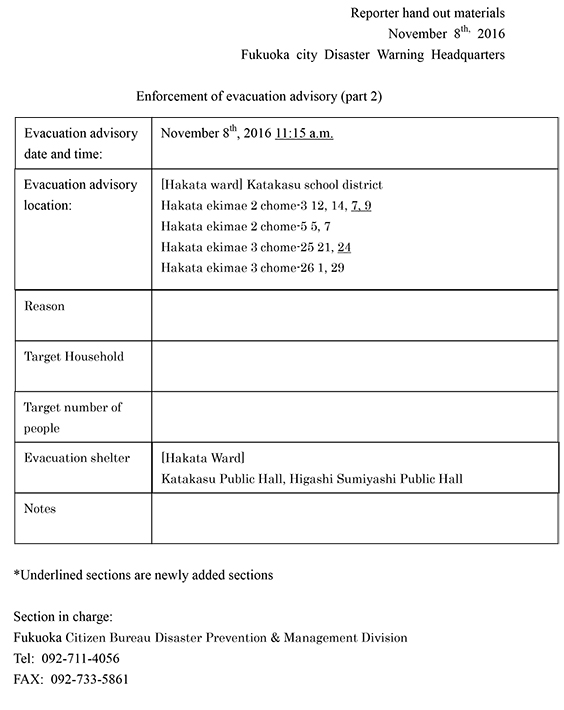 Traffic regulation status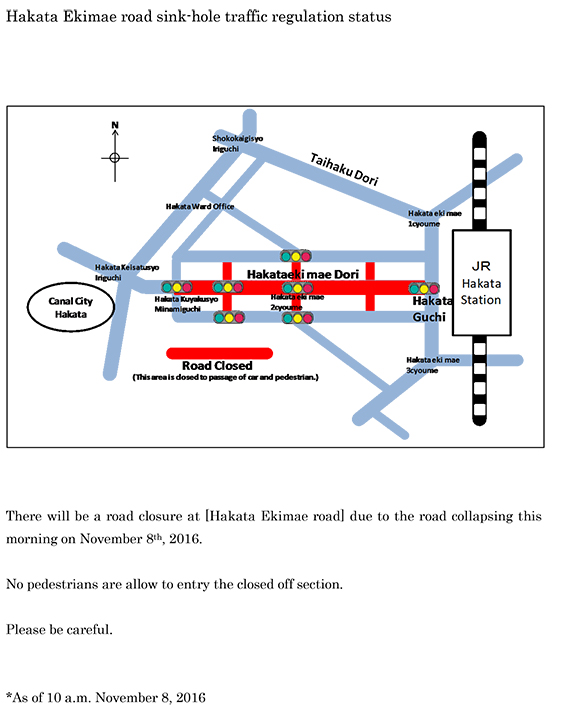 External Links