[Information] The "asianbeat Aki Matsuri 2016" will be held in Hanoi, Vietnam!
From Fukuoka, Japan, to the rest of the world! Stop-by to enjoy Japanese culture and sample some Fukuoka food!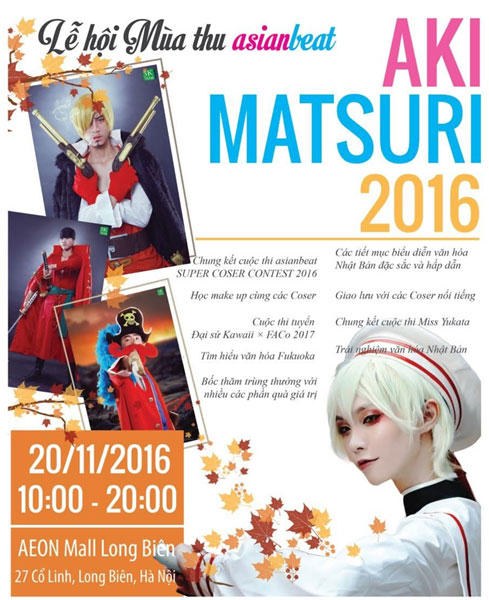 The "asianbeat Aki Matsuri 2016" will be taking place at the Central Court, AEON MALL Long Biên, in Hanoi, Vietnam on Sunday 20th November 2016. Last year around 8,000 people went to the "asianbeat Vietnam Momiji Matsuri 2015" over two days; however, this year all the fun activities will be condensed into a one day event!
As well as the hugely popular annual yukata contest and cosplay competition, there will also be lots of other things for guests to enjoy, such as a calligraphy corner, as well as a 2017 asianbeat • FACo Kawaii ambassadors booth. The highly anticipated schedule is jam-packed and features, amongst others, a meet-and-greet with the much loved Vietnamese cosplayer Zing Ruby, as well as a cosplay show from 3K Team! Aiming to raise awareness about Fukuoka to Vietnamese people who have an interest in Japanese culture, this event hopes to introduce all the charming appeal that the area has to offer. In order to do so, there will be a quiz about Fukuoka, as well as an opportunity to sample some local sweets and confectionary. So please come along and discover more about Fukuoka. The asianbeat website will also be posting a report about how the event went, so be sure to keep an eye out for it!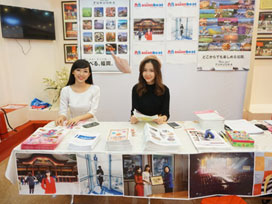 Here is the Kawaii Ambassador booth at last year's event!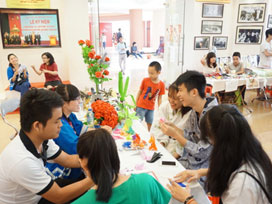 And here are some of the visitors at last year's festival trying their hand at origami!
asianbeat Aki Matsuri 2016
Date/time: Sunday 20th November 2016, 10:00-20:00
Venue: Central Court, AEON MALL Long Biên
Address: 27 Co Linh Road, Long Bien Ward, Long Bien District, Hanoi City, Vietnam
Participation fee: Free
Activities (on stage): Yukata contest, cosplay show, Fukuoka quiz, etc.
Booths: 2017 asianbeat • FACo Kawaii Ambassador application booth, calligraphy experience, yukata experience and much more!
Organized by: asianbeat, asianbeat Vietnam, Fukuoka Prefecture Bangkok Office, Embassy of Japan in Vietnam

Related Articles