#52 Buono! Live in Paris – Report #1
I was overseas at the time when I first heard that Momoko Tsugunaga and Miyabi Natsuyaki of "Berryz Kobo," and Airi Suzuki of "℃-ute" – the three members who form the unit, "Buono!" – would be performing live in Paris. I think it was while I was in China.

Japanese idols have the potential to make it big overseas but they need to be trying harder to get themselves out there. And that's not just something that concerns only the idols themselves; it's an issue involving the entire Japanese economy. I've been saying the same thing over and over across various media, so it probably wouldn't have looked too good if I wasn't there to see the performance for myself. But after witnessing their outstanding abilities as performers I've learnt just how important Japanese idols are and how much their concerts mean to their fans. I've met plenty of overseas fans throughout my travels, and I know just how long they wait for the day to come when they actually get to see their favorite idols perform live.

After confirming my schedule for Paris I tweeted about my travel plans and soon received a message from a girl saying "Watashi!" (Me). Just the one word in Japanese. Then I had a look at her profile. It read, "16 year old fan of Airi Suzuki. Airi is my role model. I praise and worship her…" – all written in Japanese.
This girl, who goes by the name Ryuku, lives about an hour from Paris by TGV, and she and a friend of hers came to meet me at my hotel the day before the concert.
"I love everything about Airi. Even though she's an idol she stays true to herself and she respects her individuality. She's always loving towards her fans and is a great inspiration for me."
The friend she brought along was a boy from Sweden (aged 18) who came to Paris to see Buono! perform. His favorite Japanese idol is Morning Musume's Sayumi Michishige, though.
I asked Ryuku how she stays informed about Japanese idols, and as I expected, it's from watching the cable TV program, "Nolife."
"Buono! is very popular in France. Japanese music fans here get a lot of their info from "Nolife."

I went with the two to the Sacré-Cœur Basilica (Basilica of the Sacred Heart of Paris) located at the top of Montmarte. Here at one of Paris's most prominent landmarks bustling with sightseers, Ryuku sang a few Hello!Project tunes for me, including some by Buono! The number of songs she can sing seems endless.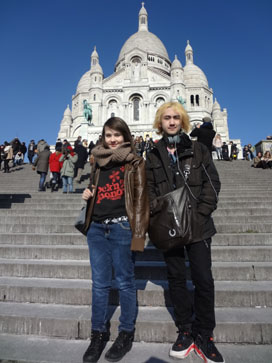 Ryuku and fellow Hello!Project fan from Sweden. A lot of fans came from outside of France to see the performance.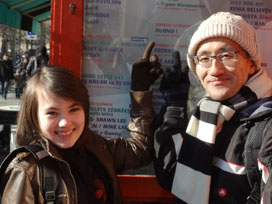 In front of the event schedule at the concert venue "La Machine du Moulin Rouge."
Day of the Concert

"We plan to start lining up from 7am. There's bound to be people lining up well before then, though."
The venue was scheduled to open at 4:30pm and the concert would begin at 6pm. The temperature in Paris at this time was around 5 or 6 degrees below zero.
"It's no problem!" Ryuku lauged. Her parents know just how much she adores Airi Suzuki so they let her travel to Paris alone on this occasion.

Buono! also held a autograph session at a café in Paris for a limited number of people. It was there that I witnessed Ryuku overcome with tears in front of the Buono! members.
It was the same as when I was touring around the world with the Kawaii Ambassadors, but when you see fans come to tears in front of the girls that they look up to and adore, it really strikes a chord.

Tomorrow is the day of the concert and expectations are mounting.

For the next two weeks I'll be focusing on the highlights of Buono!s live performance and my interview with the members.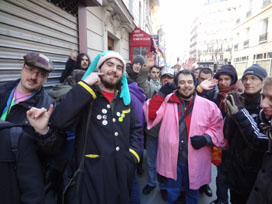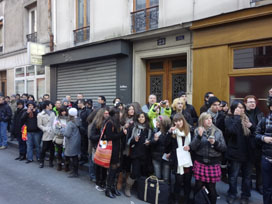 Autograph session. Fans waiting for Buono!s arrival.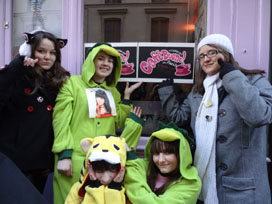 One fan dressed up as Airi's favorite kappa. The two at the front are from Sicily, Italy.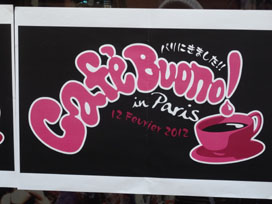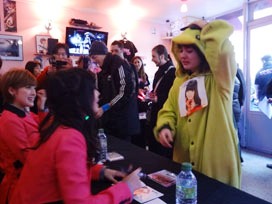 The first autograph session. Many of the girls were in tears.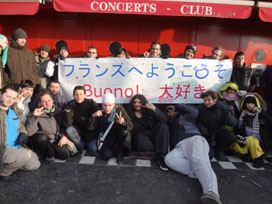 Day of the concert. In below freezing temperatures a long queue had already begun to form in the early hours of the morning. Tickets sold out fast.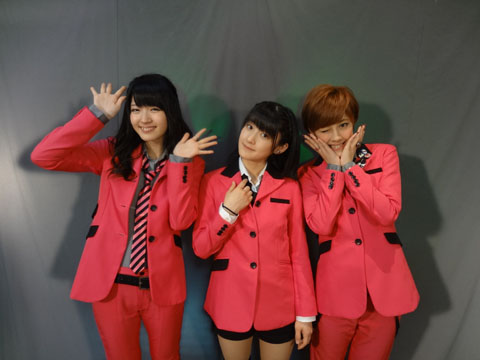 Buono! from left: Airi Suzuki, Momoko Tsugunaga, Miyabi Natsuyaki.
Out Every Wednesday!
Next time: Member interviews and more! Buono! Live in Paris – part 2!
Columnist: Sakurai Takamasa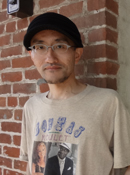 Contents Media Producer, author, journalist, managing director of Contents Street Inc. Chief Editor of iPhone magazine "Tokyo Kawaii Magazine" (ASCII Media Works), World Cosplay Summit Executive Advisor, Chief Researcher at Kodansha/Kodansha BC China Management Laboratory.
Cultural diplomat producing events in over 100 cities in 23 countries (as of July 1st, 2012). Books include "Galapagos-ka no susume" (Kodansha), "'Suteru' de shigoto wa umakuiku" (Diamond-sha), "Nihon wa anime de saiko suru
" (ASCII Shinsho), "Sekai no kawaii kakumei " (PHP Shinsho), and "Anime bunka gaiko " (Chikuma Shinsho). Writes regular columns in the weekly magazine "ASCII" and Yomiuri Shimbun.

●twitter http://twitter.com/sakuraitakamasa/

PRESENTS
All the info. on asianbeat's present campaign!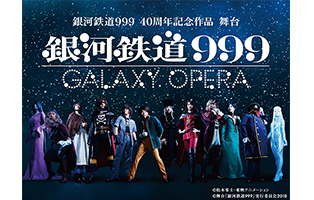 * Win 2 pairs of tickets to the play "Ginga Tetsudo 999" -GALAXY OPERA- Kitakyushu Performance!
[Details] Click
HERE
!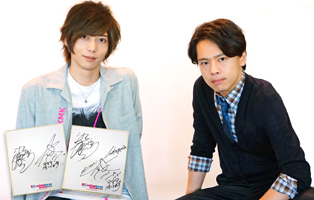 *Win a card signed by Akinori Nakagawa & Toshiyuki Someya!
[Details] Click
HERE
!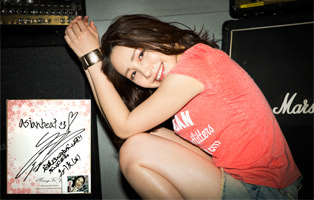 * Win a card and a cheki (photo) autographed by You Kikkawa!
[Details] Click
HERE
!