#7 "I Wanted to Stay in Sao Paulo!" Japanese Idol Dives Headfirst into Anime Event, Even Gets her First Taste of Samba!(1/3)

In July 2014, I took part in South America's largest otaku event, "Anime Friends." The interesting thing about this event is that it one runs over two consecutive weekends. It just goes to show how much the local Japan fans love this event. As I mentioned in my previous article, I was one of the guests, along with Antic Cafe (An Cafe), for the second week of Anime Friends, and idol You Kikkawa was a guest for the first week.

"I seriously thought about just staying in Sao Paulo!"

You Kikkawa really took a liking to Brazil and we both got together to talk about our time there after we returned home to Japan.

"It was just such a great feeling to be at an outdoor event without a single cloud in a perfectly blue sky!"
Anime Friends was the first overseas otaku event that I've been to that was held outdoors. They rented a piece of land from the Brazil Air Force and put up a bunch of huge tents, under which they had set up a karaoke stage as well as booths for people to sell various goods. To go between tents you had to pass through the open air.
The weather at Anime Friends for the time that Kikkawa was there seemed to be quite pleasant, but the week when An Cafe and I were there, it rained a bit and it was actually a little cold. My impression of Brazil was that it was rather hot because just a few months ago I watched Japan do battle under some really hot conditions in the Brazil World Cup, but for the majority of Brazil, July is winter. I heard that it even snowed in the southern parts while I was there. It really gave me perspective on how big a country Brazil actually is. In saying that though, the heat and excitement I witnessed inside the tents at Anime Friends was akin to mid-summer.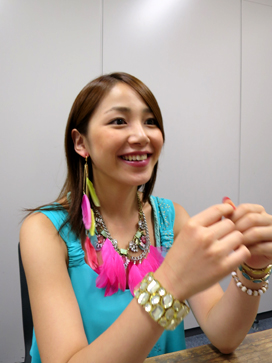 "I was surprised to see so many people dancing at the event!"
I was just as surprised as Kikkawa in that regard. Everywhere at the event where they had music or clips from video games playing, there were people dancing along to it. I guess you should expect nothing less from the country of samba! Only in Brazil would you see a NARUTO cosplay team dancing in unison like that.
Kikkawa also had a go at samba herself.
"Even before going, samba was one of the things I wanted to try! The outfits are really just "wow" (lol). And the headpiece is so heavy that it actually started to hurt. I just went with it and danced in the circle that everyone had made. Of course I just danced around freely, but it was a lot of fun. It reminded me of how fun it is to dance!"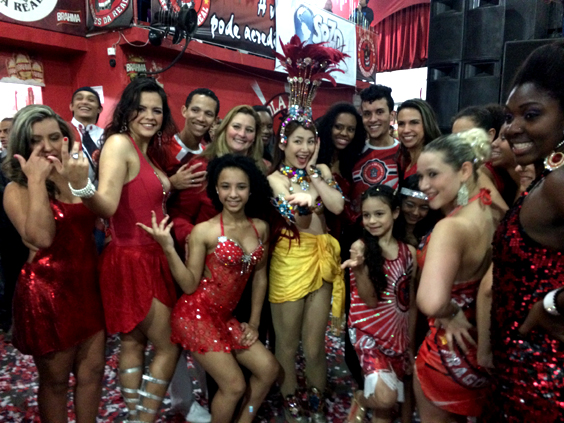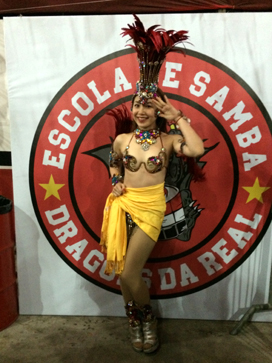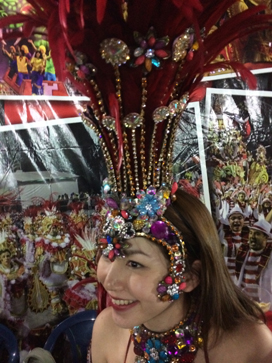 PRESENTS
All the info. on asianbeat's present campaign!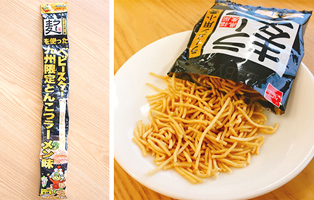 * Win a packet of "Ramugi Baby-Star (Kyushu limited edition tonkotsu ramen flavor)"!
[Details] Click
HERE
!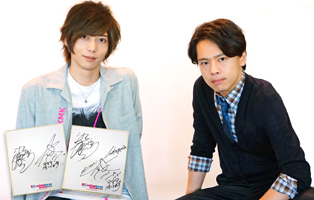 *Win a card signed by Akinori Nakagawa & Toshiyuki Someya!
[Details] Click
HERE
!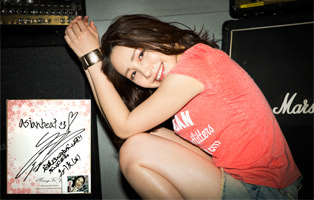 * Win a card and a cheki (photo) autographed by You Kikkawa!
[Details] Click
HERE
!