#11 Interview with Morning Musume。'14 After Their Concert Success in New York – How New York Changed Us and Our Plans From Here on(2/3)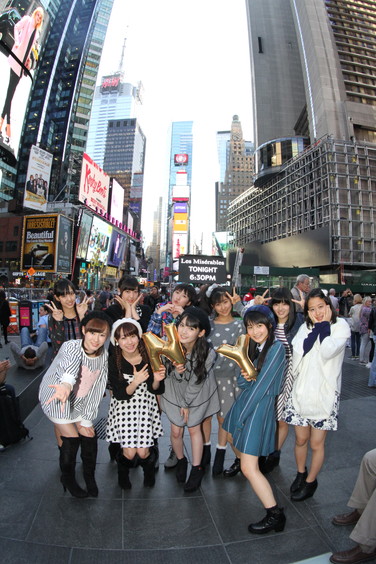 Morning Musume。'14
Masaki Sato
During the MC at our concert, I said to the crowd in English, "Call me Maa-chan." It was the first time I've ever said this but I think I can probably use it again at our next performance.
Ayumi Ishida
I'm originally from Miyagi Prefecture but I was always attracted to places like Shibuya in Tokyo. It feels kind of strange now that I can walk the streets of Shibuya whenever I want, but ever since joining Morning Musume。 I found myself longing to go abroad and now I've made it to New York. I always thought New York would be this dazzling, neon-lit city, but now I know it actually has a lot of chilled out places too, so my impression of New York has changed completely. I'd love to be able to come here so often that I get familiar with the place.
Haruna Iikubo
(During the MC at the concert, she told everyone that she was a big manga otaku.) At our handshake session, a lot of fans came up to me and told me that they were otaku too. So I was really happy I was able to speak with some likeminded otaku. I learned that the Japanese word "otaku" is now in common usage, too.
In Japan I usually get called "Harunan," but in New York everyone kept calling me "Honey," which was a bit of a surprise. In one of our "making of" videos there's a segment called "Sweet Sweet Honey Time" where I introduce some of our outfits, and it seems that's where everyone got "Honey" from. This experience has made me want to use more English in the activities I do with Morning Musume.
Kanon Suzuki
I learned how important it is to express yourself in other ways when words won't work. I was already aware of this in Japan, but it reminded me to be even more aware from now on.
The New York Concert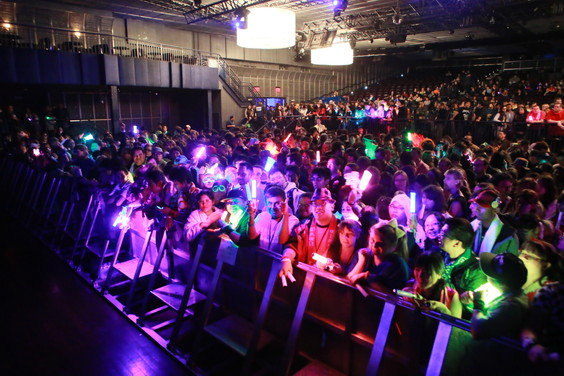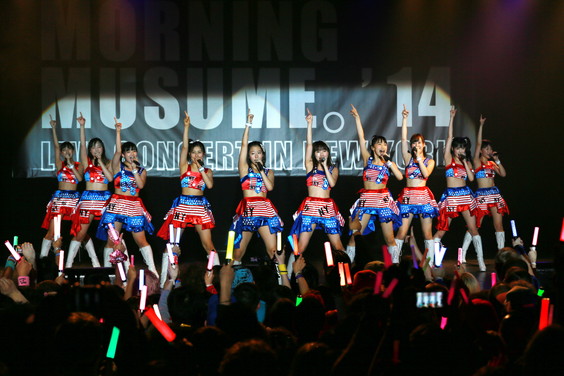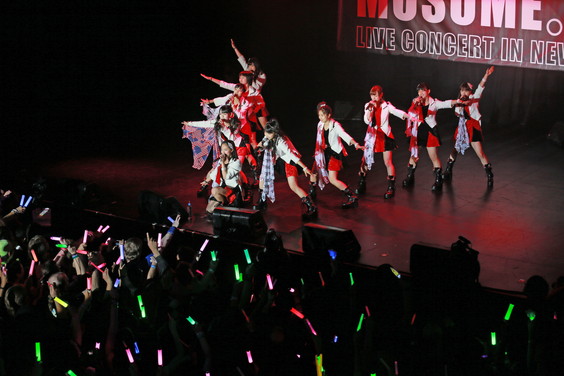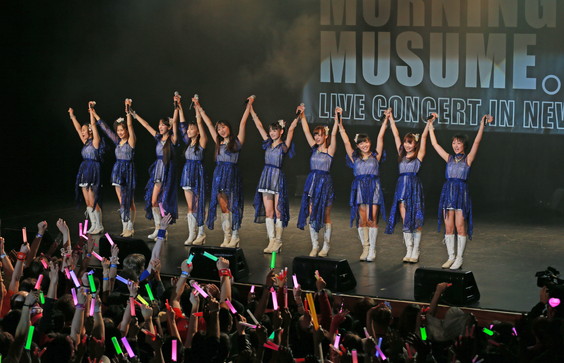 Riho Sayashi We got to perform a concert in New York – the home of entertainment. I had high expectations but I was also worried how we would do. The concert went really well, though, and I think it's been a big confidence booster for me already. Not just in regards to putting on concerts overseas, but in our regular performances as well. I think that I'll now be able to be more bold and confident in my performances than ever before.

Erina Ikuta A lot of people called me by my nickname, Eripon, and the emotional distance between Japan and overseas now seems a whole lot closer.

Mizuki Fukumura I memorized greetings and other phrases for when I visited France, but I had already studied English in school, so I was able to memorize a lot more this time. I told the audience at our concert, "I hope you start to like Morning Musume。even more," and they seemed to understand, so that made me happy. It was because I practiced and I was prepared that it got through to them, though, so the next time I go overseas, I want to make sure I've studied up enough on the language of that country before I go.

As I listen to each of their responses I realized just how unique each of these members are and how their individualities come through in their answers. One of the most fascinating aspects of Japan, I think, is it's diversity, and the very existence of Morning Musume。, made up of all these different characters and personalities, is a testament to this.
In summer 2010, I saw a live performance in Paris that changed my opinion of idols completely. I used to think that idols were of no concern to me or my work whatsoever, but this concert made me see that Japan's idol culture is a national asset, and now the only member of that Paris concert who still remains in the group is Sayumi Michishige.

I asked Sayumi, the only member in the group with experience performing overseas, how she feels about the concert this time around.