#11 Interview with Morning Musume。'14 After Their Concert Success in New York – How New York Changed Us and Our Plans From Here on(3/3)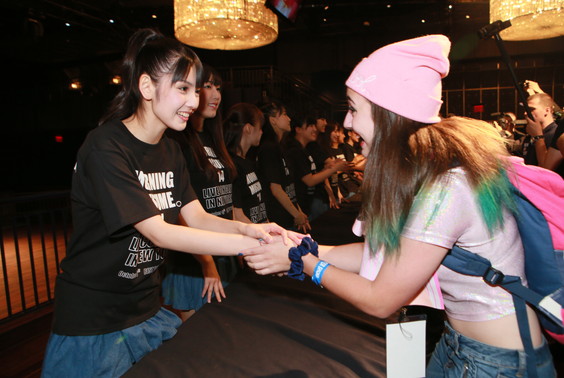 Handshake session with the fans after the concert.
Sayumi Michishige
Given the timing, what with my graduation just around the corner (Sayumi Michichige will be graduating from Morning Musume。with a graduation concert to be held at Yokohama Arena in November), I'm just so happy that I got to perform in New York with this group of ten. I've performed in Los Angeles and Paris, and I was also part of the Asia Tour, but New York wasn't possible, even when we did the Worldwide Handshake Tour. It's somewhere I've always wanted to go, though. But now that we've pulled it off, I wonder if people think of the current Morning Musume。'14 as a little bit cooler than they first thought, and that makes me truly happy.
Did you feel anything different about this concert compared with the one I saw in 2010 in Paris?
Michishige
I think the fans are probably more passionate now. They all seem to know all the members' individual characters, even the some of the sides of our personalities that we only show at concerts in Japan. It sunk in that there's really a lot of love for us out there. Some of the things they knew about us you can only find out if you actually search for it yourself. They knew a lot about us and you could tell that they had really been waiting a long time for this concert.
On a more personal note, when everyone was screaming out for an encore, they suddenly started calling out, "Sayu" – that took me by surprise. We went overseas expecting to show everyone a good time, but instead it's the fans trying to show us a good time and make us happy. It was truly a gathering of the nicest people.
I saw Morning Musume。in Paris 2010, in Bangkok, Thailand 2012 for their Worldwide Handshake Tour, as well as their various other overseas activities thus far, but even I thought that the fans this time around were more passionate than ever before. Not just the feelings of the fans but a reflection of just how far the new Morning Musume。unit has come, too, I think.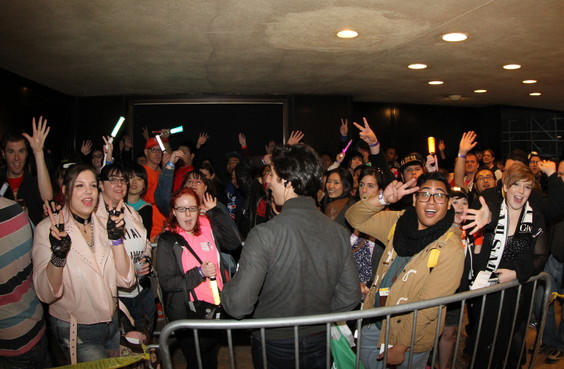 Fans from around the world.
Next year, four new 12th generation members will take the helm and steer Morning Musume。'15 in a new direction.
Focusing on your future activities, both in Japan and overseas, what are some of the things you will be working on from here on?
Ikuta
We all get along really well, even hang out with each other on our days off, but it takes quite a bit of time to build that kind of relationship with new members when they join the group. So how we interact with new members to make that process easier is something we really have to work on.
Oda
I think that even people overseas can relate to the songs that Tsunku-san writes for us. I want to be able to sing these songs with more confidence.
Ishida
A lot of people who came to the handshake session told me how they like my dance or how they thought we were great. It made me very happy, but there so many people throughout the world who are much better dancers than I am. So I'm going to aim higher and try all different styles of dance.
Iikubo
I figure the more opportunity I have to share my hobbies and the things that I like, like anime and manga and games, the more people throughout the world with similar hobbies will come to know Morning Musume。, and that's what I want to work towards.
Kudo
I'm really bad at English. I'm always quick to acknowledge a language barrier and I think I just have to overcome that. In the new 12th generation members, there's even one member who lived overseas and can speak English. I feel that Morning Musume。is only going to become more and more global and I think it's going to be a struggle for me as I am now to keep up. So my next challenge will be trying to overcome this barrier as soon as possible.
Answering each question with such earnestness, the Morning Musume。members once more demonstrate the sincerity they apply to all manner of tasks. They're really no different to Ai Takahashi and the other Morning Musume。members I met years earlier. The group now, just like the group back then, still maintains their traditional art roots.
Morning Musume。is just like traditional performance art, produced through the development of each individual in the group.
Morning Musume。embodies everything that is "Japanese individuality," and after seeing them in New York, I can't wait to see where their next step out into the world takes them.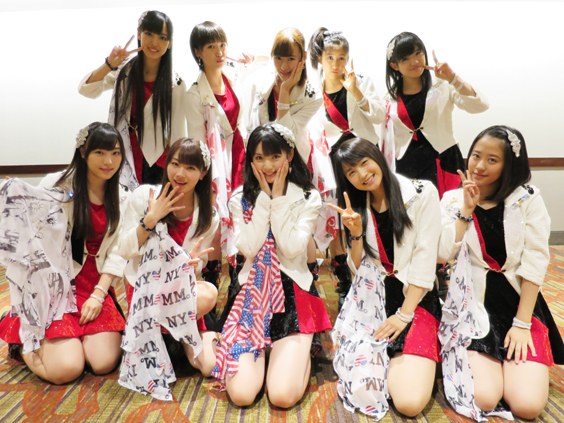 Morning Musume。'14
A new article alternate Wednesdays!
*Next update: the 5th of November
Columnist: Sakurai Takamasa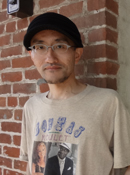 Contents Media Producer, author, journalist, specially-appointed professor of Digital Hollywood University, Digital Hollywood University graduate school, Sakurai Takamasa is a cultural diplomat who produces events and gives lectures in 120 cities in 25 countries. He acts as a cultural diplomat pioneer with anime and Harajuku Fashion. He is frequently invited as a guest to various Japanese events held worldwide. Having written several books including: "Nihon ga Suki sugiru Chugokujin Joshi" (PHP Shinsho), "Sekai Kawaii Kakumei" (PHP Shinsho), "Anime Bunka Gaiko "(Chikuma Shinsho), he is a radio personality who also regularly writes columns for various newspapers, magazines and web magazines.
-twitter
http://twitter.com/sakuraitakamasa/
Related Articles
J Pop Culture Observations
- Back Number

This comment section is for readers to leave opinions and comments. Inappropriate comments may be deleted, so please remember to be respectful. Thank you!