#12 "The Greatest Day of My Life" – Voices of the Fans That Gathered from all Around the World to see Morning Musume。'14 Live in New York(1/3)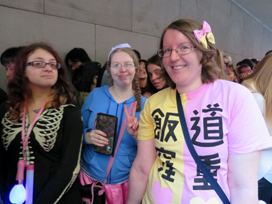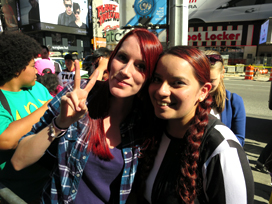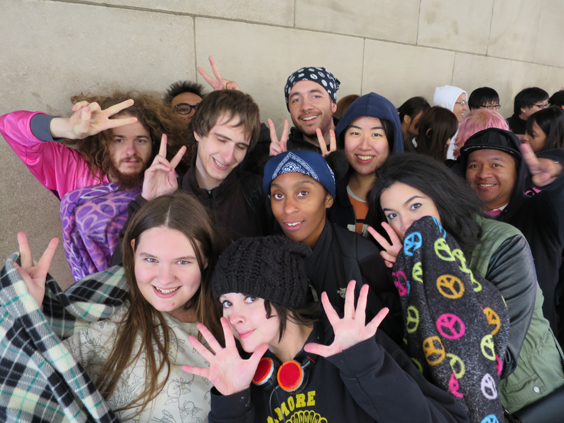 Fans lining up early morning at the concert venue.
There was one more thing I wanted to do in New York this time around, though, and that was to speak with the overseas fans before the concert. In the activities I do with cultural diplomacy, I often play video letters from Morning Musume。at the talks I give. These situations included, I've spoken with Morning Musume。fans from every corner of the world at various events and locations. I feel like I know better than anyone just how much they love Morning Musume。and this was going to be their first full-length concert overseas since Paris in 2010. Of course my expectations were high, but I live in Japan, and unlike me, these people had been waiting for this day for probably what seemed like forever. For them, this was a once in a lifetime opportunity. I received a lot of responses from people on my Twitter and Facebook accounts when I posted that I would be going to New York, so I arranged to meet up with a few of them the day before the concert.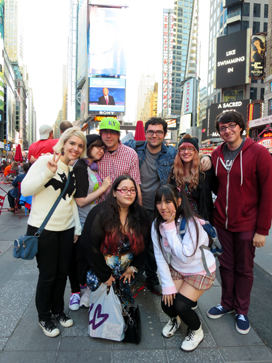 Times Square. The fans I interviewed from around the world.
We met at a café in Manhattan, just a stone's throw from the Broadway concert hall where the concert would be held. New York holds a lot of memories for me but there is nothing more precious than taking time out before a concert to sit down with the local people and discuss the things you like.