What's hot in Japan right now?
Let's introduce the top 5 selling items at the "trend shop"
ranKing ranQueen
Fukuoka Tenjin Shop.
And asianbeat will give away products from the Top5 list to one lucky reader!See last page for details


【This week's featured product】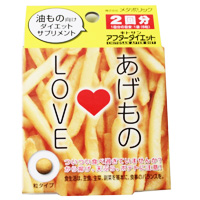 For those who love fried food – oily food diet supplement.Agemono Love (CHITOSAN・AFTER DIET 2 Portions)
あげものLOVE(CHITOSAN・AFTER DIET2回分)
(Vendor: Metabolic Inc./price ¥300)       
Agemono Love (Chitosan After Diet) is a diet supplement for those who love oily food. It also helps when you ate too much. The product contains calcium, iron and other vitamins, which tend to be lacking when dieting. Individual packs make for easy use.


Fukuoka Tenjin Shop(2010.5.17-5.23)

Information Source:ranKing ranQueen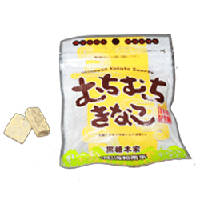 No.5

Muchi-muchi Kinako
むちむちきなこ(¥126)
【Sweets:Brown sugar candy】
After tasting
I was first drawn in by the cute name, but on trying it I found the simple brown sugar taste, which kept me coming back for more – I just couldn't stop. Great as a nutritional supplement at work.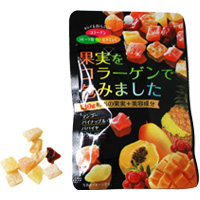 No.4Kajitsu wo collagen de tsutsumimashita
果実をコラーゲンで包みました(¥148)
【Sweets:Dried fruit】
Fruit wrapped in collagen.
Confectionary for your figure made from natural ingredients mango, cranberry, papaya and pineapple wrapped in full of collagen and vitamin C. Citric acid will nourish your skin as well.
After tasting
Not just good for your skin but delicious too. You can enjoy various fruit tastes in just one bag.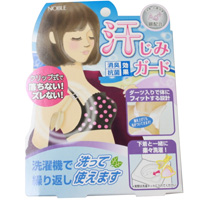 Perspiration Guard
汗じみガード(¥1,155)
【Sundries: Armpit pad】
Protects your favorite jacket and shirts from sweat stains.
The double layered material has an outer of pile and polyurethane inner that protects you from sweat.
Conventional pads slip and fall off, but the new "grip type" fits tight and won't slip. It's so much easier to use.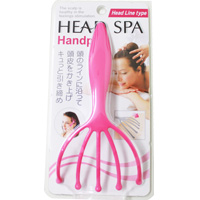 Head Spa Handpro
ヘッドスパ ハンドプロ(¥1,050)
【Sundries: Head care】  
Head Spa relaxation is like having your own salon in your room or bath. It massages the scalp line up and down, giving you that small-faced look.
Product Review
The five flexible prongs press down on the scalp for a great feel. I'll surely get hooked on it.