"S Cawaii" – the Japanese fashion mag making waves across Asia!

540,000 copies in China, 120,000 in Thailand, 80,000 in Taiwan

From left: "S Cawaii!" China, Thailand, Taiwan
I wonder how many Japanese girls are aware of just how popular this Japanese born fashion magazine is to girls and women throughout Asia? Really, it's not unlike the level of influence that the Japanese versions of distinguished publications like Newsweek, The Economist, GQ, ELLE, etc., have in Japan. Current events, world economy, lifestyle, food, fashion. It may sound like an exaggeration but right up there in the world of girl's youth fashion is a Japanese publication leading the way.
"S Cawaii" also recently received a write-up in "China Business Headline." (If you can read Japanese then please check it out!)
『日本ブランドの"可愛(かわいい)"の定着』
http://www.chinabusiness-headline.com/2012/06/24728/
It's only a short article but it's very clever, and if you think you might want to do business in Asia or interact with Asian youth in the future, then it's perhaps worth a read.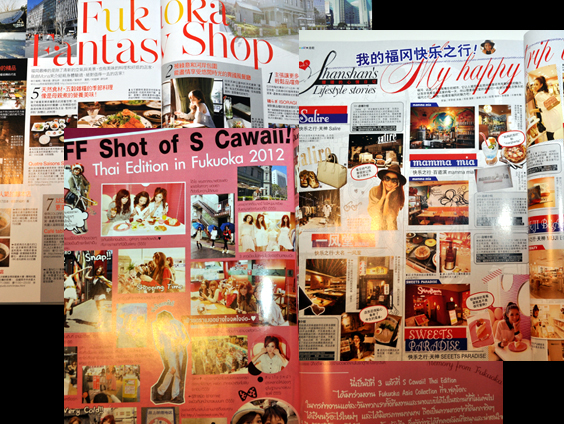 Fukuoka has also received multiple page write-ups in each of the international editions of "S Cawaii"
Sakurai Takamasa wrote something similar in his article
「JAPAN! JAPAN! JAPAN!」
last week, but the important thing isn't trying to make everything "kawaii," you don't even have to like kawaii fashion. The important thing is just to understand that these people living overseas have come to like Japan through kawaii culture. Whether it's business or personal, if you want to get closer to these people that's the best way to start. Don't let your encounters and interactions with others go to waste. Sometimes the most valuable things are right in front of us and we don't even realize it.
asianbeat Deputy Director - Shinichiro Kawagoe
Related Articles