#4 Do Otakus Have What it Takes to Change the World? What I learned from the Otakus in China
"Sakurai-san is an otaku's otaku, isn't he?" I heard a young Japanese female otaku friend say to another friend. And it was right on the mark; I am indeed an otaku's otaku.

Just like "kawaii," otaku is another Japanese word that has reached a level of global recognition in this 21st century. And just as the term spreads throughout the world so too does its understanding and meaning. I believe there's a lot resting on the shoulders of these otakus and I feel a great deal of hope for the future from them.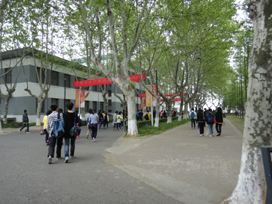 The very green and very spacious Nanjing University of Information Science and Technology.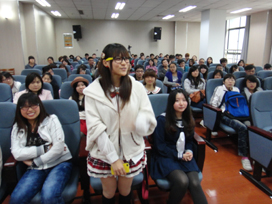 A student and self-professed otaku asking a question during my lecture. She says she loves anime, games, music and all things Japan.
It's a hard ask getting all the people in the world to understand and get along with each other. Just open the newspaper or turn on the TV and you'll see or read about some part of the world that's in a state of war. But I believe that there isn't a single person who doesn't hope for a brighter future.
So how do we change this? I don't believe that diplomacy is something that only done by politicians or bureaucrats. In a sense, we're all diplomats. If you can get people to develop a liking for your own country, you in turn will develop a liking for their country. I'm a firm believer that it's the connections that we make with each other in our individual daily lives that will change the world.

In January 2010 I began engaging China in my cultural diplomacy activities. I first started promoting Japanese pop culture in 2007 and as I've come to develop an understanding of how to carry out these activities in countries of vast distances to Japan, I decided to focus my attention closer to home and try to strengthen relations with our neighbor, China. The first city I visited in China was Beijing and it was here that I encountered China's very own otakus.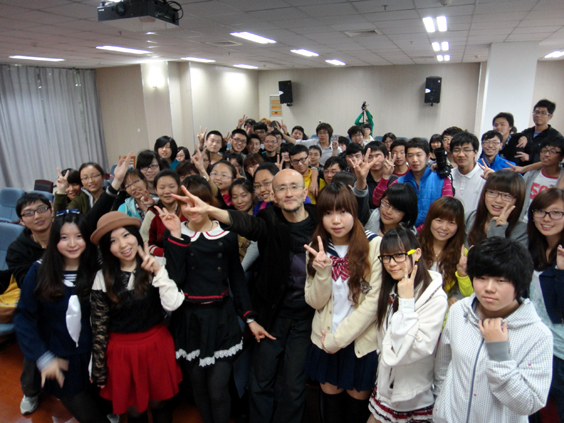 With the university students in China – many of who were self-professed otaku.
"Universities in China are like otaku breeding grounds." That's what the students I spoke with had to tell me, and as I chatted with them about various anime that I had never even heard of I began to feel a little closer to this country called China. Their love and interest in Japan was far deeper than I imagined.
Making friends. I don't think there's a greater form of diplomacy than this. That's what I felt after my encounter with this group of otakus in China.
When the summer and winter Comiket comes around they often make visits to Tokyo. Now, when they do come, it's not just for the anime, music industry or to see other other otaku friends, we all do our best to try and catch up with each other too. We hold a "Comiket get-together" and it just makes me really happy to return the favor that they did for me when I visited them in Beijing in January 2010. It's important to hold big scale events like fashion shows, etc., but I really like this kind of basic, everyday level of cultural diplomacy as well.

Getting the girls to strike their kawaii poses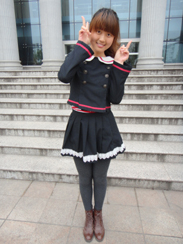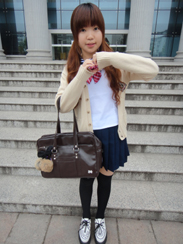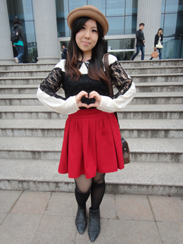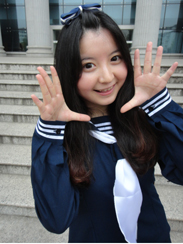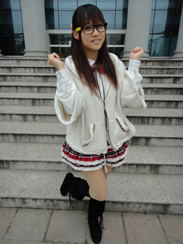 In April 2012 I made a visit to Nanjing. As I wrote in this column two weeks prior, I was there to give a lecture at the Nanjing University of Information Science & Technology.
Kawaii university teacher in Nanjing tells how "Slam Dunk" and sailor-fuku changed her life.
Even here, I met many otaku students who love Japan. When young people outside of Japan speak about "otaku," they talking about people who are well versed on Japanese brand creativity (anime and manga in particular), but they're also people who'll openly tell you "I love Japan," or, "I'm really into Japanese culture." Their affection for or interest in Japan probably comes from anime or manga, but it's the Japanese society that's depicted in these media that forms the basis of their understanding of this country known as Japan and from there they begin to develop a deeper love for the country itself.
On the other hand, whenever I bring up anime cultural diplomacy in Japan, I'll sometimes be met with responses like, "I don't really watch anime." I've never once said anything about there being a need to like anime or manga. That's the choice of the individual. All I want to say is that there are all these people in the world who have come to like Japan through anime and manga and it's such a shame that Japanese people don't make more of an effort to meet them halfway. Their value to Japan and to the Japanese economy is immense and I think Japan's relations with the rest of the world will change dramatically depending on whether we begin to realize this or not.
But getting back to the otaku university students in Nanjing.
Amongst all the students who sat earnestly listening to my lecture, there was one student there in 'sailor-fuku' (girl's sailor-style school uniform). But this wasn't particularly uncommon I was told. All of the students were in their 20s by the way.
"I always wanted to wear it to school when I was in high school, but I couldn't then so I'm doing it now."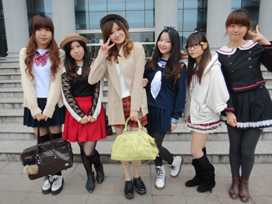 Teacher (center) and students.
There are also times when students attend classes in cosplay apparently. This was a technical school rearing the animation and game creators of tomorrow after all, and it was of no concern to the teachers either.
At night, we all went out to a nearby karaoke.
The girls sang all very current J-Pop songs, one after the other. They were the ones who ended up teaching me about the songs that are big in Japan right now, but this wasn't something all that uncommon for me in all my visits to China.
Teachers and students belting out J-Pop songs one after the other at KTV (karaoke box)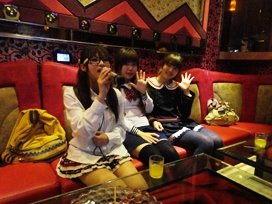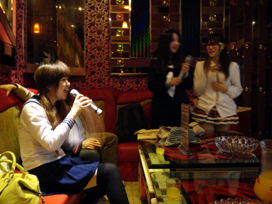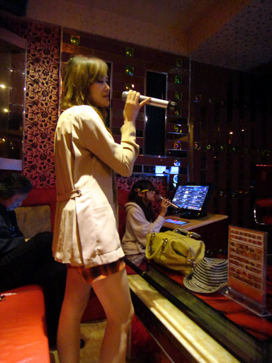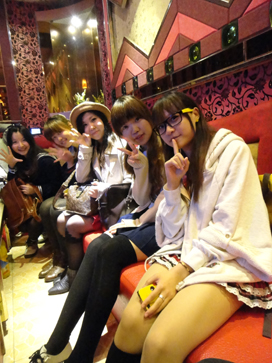 During my stay in Nanjing I didn't meet a single Japanese. Regardless of which, I constantly felt "Japan" all around me.

I always feel it's such a shame that it's only me who gets to experience these things. Please, everyone, join me in seeking out the "Japan" in the rest of the world – the "Japan" that isn't right in front of us. It's easier than you think and that alone holds great significance for creators in Japan. When you find it you'll start to develop a better idea of the current situation in Japan and what we can do to create a better Japan for the future.
A new article every Wednesday!
Next week: Auditions for the Japan Fashion Show in Shenyang

Columnist: Sakurai Takamasa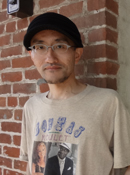 Contents Media Producer, author, journalist, managing director of Contents Street Inc. Chief Editor of iPhone magazine "Tokyo Kawaii Magazine" (ASCII Media Works), World Cosplay Summit Executive Advisor, Chief Researcher at Kodansha/Kodansha BC China Management Laboratory.
Cultural diplomat producing events in 98 cities in 23 countries. Books include "Galapagos-ka no susume"(Kodansha), "'Suteru' de shigoto wa umakuiku"(Diamond-sha), "Nihon wa anime de saiko suru
"(ASCII Shinsho), "Sekai no kawaii kakumei " (PHP Shinsho), and "Anime bunka gaiko "(Chikuma Shinsho). Writes regular columns in the weekly magazine "ASCII" and Yomiuri Shimbun.

●twitter http://twitter.com/sakuraitakamasa/
PRESENTS
All the info. on asianbeat's present campaign!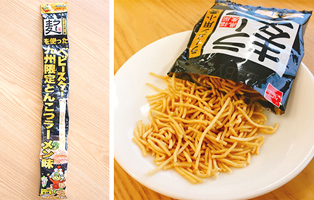 * Win a packet of "Ramugi Baby-Star (Kyushu limited edition tonkotsu ramen flavor)"!
[Details] Click
HERE
!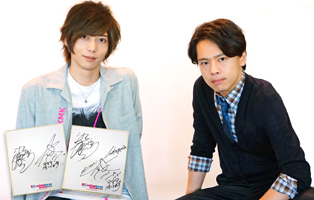 *Win a card signed by Akinori Nakagawa & Toshiyuki Someya!
[Details] Click
HERE
!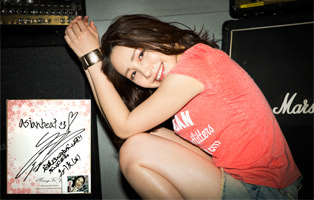 * Win a card and a cheki (photo) autographed by You Kikkawa!
[Details] Click
HERE
!