#2 Kawaii university teacher in Nanjing tells how "Slam Dunk" and sailor-fuku changed her life.
From January 2010 I began focusing my cultural diplomacy efforts on China, and since then I've visited the country a total of 14 times. My number of Chinese friends and acquaintances continues to increase and more frequently now, whenever I visit China, I won't come in contact with a single Japanese. That's also probably why elements of Japan stand out so strongly whenever I encounter them too.
I didn't come across a single Japanese during my trip to Nanjing in April this year. The Nanjing University of Information Science and Technology invited me there to give a lecture at their Media & Art College (established in 2008; opened in 2009) and also to award me the position of guest lecturer.
The college boasts an animation studies department, compromising fields of hand-drawn animation, 3D animation and illustration, as well as a digital media studies department where students learn advertising, image display and game design. The school consists of 400 students hailing from all over the country, two thirds of which are females. As might be expected of a brand new college, the teaching staff are also quite young. The way things are done here are completely different to how they would be done in Japan. The provision of this kind of training in animation may even indicate the beginning to a possible trend in the Chinese government's plans for education in this field for the future.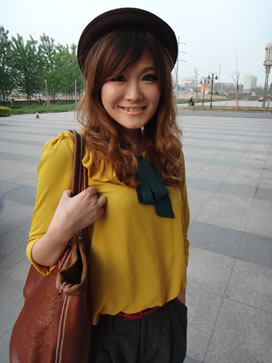 This university teacher is an avid reader of "ViVi" and "mina" – both popular publications in China.
Before giving my lecture to the students at Nanjing University of Information Science and Technology, time was set aside to first speak with the teaching staff and answer some of their questions. A number of the questions I received from them were concerning the difference in the anime production environment between Japan and China and it was a rather insightful discussion. Their earnest faces, listening intently as I answered questions on anime copyright structure, hand-drawn anime vs. CGI anime, and commercial animation and Creative Commons, really left an impression on me.

Twenty-nine year old Song Yu is a teacher of animation and drawing at the Media and Art College and was also my interpreter for the lecture I gave to the students. She says she first came to know Japanese anime when she was in the second year of primary school and saw the series "Ikkyu san." Then, when she was in middle school, the "Slam Dunk" boom swept the nation and that's when Song-san began to develop an interest in the Japanese language. She says she even used to sing Maki Oguro's "Anata dake mitsumeteru," the ending theme song to the "Slam Dunk" series, in Japanese too.
That and the opening theme song to the same series, BAAD's "Kimi ga suki da to sakebitai," are two ani-songs (anime songs) that are well known right throughout the whole of China. There almost wouldn't be anyone in China in their 20s~30s who has an interest in either anime or Japan who wouldn't know these songs. Ani-songs are a powerful tool in the globalization of Japanese culture and language.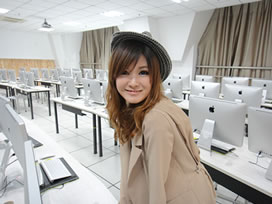 University lecture room.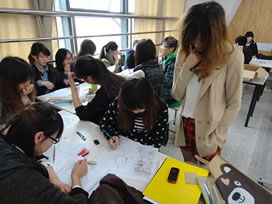 She's also a big hit with the students. "Sensei kawaii!!"
When she was hooked on "Slam Dunk" as a girl, Song-san wanted nothing more than to wear sailor-fuku (Japanese sailor-style school uniform) like the girls in Japan. She would watch anime and be so taken by the female characters in their sailor-fuku that she had her Aunt make her one, which she would then wear to school underneath her school jersey. When she got to school she would apparently take off her jersey straight away and attend classes in her sailor-fuku.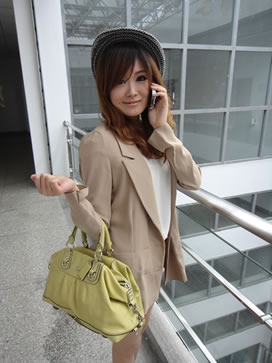 The anime she says she's hooked on at the moment is "Daily lives of high school boys."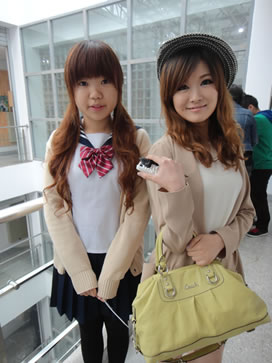 One of her students (22 years old). Today she's wearing sailor-fuku to school. Apparently it's not that uncommon.
At that time, the reason she took up drawing was also because of "Slam Dunk." Her dream was to become a teacher. She wanted to be just like the kind and beautiful homeroom teacher she had back then.
"I've managed to fulfill my dream of becoming a teacher through drawing and I couldn't be happier. My students are all really great kids too. It may be that I'm a bit of a push-over too, though (lol)."
When I asked the female students to give me their opinion of Song-san, they replied:
"Our teacher is so kawaii! We love her."
When she was in high school Song-san also took part in the first cosplay tournament to be held in Nanjing.
"I cosplayed as Tomoe from "Ruroni Kenshin." Only four people took part in the tournament back then and it took a lot of courage to walk around the city dressed like that. But there were still a lot of people wanting photos and autographs!"
In high school, she got one of her cousins who went to Japan to buy her a sailor outfit and she would wear it to school. It seems that Song-san's love of Japanese anime runs right down to her core.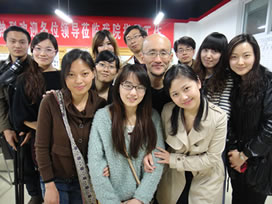 The teaching staff at Media & Art College. All so young!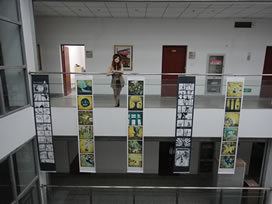 Behind one of her self-works, currently on display.
After entering university she then started to develop an interest in Japanese fashion magazines.
"I came to like Japan from an early age through anime. I used to think that Japan was like a land of dreams. Even now, it's my dream to study in Japan."

At this particular college, teachers are encouraged to embark on further training and education overseas. I hope that sometime in the near future she's able to realize her dream and teach the students at Nanjing University about current day Japan.

"I study Japanese everyday; whether it be through watching anime or listening to Japanese TV dramas recorded onto CD. I really learn a lot through anime though. Plus, I have to watch anime to be able to keep up with what students are talking about (lol).

I really look forward to the next opportunity when I get to give a talk at university with Song-san again.

A new article every Wednesday!
Next week: A role in Taiga Drama! Ai Takahashi reveals the strength behind Hello! Project

Columnist: Sakurai Takamasa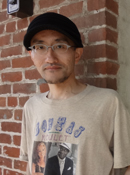 Contents Media Producer, author, journalist, managing director of Contents Street Inc. Chief Editor of iPhone magazine "Tokyo Kawaii Magazine" (ASCII Media Works), World Cosplay Summit Executive Advisor, Chief Researcher at Kodansha/Kodansha BC China Management Laboratory.
Cultural diplomat producing events in 98 cities in 23 countries. Books include "Galapagos-ka no susume"(Kodansha), "'Suteru' de shigoto wa umakuiku"(Diamond-sha), "Nihon wa anime de saiko suru
"(ASCII Shinsho), "Sekai no kawaii kakumei " (PHP Shinsho), and "Anime bunka gaiko "(Chikuma Shinsho). Writes regular columns in the weekly magazine "ASCII" and Yomiuri Shimbun.

●twitter http://twitter.com/sakuraitakamasa/
PRESENTS
All the info. on asianbeat's present campaign!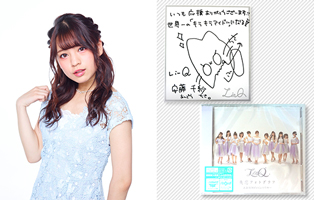 * Win a CD & a card signed by LinQ Chisa Ando!
[Details] Click
HERE
!