An anime-centric radio program by the name "Ani-tune ❤Fukuoka" is starting broadcasted by CROSS FM.

Fukuoka's hot trends of anime, music and game etc.!
As of May 1st, 23:00 (Thursday) the radio station CROSS FM will be broadcasting the anime-centric program, have you tuned in yet?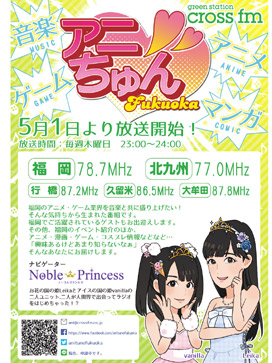 This special program will be hosted by the "Noble Princess" unit: Leika and Vanilla, who in addition to this work at a maid cafe in Fukuoka. These two will be bringing you the latest on anime, manga, games, cosplay and other similar trends that are enough to fulfill even your wildest otaku dreams. For those of you into Japanese subculture, this is the perfect channel!

Everything from convenience store items to the latest information of anison(anime song) artists, a wide range of topics will be delivered to you! In addition, in the corner "Ani-tune ❤recommend", each week a golden oldie anime will be picked up and introduced while playing the title tune of anison(anime song). In the memorable 1st broadcast, the opening theme of "Neon Genesis Evangelion; A Cruel Angel's Thesis", in the 2nd, Do You Remember Love? from the movie, "Macross: Do You Remember Love?" came on the air.
DJ 世界ぃの社長ぅ(Sekaii no shachou) presents "Ani-tune❤MIX" which will introduce you a variety of anison from golden oldies to the latest tie-in songs.

Not only will this station bring you the newest otaku trends but it will also revive some old ones! An example of this would be the movie "Macross: Do You Remember Love?" which hit theaters around 30 years ago in 1984. It's so long ago in fact that some of you might not even have been born yet! Whether you're hearing it for the first time or are filled with a sense of nostalgia upon listening to a familiar tune, you'll have a good time! "Ani-tune" will be presenting you with a wide range of anime songs - from the oldest to the newest - they are bound to please you.

In addition to this, "Ani-tunes❤Ogiri*" will be hosting a corner in which famous quotes and scenes from various anime series will be re-enacted by listeners.
This month's topic is a famous quote from "Mobile Suit Gundam": You hit me twice, not even my dad hits me! What have you done Amuro?? The listener with the best response gets stickers as a prize!
*Ogiri is a Japanese traditional game in which the host poses a question and the players must respond with an answer that is funny and full of wit.

According to the program director this broadcast was created in hopes of, "Promoting subculture in Fukuoka, as anime, games, and the musical scores that are associated deserve much more attention than the currently are getting." You can practically feel the love for Japanese subculture and Fukuoka! Why not tune in Thursday night for some anime and game talk and have a listen for yourself!
"Ani-tunes❤Fukuoka" plans to also start hosting events in the near future, as well. We are looking forward to seeing what they have in store for us! -This program is in Japanese- (Editer: 93a)
green station cross fm Ani-tune❤Fukuoka
Time: Every Thursday from 23:00~24:00
Channel: Fukuoka 78.7MHz, Kitakyushu 77.0MHz, Yukuhashi 87.2MHz, Kurume 86.5MHz, Omuta 87.8MHz
Official Website:
green station cross fm 「アニちゅん❤Fukuoka」
*You can also listen to this program by Radiko.
Radiko is the Internet Protocol simulcast radio distribution service which enables PCs and smart phones to be a radio receiver.
For more information:
http://radiko.jp/