Everyone's Bound to Love "Hakata Sara Udon"!

Introducing one of Fukuoka's lesser-known local cuisines
If you ask someone what's good to eat in Fukuoka, they'll most likely tell you, "Tonkotsu Ramen!" (Japanese noodle soup: thin, straight noodles in a rich, milky-colored, pork-bone (or "tonkotsu") broth), but the local people themselves seem to eat more udon than they actually do ramen. So then what about "sara udon"?
In Fukuoka, and especially around Hakata, "sara udon" refers to soft, fat noodles that have been stir-fried with vegetables. To regular people, though, "sara udon" usually refers to a deep-fried noodle dish, topped with fried vegetables and a thick ankake sauce (this dish is also known as "Nagasaki sara udon"). So to differentiate the two, the former is often referred to as "Hakata sara udon."
The other day, when I went for lunch at a Chinese restaurant in Tenjin, there was a whole range of items on the menu but everyone around me seemed to be eating either "hiyashi chuka" (Japanese cold noodles) or "Hakata sara udon." That's how popular the dish is here in Fukuoka!
As I found out on TV the other day, "Hakata sara udon" originated in Fukuoka and was thought up in the early Showa period by one Mr. Chang Zhau Shue, the second generation owner of the long-standing Chinese restaurant, "FUXINLOU." So I went to the source to taste it for myself!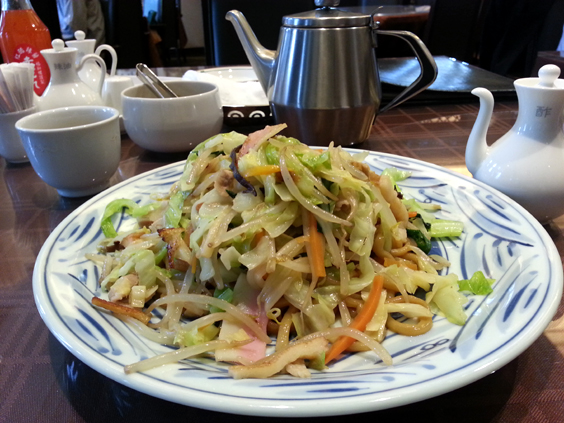 ▲ This is Hakata's "sara udon"! Pour the vinegar to your own liking.
My meal arrived 20 minutes after ordering. The dish is prepared, as it is written in the menu, by stir-frying the noodles first, then transferring them to the soup on the boil, and then stir-frying the noodles once more, together with the vegetables. The noodles become soft with all the time and processes involved but they still maintain the right amount of chewiness.
The proper name for the dish at this restaurant is "Fujian chow mein" (stewed and sautéed noodles) "Hakata-style" and it seems to be quite the popular menu item as both the businessmen at the table next to me had ordered it too. You can buy the deep-fried noodles used in Nagasaki sara udon from the supermarket and quite easily make it yourself at home, but it's not so easy to reproduce the same textured noodles and flavor of the Chinese soup that you get when you order Hakata sara udon at a restaurant. Not only is Hakata sara udon a solid meal, packed with vegetables, but it's a taste that keeps you going back for more no matter what the season. It's particular good right now, though, because generous servings of vinegar can help overcome the effects of the summer heat.

So next time you're at a Chinese restaurant in Fukuoka and you see "soft noodle sara udon" on the menu, don't be afraid to give it a try. (Editorial Dep't. Yamashita)
PRESENTS
All the info. on asianbeat's present campaign!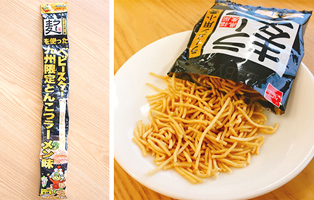 * Win a packet of "Ramugi Baby-Star (Kyushu limited edition tonkotsu ramen flavor)"!
[Details] Click
HERE
!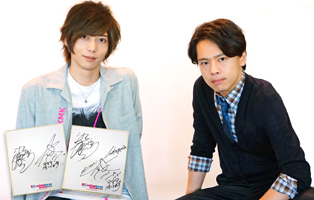 *Win a card signed by Akinori Nakagawa & Toshiyuki Someya!
[Details] Click
HERE
!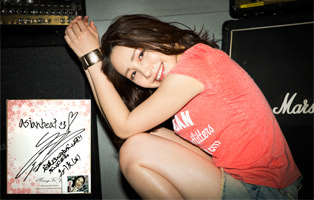 * Win a card and a cheki (photo) autographed by You Kikkawa!
[Details] Click
HERE
!