A kimono fitting event held at "Studio AZURE" in Taipei, Taiwan has caught the public eye!

The popular photo studio in Taipei, Taiwan: "Studio AZURE"
Having been an active all across the world, the Korean cosplayer AZA MIYUKO attended a 'doujin'(self-published) event, "Petit Fancy21" when she visited Taiwan last October. She also went to Studio AZURE for a photo shoot and turned out beautifully in the pictures. (For those of you that would like to see the pictures, please check her Facebook fan page!) And on December 20th and 21st 2014, she held a meet-and-greet with her fans at this place! It seems even AZA has taken a liking to Studio AZURE, whose popularity continues to rise, we asked the Studio AZURE staff what this place is all about!
Having opened in Taipei, Taiwan in October 2014, Studio AZURE is a fairly new project which combined the efforts of people from all types of occupations and ages, who all hold a love for cosplay and wanted to make a place where cosplay and photo shoots come together.

Among some of the founding members are a cameraman and a collector of artistic furniture. The staff says, "We've been greatly inspired by our customers (cosplayers, cameramen, etc.). Each of them brings a uniqueness to the set and creates a great piece of art with the interior and items we set aside for them. Every time, this studio exceeds our expectations by putting together something that is beyond our imagination. Not only does it broaden one's sense of understanding, but we also leave, taking these valuable experiences with us."

The store itself is divided into three different areas, separated by theme. The first corner is called the"Kuro Usagi Kan (Black Rabbit Hall)" and is primarily decorated in black and red. There is a fixed jail cell and it is often referred to as "The Vampire Room" by customers. Another section that is known as the "Shiro Neko kan (White Cat Hall)" corner is a Western-style set that consists mostly of white and blue. The final area is a Japanese-style room decorated in beautiful cherry blossom flowers, "Omeshi chaya". All of these concepts were based on the idea of, "A space very different from daily life."

The shop has a large free space in and the interior has been designed in a way that makes changing the layout for photo shoots an easy thing and makes it great for all kinds of events including tea parties, birthday parties, exhibition sales (display and sale of products), and even private screenings!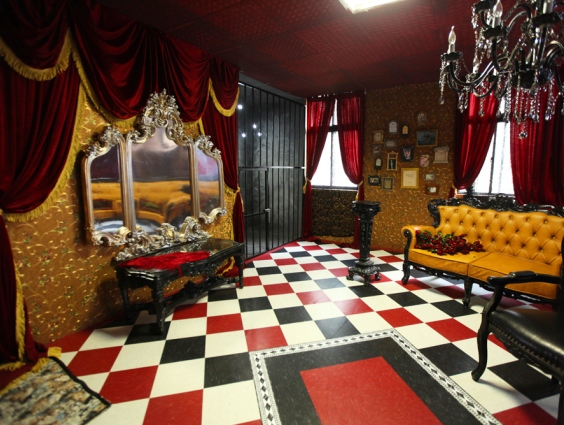 ▲ "Kuro Usagi Kan": This is the room where AZA MIYUKO did the photo shoot.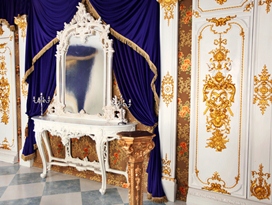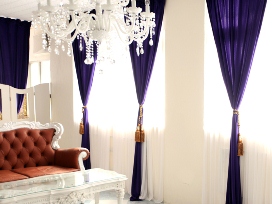 ▲The relaxed atmosphere of the "Shiro Neko kan" adds to its charm.
Building international friendships through kimono parties!
Kimono dressing instructor, Kaori who is currently living in Fukuoka held a kimono fitting event and tea party on December 6th at "Studio Azure" in the Omeshi chaya room.

This kimono fitting event was held for the third time in Taiwan (the first event being a yukata fitting) but these events are also held all across Asia, Australia, Europe, and America. "These kimono fitting and tea ceremony parties are also held in Fukuoka, mainly for foreign residents or exchange students, and is a good way to meet new people. I do kimono fitting and tea ceremony events at an old traditional Japanese house for students that visit Japan on school trips," Kaori tells us as she was about to set off with her four assistants to Taiwan.

While it was her first time working with "Studio AZURE," she tells us that when it comes to kimono fitting and tea parties, being able to hold the events at the same place really helps a lot. By fitting our participants, styling their hair and following this with a tea party in which we play the karuta game "The Hundred Poems by One Hundred Poets," we give them a taste of Japanese culture and they take away a valuable experience – a day filled with enjoyment.

We are looking forward to seeing more of these kind of events! (Editorial Dep't. Shingi)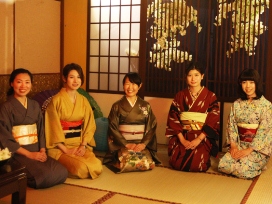 ▲Top-class kimono dressing instructor, Kaori-san and her students.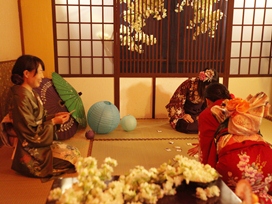 ▲Kaori showing everyone how to play "The Hundred Poems by One Hundred Poets."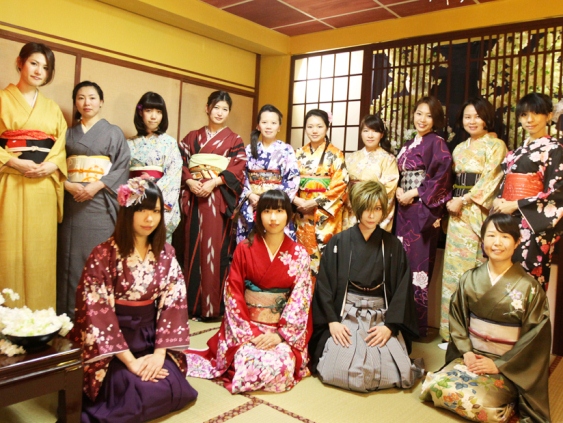 ▲Everyone who participated in the kimono fitting event. Even just looking at the picture leaves you with a sense of how wonderful the event was.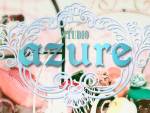 Photography studio
Address: 台湾台北市延平北路一段69巷5号3F
Tel: 886-909-056905
LINE: StudioAZURE
Related Articles
External Links
PRESENTS
All the info. on asianbeat's present campaign!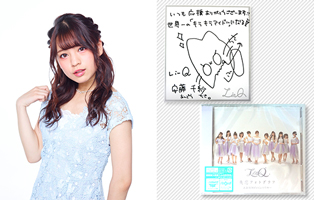 * Win a CD & a card signed by LinQ Chisa Ando!
[Details] Click
HERE
!