Create a Handmade Ring Case using "Hakata-ori," a Traditional Japanese Textile!

Why enjoy an experience exclusive Hakata?
Since mid-February, from around the time the holiday for the Chinese New Year started, the city has been bustling and you will have seen a huge number of foreign tourists throughout the city. The number of tourists visiting Japan has doubled and the recent depreciation of the yen is said to have played a major role in this trend. Recently shopping and food are not the only activities visitors have been looking to get their fill of, there has also been a significant number of voices calling for "experience-based tourism."

It's to these people that we want to recommend a course that is taking place in Fukuoka on Saturday 4th April!

In "A Class for Making a Handmade Ring Case using Traditional Japanese Materials," you will learn how to make a ring case using "Hakata Ori" (a traditional local textile)," one of the prides of Fukuoka. And that's not all, for this event, to allow the non-Japanese participants to be able to take part at their own pace, there will be language-support on hand to help with any key issues that might arise. According to the organizer, the event will give foreign visitors, who do not often have the opportunity to interact with Japanese people, the opportunity to mingle with the locals.
Even for those of you living abroad who plan to visit Fukuoka and join the course, it is still possible to participate if you apply in advance. Also, the Japanese participants at the event will be really happy to interact with visitors from foreign countries.

For this event, participants will be placing a cushion made of Hakata-ori inside a case made from paulownia wood, and using a gold leaf finish to decorate the lid. Whilst creating a high-quality, original ring case that you are unlikely to see anywhere else in the world, make some lasting memories of your time in Fukuoka! (Editorial Dep't. Yamashita)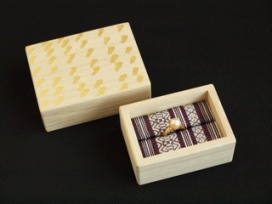 Hakata-ori Ring Case (sample design)
A Class for Making a Handmade Ring Case using Traditional Japanese Materials
[Date and time] Saturday, April 4th, 2015 10:30 AM - 11:30 AM (doors open from 10:15)
[Venue] 1F Tenjin Chikumoku Building, 3-10-27, Tenjin, Chuo-ku, Fukuoka City
[Participation Fee] 3,500 yen(price includes cost of the materials)
[Organizer] AnteLink Inc.
[How to Apply] A map and further details will be emailed by organizer once you have applied. To apply please send an email to trans@ante-link.co.jp, including the following information: your name, native language, number of participants and contact details (hotel name and phone number). The organizers will stop receiving applications once they reach capacity.
[Enquiries] Please send enquries to AnteLink Inc.
trans@ante-link.co.jp
PRESENTS
All the info. on asianbeat's present campaign!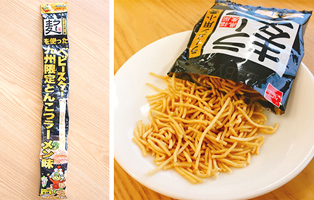 * Win a packet of "Ramugi Baby-Star (Kyushu limited edition tonkotsu ramen flavor)"!
[Details] Click
HERE
!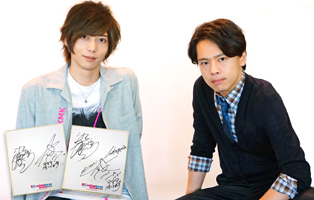 *Win a card signed by Akinori Nakagawa & Toshiyuki Someya!
[Details] Click
HERE
!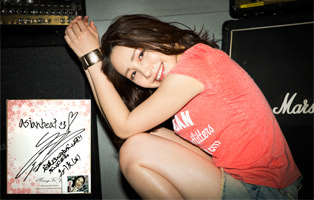 * Win a card and a cheki (photo) autographed by You Kikkawa!
[Details] Click
HERE
!