The asianbeat website celebrates its 10 year anniversary!

asianbeat - expanding its circle of friendship across the world!
asianbeat was established on September 30th 2005!

As a means of developing friendship and cultural exchange with countries and regions throughout Asia, and to draw attention to youth culture - a platform where language is no barrier - Fukuoka Prefecture set up the multi-lingual website asianbeat in 2005. With the support of readers throughout the world, this year we celebrate our 10th anniversary!

Japanese pop culture, which has these days become synonymous with words such as "kawaii," "otaku" and "cosplay," has influenced youngsters the world over, and having given rise to numerous fans of our country, is an aspect of Japanese culture that we have come to take great pride in. However, at the time that asianbeat was established, there was no precedent of the local government engaging in cross-cultural debate from the perspective of youth culture, based on topics such as anime, cosplay and manga. As such, the staff members had to really strive and toil to create a meaningful website, full of substance and content. Within these trying times, the staff held the desire to turn "Fukuoka into a hub that facilitates the exchange of Asian youth culture" close to their hearts, which saw them cultivate a desire to consistently challenge their limitations and be as creative as possible, and in the process greatly expand the circle of friendship and cultural exchange amongst youngsters.

Reaching the milestone that is our 10th year, in addition to updating our readers on Japanese and local Fukuoka pop culture, we will aim to introduce our readership to the charm and appeal of Fukuoka, all through the lens of young people in the city. And in order to raise awareness of Fukuoka Prefecture overseas we decided to freshen things up by updating the website and gave it a complete overhaul. Furthermore, to accommodate fans in Indonesia, a country experiencing rapid economic growth, which is home to the 4th biggest population in the world, we set up an Indonesian version of the website, meaning that asianbeat is now being produced in 8 languages!

To celebrate our 10 year anniversary we asked our readers, many of whom have been with us since the very beginning, to "send in your asianbeat Stories!" and share with us experiences you've with the website. We received lots of stories, full of personality and individuality, from our readers! As well as heartwarming anecdotes from Kawaii Ambassadors and our asianbeat colleagues! Please check them out!

For the last 10 years asianbeat has steadily advanced along with the youth of Asia.
But looking at the bigger picture, it has merely been 10 years, cultural exchange amongst young people is eternal!

The desire from asianbeat's early days of turning "Fukuoka into a hub that facilitates the exchange of Asian youth culture" still beats loudly in our hearts, and moving forward, we will continue to share the latest pop culture info and goings on in Fukuoka Prefecture with all of you!

Youth culture knows no barriers! (Tomoyuki Yamaki, asianbeat Manager)
Related Articles
PRESENTS
All the info. on asianbeat's present campaign!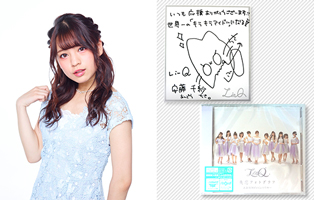 * Win a CD & a card signed by LinQ Chisa Ando!
[Details] Click
HERE
!