Check-out the Kitakyushu Pop Culture Festival 2015!

Kitakyushu Pop Culture Festival 2015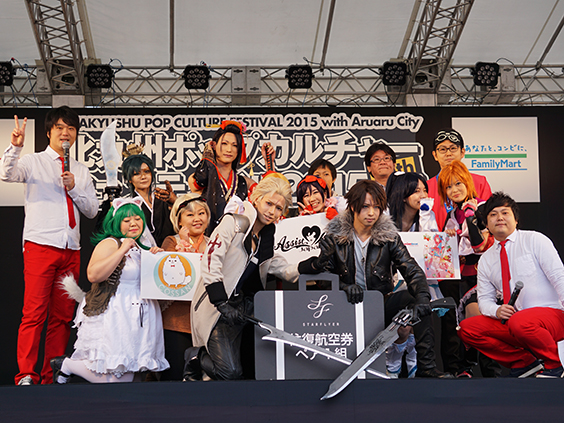 On the weekend of the 28th (Saturday) and 29th (Sunday) November the "Kitakyushu Pop Culture Festival 2015" took place at number of locations, including the Asano Shiokaze Park, and the West Japan General Exhibition Center, etc.
Check-out our report on the event, which brings you all of the excitement from two jam-packed days of fun!
Love Live! Nebuta Lanterns Light-up Ceremony!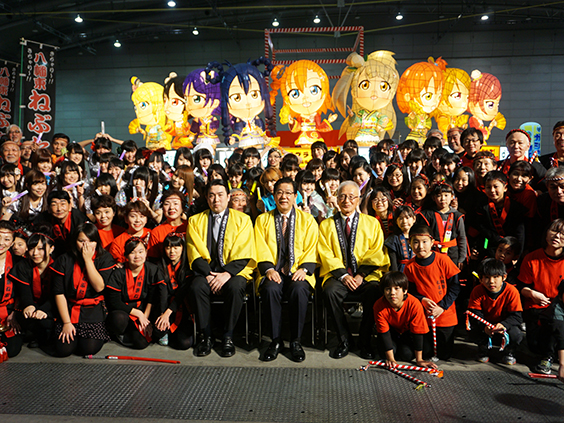 At the opening ceremony, the hugely popular Love Live! Nebuta* illuminated floats were lit up. To kick things off, the sound of taiko drums and flutes combined together with Nebuta festival dancers from Yahata-higashi for a thrilling performance.
There was then greetings from Kitakyushu Mayor Kitahashi, Kitakyushu Chamber of Commerce and Industry's Chairman Toshima and Aruaru City's President Omura. Local Fukuoka idol groups, as well as idol groups who perform in the Kanto region joined together with the participants and everyone in attendance, to witness the lighting of the Nebuta Lanterns.
(*traditional Japanese lit-up floats. Well-known from "Aomori Nebuta Matsuri)
"Red Carpet Walk"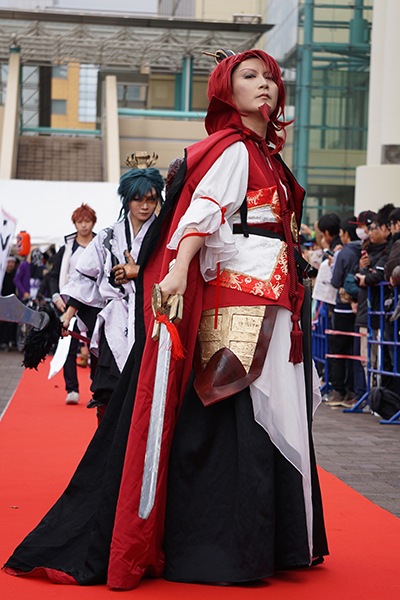 The fabulously dressed guests and participants at the Kitakyushu Pop Culture Festival 2015 took to the red carpet, much to the delight of the fans. Appearing as Ren Hakuryuu and Ren Kouen, who are characters from the immensely popular manga "Magi: The Labyrinth of Magic," Mahio and Mariko of "琉演 Ryuen," the Japanese representatives at the World Cosplay Summit 2015, treated everyone to a surprise performance, which got the whole venue pumping with excitement!
Selecting Japan's Representative for the World Cosplay Summit 2016: Kyushu Qualifying Round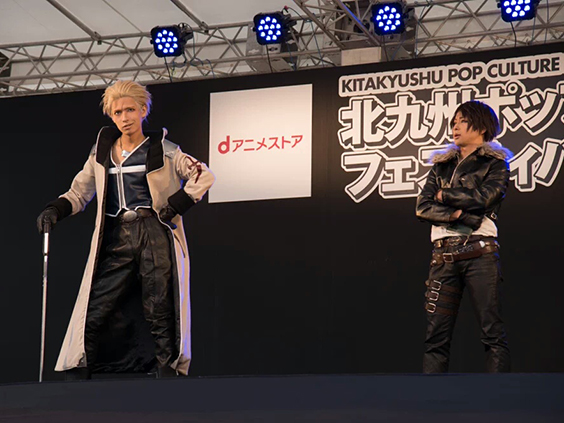 The "World Cosplay Summit 2016" is due to be held in July 2016 and this was the first time that a Kyushu Qualifying Round was held to decide who will go on to the Japan Tournament.
With the judges and many spectators in attendance, it was team "horizon." that were announced as worthy winners. They gave an energetic performance as Squall, the protagonist from the world famous video game "Final Fantasy Ⅷ," and Seifer, who is known to be his main rival.
They performed a dramatic collection of scenes, depicting a highly-charged argument between the two characters. The quarrel escalated into a fight, and with background music and an sound effect playing behind them, their altercation really resembled the game. But the fight was recast in a surreal and comic manner, which got the crowd roaring with laughter.
Ingram Deck Up Event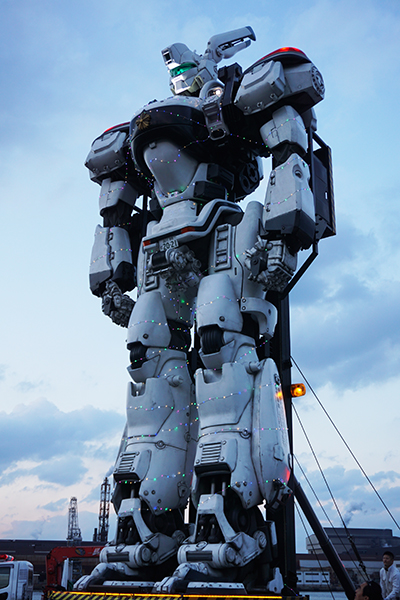 The "deck up" event saw the robot Ingram, from the anime and manga "Mobile Police Patlabor," brought to stand-up right with the help of a transportation vehicle, having started in a lying down position, and was a huge draw for those in attendance. This took place four times a day, and depending on the time, the light decorations changed to reflect Ingram's appearance. Standing tall and shining against the setting sun, Ingram looked absolutely amazing!
KITAQ POP FES ARUARU STAGE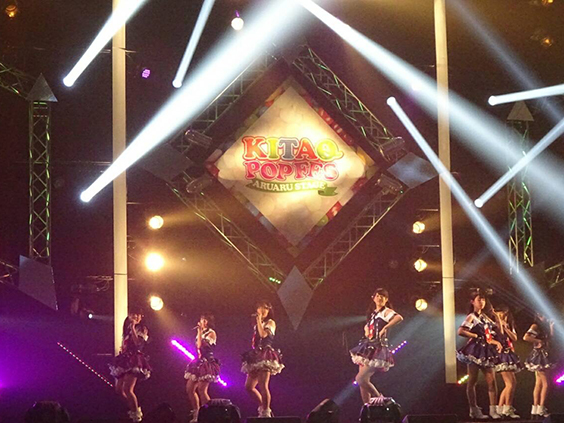 From the Kyushu idol group "LinQ," to idols who are active in the Kanto area, there was a whole range of performers on stage. In all there were over 20 groups whom performed, including appearances from the leader of "9nine" Umika Kawashima, who regularly appears in TV dramas and commercials, as well as Fukuoka prefectures very own Rina Miyazaki from the band "SUPER☆GIRLS." With so many acts, the previous days rehearsal ran later than expected, and on the day itself the show was extended to 8 hours.
asianbeat Booth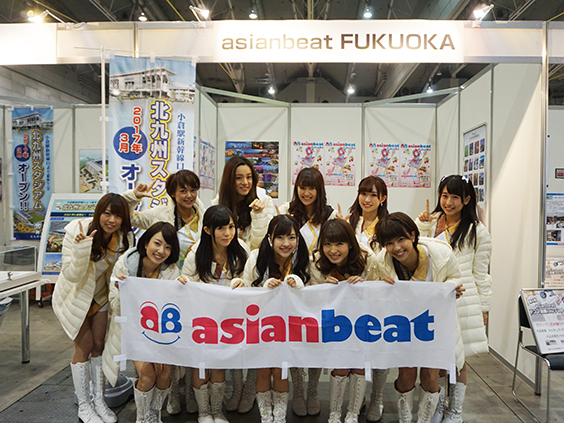 asianbeat was in attendance and had a booth at the event. We had posters featuring asianbeat's mascot "asianbeat-chan" on display, and also gave out Fukuoka-related questionnaires to everyone who stopped by the stand. Through these kinds of activities we were really able to promote asianbeat, as well as the enduring, charming appeal of Fukuoka. On the second day, the Fukuoka idol group "LinQ," who are now also performing overseas, stopped by to join in with the fun. We will soon be posting our special feature on the event, which includes a whole range of photos from the festival, so please stay tuned! (Editorial Dept.: Mario)
Related Articles
External Links
PRESENTS
All the info. on asianbeat's present campaign!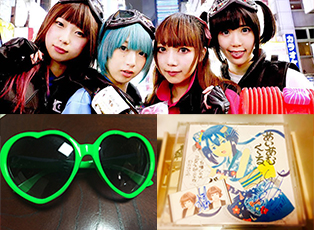 * Win a signed goods from Gekijoban Gokigen Teikoku Ichiho Shirahata and Hibiki Kunogi!
[Details] Click
HERE
!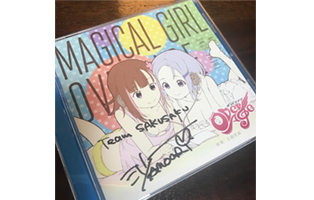 * Win a CD signed by Taketeru Sunamori!
[Details] Click
HERE
!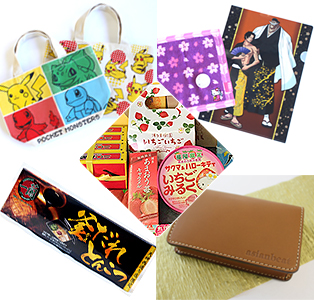 * Take Part in Our Reader Survey and Win a Really Great Prize!
[Details] Click
HERE
!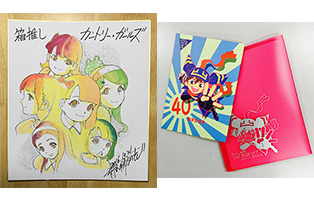 * Win a card signed by Hiroshi Koujina or a Studio Live 40th anniversary book and commemorative file!
[Details] Click
HERE
!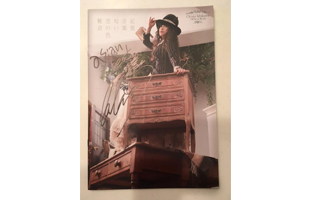 * Win a booklet autographed by Chiaki Ishikawa!
[Details] Click
HERE
!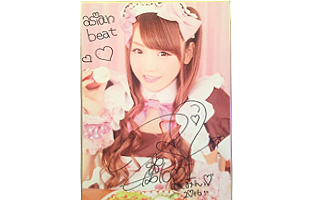 * Win a card autographed by hitomi!
[Details] Click
HERE
!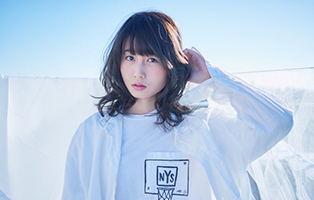 * Win a signed cheki (photo) autographed by Ririko Masuzawa!
[Details] Click
HERE
!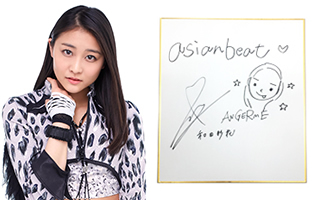 * Win a signed card autographed by ANGERME Ayaka Wada!
[Details] Click
HERE
!