Report on the"Fukuoka-Deliciously Happy Grand Banquet"

Re-discover the charming delicious qualities of Fukuoka delicacies!
In Fukuoka Prefecture there are numerous events held every November as part of the "Food Education / Local Production for Local Consumption Month." The "'Fukuoka no Oishi Shiawase' Dai-bansankai (Fukuoka-Deliciously Happy Grand Banquet)" was held on 24th November as the main event of the month long activities!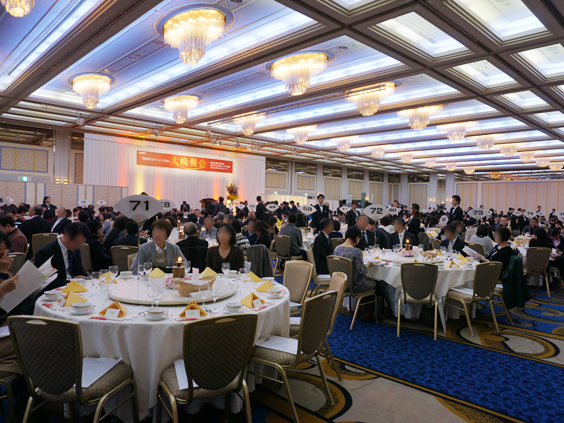 Inside the venue
The entire venue was engulfed in a wonderful atmosphere and those in attendance were greeted to a live performance of the flute and piano. It was packed full of guests who enjoyed top-class, refined service provided by the hotel staff, as well as a huge array of Fukuoka foods prepared by top class chefs.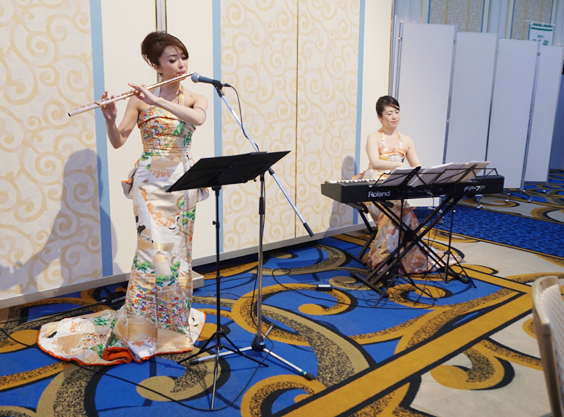 Performance by Kumi Nakanishi (flute) and Naomi Oka (piano)
Inside the venue, there were booths organized by "Fukuoka Eco Nosanbutsu (Fukuoka Eco-Agricultural Produce)," "Yamecha (Yame tea) of Fukuoka" and "Hatsutsumi Fukuoka Nori (First Picked Fukuoka Nori Seaweed)," as well as a stand introducing locally brewed Fukuoka sake, which all helped to envelop this event in the charming, alluring appeal of the Fukuoka area.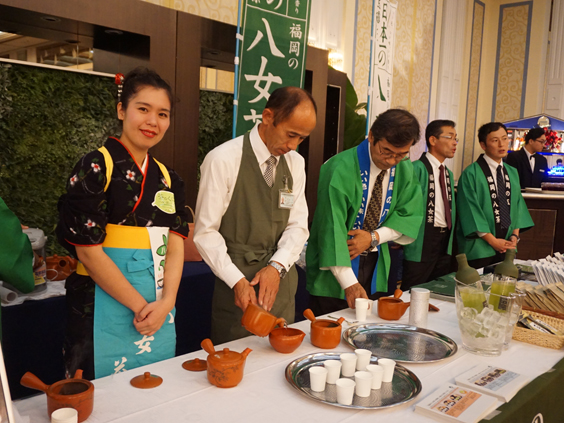 The booth of "Yamecha (Yame tea)" of Fukuoka
The local producers made every effort to draw out the best and maximize the taste of the high quality Fukuoka foods, which have been cultivated with the greatest deal of care. It goes without saying that absolutely everything, from the food featured in the the menu, which was put together by the Hotel New Otani Hakata Head Chef, to the flowers, candles and chopsticks on the tables, were all Fukuoka products.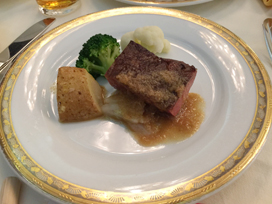 Steak made from Hakata Wagyu (beef)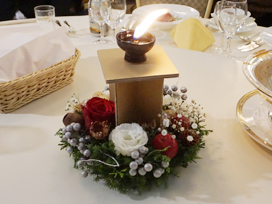 "Haze (wax tree)" wax candle and flower arrangement made using Fukuoka products
During the meal guests could hear the valuable experiences of local producers. It was a truly great opportunity to taste food from Fukuoka, which had undergone a stunning transformation into exquisite Japanese, Western, and Chinese dishes, while re-confirming that Fukuoka boasts a great deal and wide-range of special products.

Be sure to check-out our photo-report featuring all kinds of snaps from inside the venue and the food, too! (Editorial Dept.: Nene)
PRESENTS
All the info. on asianbeat's present campaign!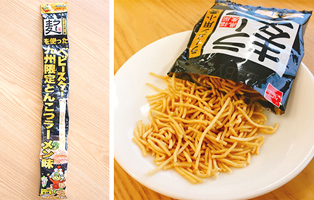 * Win a packet of "Ramugi Baby-Star (Kyushu limited edition tonkotsu ramen flavor)"!
[Details] Click
HERE
!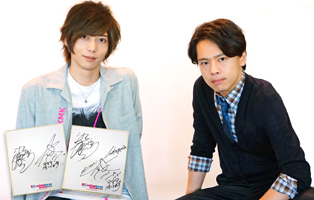 *Win a card signed by Akinori Nakagawa & Toshiyuki Someya!
[Details] Click
HERE
!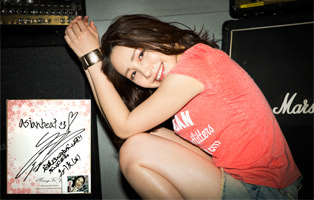 * Win a card and a cheki (photo) autographed by You Kikkawa!
[Details] Click
HERE
!