Featuring the return of popular characters from throughout the series! The much anticipated "Gyakuten Saiban 6" is finally coming to Japan!

*The terms and explanations we have used in describing "Gyakuten Saiban 6" are translations from our
Japanese article
. Please note that titles, names and settings may differ in the official English language version of the game.
The culmination of all the releases from the series… Fans have been eagerly awaiting this new installment!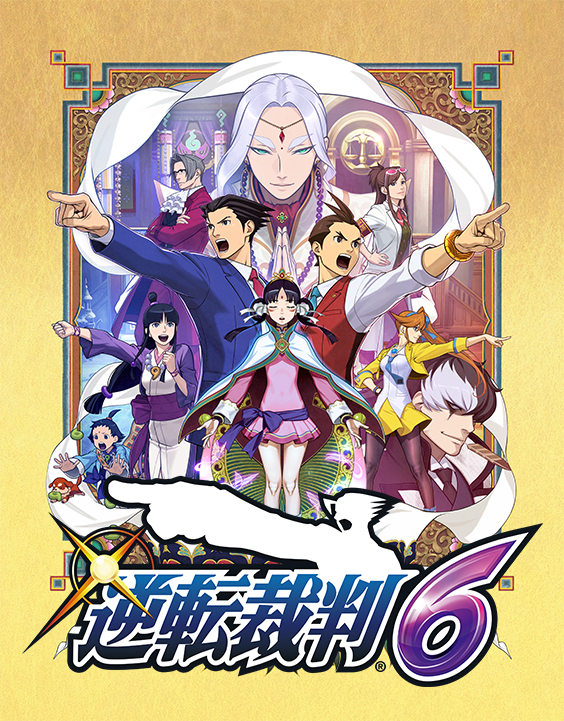 The first game in this series, "Gyakuten Saiban," was released in Japan for the Game Boy Advance in October 2001. With depictions of "court room battles" that are filled with originality and excitement, the "Gyakuten" series has attracted an overwhelming level of interest from fans across all age groups, inspired numerous spin-offs and has been adapted into other media, such as stage plays, as well as live-action films.
The protagonist of the story is a rookie lawyer called Ryuichi Naruhodo, who comes to the rescue of clients who have been accused of crimes that they have not committed. This enthralling game reveals the exciting twists and turns that play out in a courtroom and is highly popular, having sold around 5.7 million copies (correct as of March 2016). This year marks the 15th anniversary of the game and CAPCOM are releasing a new edition, "Gyakuten Saiban 6," which will be coming out in Japan on June 9th 2016!
The latest incarnation of the game, "Gyakuten Saiban 6," stars Ryuichi Naruhodo and Housuke Odoroki, with the drama unfolding in the mysterious Kingdom of Khura'in, as well as Japan. The stellar line-up includes some new characters, alongside some of the most popular faces from the series. And that's not all, new aspects of the game, such as "Reibai Vision," have been added, while some of the best loved features are also included. With all the information that's come out about the game, it seems that there's a lot for fans to look forward to!
For those of you who are interested, you can play the game's demo in your PC's internet browser or download it for your Nintendo 3DS and experience "Reibai Vision" and the "Jinmon" courtroom sections from the first part of the game. We can't wait to see the charming Ryuichi Naruhodo and all the excitement in the courtroom that comes with the word "Igi Ari! (Objection!)" [For more details about the demo, please check the official website (Available in Japanese). Click
here!
]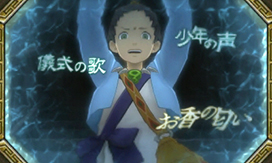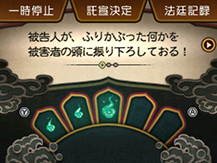 Here is the new "Reibai Vision," which appears in the Kingdom of Khura'in!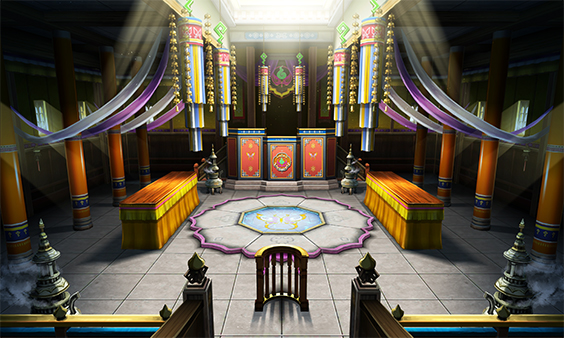 A Khura'inese courtroom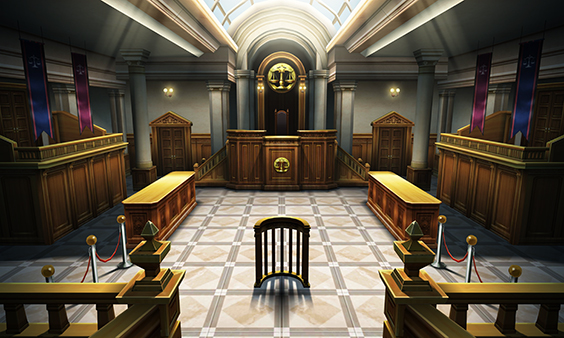 A Japanese courtroom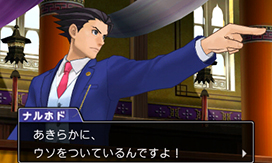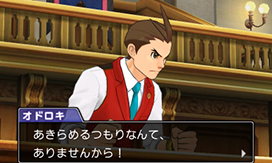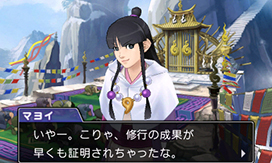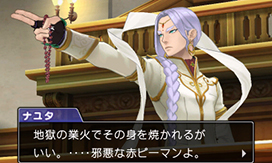 Naruhodo and Odoroki co-star in this story! They are joined by other popular figures, such as Mayoi Ayasato, as well as rival public prosecutor Nayuta Sadomadhi who is an international prosecutor from the Kingdom of Khura'in. The game is packed full of characters that exude individuality!
Naruhodo continues in his struggle to close unresolved cases! Make sure you catch the highly acclaimed TV anime and see him in action!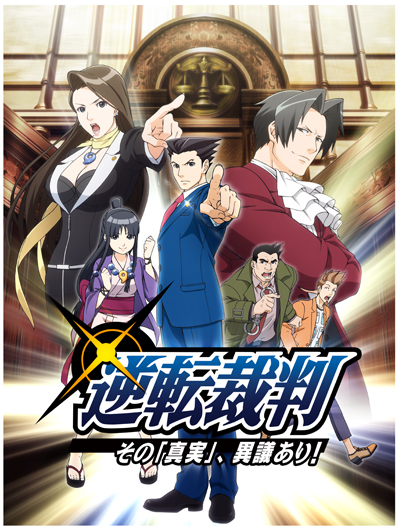 Moving beyond just the game, a TV anime entitled "Gyakuten Saiban: Sono "Shinjitsu," Igi Ari!" ("Ace Attorney") started airing nationwide in Japan from April 2nd 2016 on Yomiuri TV and Nippon TV group network and has been winning top notch reviews ever since! With its internet broadcast in Asia, as well as North America and other regions around the world, it is no longer just the game that is gaining attention, but also the anime.
The TV anime features the central character, Ryuichi Naruhodo (who is voiced by Yuki Kaji), and the heroine of the story, Mayoi Ayasato (voiced by Aoi Yuki), struggling to clear the names of innocent people who have got caught up in bizarre situations. Be sure to catch it if you can!
Both the Western and Asian version of "Gyakuten Saiban 6" are scheduled to be released soon, so if there any overseas fans out there, make sure to stay tuned! (Editorial Dept. Gon)
"Gyakuten Saiban 6"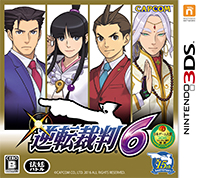 - System: Nintendo 3DS
- Genre: Courtroom battle
- Release date: In Japan, June 9th 2016
- Retail price: 5,800 yen + tax (packaged version). 5,546 yen + tax (download version)
- Number of players: 1 person
- CERO: B (12 years old and above)
- Official website:
http://www.capcom.co.jp/gyakutensaiban/6/
(Check-it-out now to download the demo! [Available in Japanese])
TV Anime: "Gyakuten Saiban: Sono "Shinjitsu," Igi Ari!" ("Ace Attorney")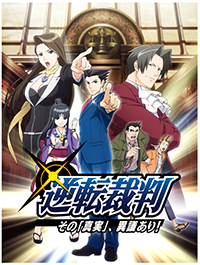 - Started broadcasting from: April 2nd 2016 (on 29 stations nationwide)
- Channels: Yomiuri TV / Nippon TV group network
- Time: Saturday evenings (from 17:30) (except for some areas)
- Anime production company: A-1 Pictures
- Official website:
http://www.ytv.co.jp/animegyakuten/
©CAPCOM CO., LTD. 2016 ALL RIGHTS RESERVED.
© CAPCOM/読売テレビ・A-1 Pictures
External Links
PRESENTS
All the info. on asianbeat's present campaign!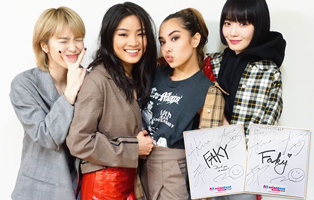 * Win a card signed by FAKY!
[Details] Click
HERE
!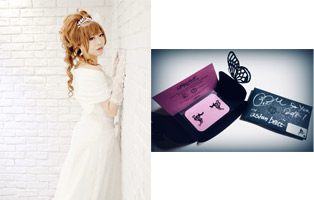 * Win paper eyelashes! The package is signed by Milktee-nu Tiara!
[Details] Click
HERE
!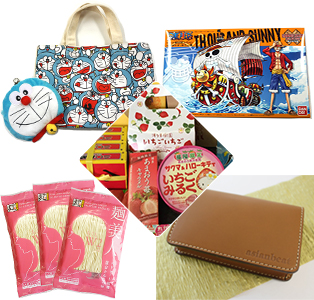 * Reader Survey: We're giving away great prizes to SIX lucky people!
[Details] Click
HERE
!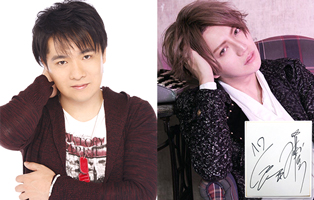 * Win a card signed by Takahiro Mizushima & A9 Shou!
[Details] Click
HERE
!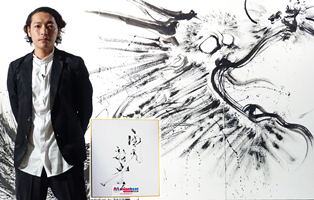 * Win a card signed by sumi-e artist Yu-ki Nishimoto!
[Details] Click
HERE
!