Japan Expo 2012

"Japan Expo" really is something else!
The Japan Expo, now in its 13th year, was this year held on July 5th~8th at the Paris Nord Villepinte exhibition centre in Paris. Each year the event attracts more and more people, this year drawing a crowd of more than 200,000 Japanese pop culture fans over the four days.
Highlights this year included performances by good friend of asianbeat,
Kyary Pamyu Pamyu
, as well as Momoiro Clover Z – both acts reportedly working the crowd into a frenzy.
The event began with a few French youth who just wanted to share their love of Japanese anime but has since grown into the mammoth scale attraction that draws support not only from anime and game production companies but the Japan National Tourism Organization and local governments as well.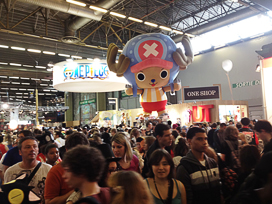 ● People, people, people…More than 200,000 attendees at this year's event.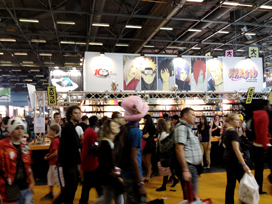 ● Obviously a Chopper fan.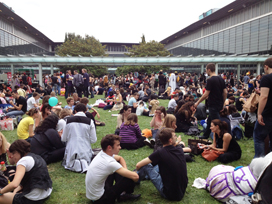 ● Even the grounds around the exhibition center were packed with people.
As Japanese pop culture evangelist Sakurai Takamasa has often spoken of in his asianbeat columns
"J Pop Culture Observations" and "JAPAN! JAPAN! JAPAN!"
the youth in Paris are passionate about Japanese culture and they share and express that passion openly.
For the first time Fukuoka city also made its first appearance at the expo, presenting exhibitions on "shopping, food and festivals" and "games, fashion, movies and music" to show the people in Paris just how great Fukuoka is.
The booth was abuzz with people eagerly asking about how to get to Fukuoka and those wanting to go into the draw to win some made-in-Fukuoka prizes. There were even some visitors who had been to Fukuoka before to study and seeing the booth at the event seemed to bring back a lot of fond memories for them.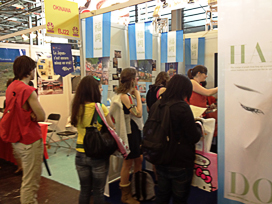 ● The line up at the Fukuoka booth.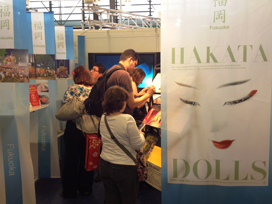 ● Filling out surveys to enter the Fukuoka booth prize draw.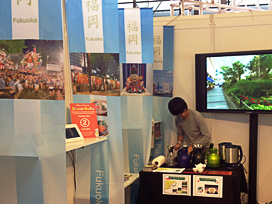 ● Yame-cha (tea) tasting was also available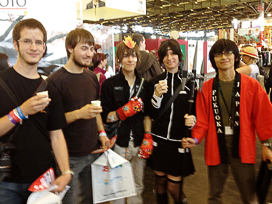 ● Relaxing with a cup of Fukuoka's finest Yame-cha.
"asianbeat" also had a place at the Fukuoka booth, as did "FACo" (Fukuoka Asia Collection). Visitors to the booth could even try some of Fukuoka's finest tea: yame-cha!

After the event we experienced a slight increase in website access from France and we intend on doing our best to bring Japanese youth culture to an even more global audience from here on too!

Editorial Dep't. - mou