The huge fashion event TOKYO GIRLS COLLECTION returns to Kitakyushu for the third time bigger and better than ever!

Continuing to grow and develop! The "Tokyo Girls Collection" returns to Kitakyushu once again!
This is the first time that a regional TGC event has been held in the same venue / city for three consecutive year. It seems to keep going from strength to strength. This year's event, "takagi presents TGC KITAKYUSHU 2017 by TOKYO GIRLS COLLECTION," will be held on Saturday 21st October at West Japan General Exhibition Center Annex! Prior to the main event, a special launch was held for the press at the Rihga Royal Hotel Kokura on Thursday 22nd June.

The theme of this year's event is "Starring YOU." The idea behind this concept is a desire for local people to play a key role in the event's success. It has also been decided that blue will be the theme color of the collection for the third consecutive year! Blue was seen as appealing because of its connotation to water, purity, and the idea of fluid, constantly evolving shapes.

Lots of exciting events will be held that try to reach out and engage locals, including the "'KITAKYUSHU Starring YOU STAGE' open call for performers," a collaboration with "Wasshoi Hyakuman Natsu Matsuri ," and the "TGC KITAKYUSHU month!"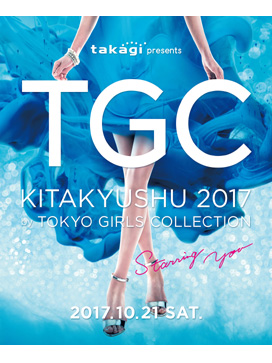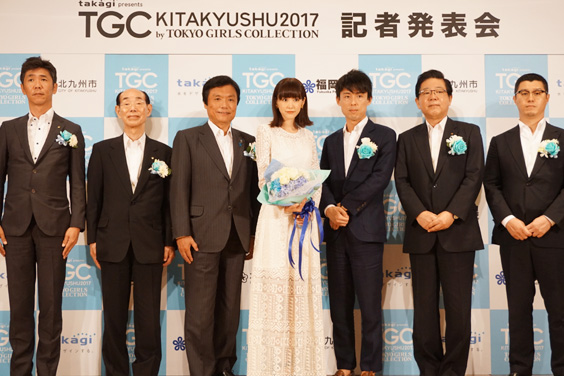 (From left)Eiichiro Takagi (TAKAGI CO., LTD Senior Managing Director), Toshio Takagi (TAKAGI CO., LTD. President), Hiroshi Ogawa (Fukuoka Prefectural Governor), Mirei Kiritani (guest), Noriyoshi Murakami (The Executive Committee of Tokyo Girls Collection, W TOKYO INC. President & CEO), Kenji Kitahashi (Mayor of Kitakyushu City), Ryuji Sato (former 北九州市まち・ひと・しごと創生有識者会議構成員 [lit. Kitakyushu City Town, People, Work Regeneration Specialists Assembly Member] and i6 CONSULTING GROUP Managing Director)
Governor Ogawa was at the launch event and said, "Although Kitakyushu area is famous for its manufacturing and Eco-Town, the TGC Kitakyshu has helped the city's emerging fashion industry become a new selling point for the area. The image of Kitakyushu has been improving. We are looking for an increase in the number of females and young people to experience exchange with the rest of Asia. We want people visiting to have the chance to witness Kitkayushu's charming appeal and really experience the various attractions on offer in Fukuoka Prefecture. Let's do our best to make the TGC a success. I hope there are lots of visitors come from home and abroad. As a prefecture, we will be as hospitable as possible and welcome you as best we can."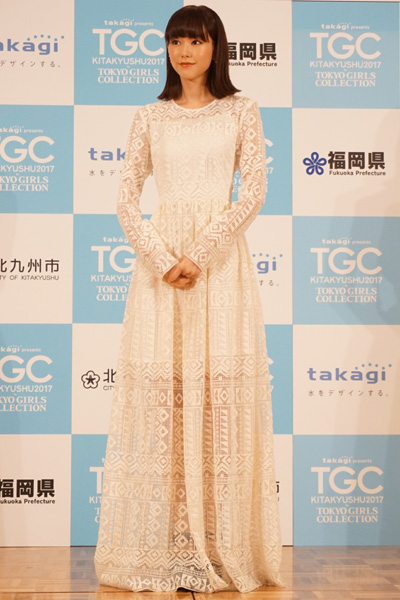 Having appeared at the previous two TGC Kitakyushu events, Mirei Kiritani will return for third time this year as a special guest! She also shared her thoughts at the press event, saying "The TGC Kitakyushu has not only given me the chance to wear a Hakata-ori kimono at a big event, it was also this collection that first gave me top billing on a runway. This is a special stage that is very important to me.
There was such the huge cheers and applause from all the people who had come to Kitakyushu to see the collection; it was if the entire venue was rocking. That experience gave me the determination to always do my best when walking on the runway. All the performers will do our best to make this year's TGC Kitakyushu even bigger and better than last year. I hope that everyone will have a fantastic time."
Lots of big names have already been confirmed for the event, including the likes of Miyu Ikeda, Risa Nakamura, Angelica Michibata, Chisato Yoshiki, Loveli, as well as Fukuoka natives Nina Hasegawa and Erika Matsumoto! All the latest news and updates for the TGC Kitakyushu 2017 event will be posted on their official website, so be sure to check-it-out! (Editorial Dept.: kurocco)
(For more details, please follow this link >>
http://girlswalker.com/tgc/kitakyushu/2017/
)
takagi presents TGC KITAKYUSHU 2017 by TOKYO GIRLS COLLECTION
Date: Saturday 21st October 21st 2017
Times: 13:00 (doors open), 15:00 (event starts), 19:00 (event finishes) (scheduled running order)
Venue: West Japan General Exhibition Center Annex, 3-8-1 Asano, Kokurakita-ku, Kitakyushu-shi, Fukuoka-ken
Official Website:
http://tgc.st/kitakyushu/
Ticket Information:
-Reserved seating (advanced booking): 10,000 yen (tax included) / Standard: 10,500 yen (tax included) (special novelty item included)
-Standing (advanced bookings): 7,000 yen (tax included) / Standard: 7,500 yen (tax included) (novelty item included)
*For more ticket information, please visit the official website (available in Japanese):
Hosted by: The Executive Committee of Tokyo Girls Collection
Co-hosted by: Kitakyushu City, Fukuoka Prefecture, 北九州市都心集客推進委員会 (lit. Kitakyushu City Urban Center Promotion Committee)
In co-operation with: The Kitakyushu Chamber of Commerce and Industry, 小倉中央商業連合会 (lit. Kokura Central Commerce Federation), 花あふれるふくおか推進協議会 (lit. Hana Afureru Fukuoka Promotion Council), i6 CONSULTING GROUP, BEA, etc.
Platinum Partner: TAKAGI Co., Ltd.
Partners: Star Flyer Inc., DAIICHI KOUTSU SANGYO Co.,Ltd. , WELLA PROFESSIONALS, SAIBUGAS Co.,Ltd., Nissan Motor Kyushu Co., Ltd., Fujitsu Communication Service Limited, etc.
Official Media:
girlswalker.com
Directed by: DRUMCAN
Planning / Production: W TOKYO Inc.
What is the Tokyo Girls Collection?
Since starting in August 2005, under the banner "Taking Japanese Girls Culture to the Rest of the World," this massive fashion festival has been held twice a year. Around 100 popular Japanese models have appeared at the event, and starting with a fashion show that displays Japanese "real clothes," there is a huge range of exciting attractions, such as live music from top artists, a special stage featuring some of the most in-demand guests, as well as booths where visitors cancome into contact with different items that are currently on-trend. The show has also garnered attention both at home and abroad for its E-commerce event, which gives guests the chance to buy the clothes that the models are wearing on their mobile devices!
Related Articles
External Links