There's No Stopping the Nameko!

~Nameko Mushrooms Sprouting in More Ways than One~
Having gained popularity, especially among high school and university girls, is the smart phone app, 'Touch Detective – Mushroom Garden.'
Not only has excitement over the character gained momentum app-wise, but now this very same enthusiasm has even begun to pour over into the world of goods and now even CDs!
(For more info on the app, please check out the
February 11th issue of Culture Watch.
)
 On February 13th, NnfNff Records released the CD single, "Nameko no Uta" (Song of the Nameko).

In this issue we will be following up on the phenomenon that is nameko mushroom cultivation, introducing you to some of the Nameko goods that you can find in novelty stores throughout Japan as well as the "Fukuoka Nameko Ichiba," or "Fukuoka Nameko Marketplace," that opened up in January.
*****
Recently, I have come across a lot of Nameko goods at festival booths and even game centers, where they have a variety of Nameko plush toys set out on display. On the right-hand side of the image below you can see a clear file and three Nameko soft toys placed before it. These were prizes that I won at the crane game in a game center. There was an even bigger stuffed toy that I really wanted to get my hands on but was too difficult! I shall keep on challenging it, though, and hopefully one day it will eventually be mine!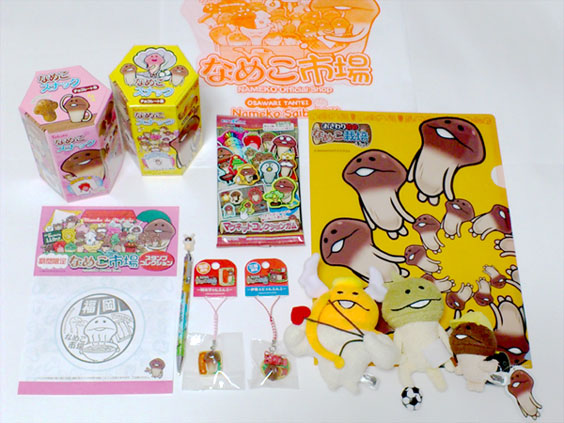 ● An assortment of Nameko products.
Additionally, if you find yourself craving more goods, an ideal location to find a lot of Nameko-related products is the "Fukuoka Nameko Marketplace." Unfortunately, though, this store was set up for a limited time only: January 9th to the 21st, 2013.

"Fukuoka's Nameko Marketplace" was a part of the all-encompassing "Nameko Marketplace National Caravan," which held fairs in Sapporo, Yokohama, Nagoya, Sendai, Hiroshima, and Osaka, as well.
If you ever visit one of these "Nameko Marketplace" stores though, make sure you get one of the local stamps (they're different for each region) – just so you can prove (brag) to your friends that you were actually there! Please take a look at the bottom, left-hand side of the above image. This is the stamp for Fukuoka. It depicts our beloved Nameko holding Fukuoka's specialties of Mentaiko and Tonkotsu Ramen.

One of the highlights of the "Nameko Market" was the Nameko mascot photo shoot.
When I was in line waiting for my turn at the photo booth, I saw someone come out with a whole lot of Nameko pictures on their phone! I really felt the love for Nameko!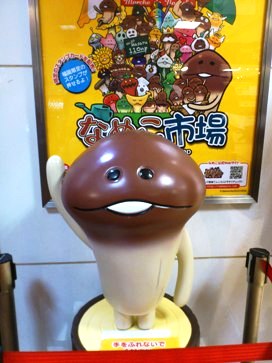 ● Kawaii Nameko welcomes YOU!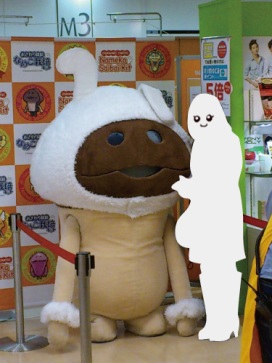 ● The long queue of people waiting in line for the Nameko photo shoot.
I decided that since I already had the "Limited Fukuoka Edition: Mentaiko Nameko Netsuke," I instead bought the "Limited Mie Edition: Lobster Nameko," because I rarely, if ever, have the chance to visit Mie prefecture. While it is definitely exciting to have a limited-edition product that can only be bought in the one place, there are those times no matter how much you want to, it is impossible to make it there, so it is nice to have a store that stocks such rare items.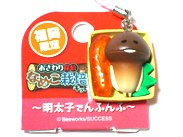 If you're interested, you can pick up the Mentaiko Nameko Strap at Fukuoka Airport's second floor gift shop (Domestic Terminal 1), Chuo Gai in Hakata Station, or the Kyushu Bussan Museum in Fukuoka's Hilton (former Sea Hawk) Hotel. Please stop by these sites if you ever have the chance to visit Fukuoka!
There's plenty more Nameko goods out there, though. There's Nameko-themed stationary, plush toys, candy...the list goes on!
It may have started with the app, "Touch Detective – Mushroom Garden," but with all the goods and nameko-related products hitting the markets, I feel like this is just the beginning for the world of Nameko cultivation.

Hopefully, the "Nameko Marketplace" will make its way back to Fukuoka sometime soon!

Editorial Dep't. - Eliy



Related Articles