Interview Now - Juice=Juice -(1/2)

On Sunday July 20th, Juice=Juice came down to Fukuoka as part of their "Juice=Juice First Live Tour 2014 News=News - Kakuchi yori Otodoke Shimasu-!" held at the DRUM Be-1.

Said to be the youngest brain child of the Hello! Project, this girl group made their debut last year. In this interview, they tell us about their newest song, "Black Butterfly / Kaze ni Fukarete" released on July 30th and some more about their first impressions of Fukuoka, and about themselves!

asianbeat was able to get autographs from all the members of Juice=Juice and we will be giving them away to a few lucky people!
We are very careful when it comes to what we wear.
Q.(asianbeat) What is the concept behind Juice=Juice?

Yuka Miyazaki
: The idea behind the Juice=Juice unit was "Fresh." So, we want to be and stay a "fresh" and unique unit and that was the concept we had in mind when we formed this group. We'd like to live up to our name and try our best to be "fresh." Our music also sounds very adult-like so we'd also like to try to show our audience our mature side.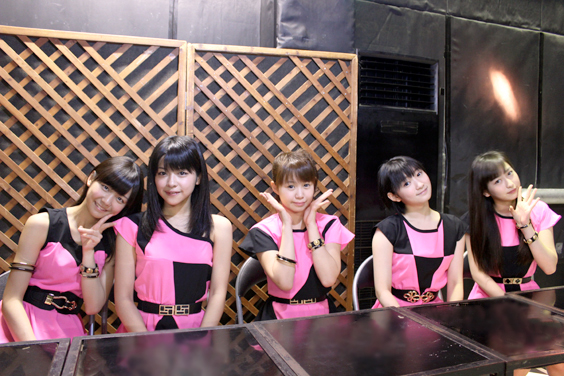 (From Left) Yuka Miyazaki, Tomoko Kanazawa, Sayuki Takagi, Karin Miyamoto and Akari Uemura
Q. Are there any things you do on a daily basis to come off as more adult-like?

Tomoko Kanazawa
: Yes, all of us have been trying to dress in more refined clothing. Since a lot of our costumes have a very adult-like cut to them, if we were to wear what we normally do it wouldn't really make much sense so we are very careful when it comes to what we wear.
Q. There are many Hello! Project fans overseas and we see lots of uploads like "Odotte Mita (a cover dance)" on YouTube, what do you think about that?

Yuka Miyazaki
: Well, more than anything we're really happy about it and when you're trying to remember the footwork you keep watching at them and thinking I also need to work harder and in a way we actually end up learning from them. In the end we'd just like to dance in a more sophisticated and beautiful way.
Q. Have you not done any performances abroad yet? Everyone
: No, we have not.
Q. Is it one of your goals to eventually perform overseas?Everyone
: Yes!!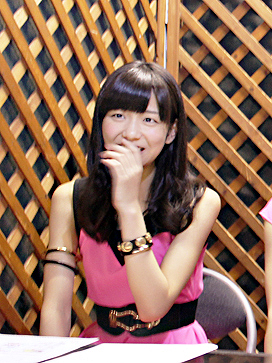 I've always had the impression that the food in Fukuoka is really good.
Q. The formation of this group was first announced in Fukuoka. Do you have any special memories in Fukuoka? What is your impression of this city?

Sayuki Takagi
: I've always had the impression that the food in Fukuoka is really good. When I finally was able to come to Fukuoka, I was the one to suggest that we all go out to eat here in Fukuoka(lol).
Everyone
: Agreed!(lol)
Sayuki Takagi
: We all really like Motsunabe(beef/pork offal hot pot), so we went out for motsunabe. Even when we're in Tokyo we'll often go out to eat it. That is just how much we like it, so when we come back that is something we'd like to do again.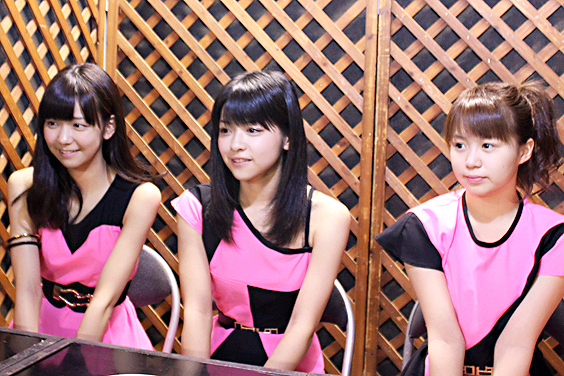 Q. Fruits here, like Amaou strawberries are very famous so please try some if you have the chance! Do you think you'll have the time to eat some before you leave?

Yuka Miyazaki
: Hmmm... well even if we don't have the time, we'd still definitely like to try!! (lol)
Q. Are there any particular places in Fukuoka that you want to go to?

Yuka Miyazaki
: Yeah... but we don't really know much about Fukuoka so we were hoping our fans would tell us after our live concert.
I also would be happy if people were to pick up on those small difference.
Q. That's nice. We've heard you're releasing a new song. Could you let us know some of the things you like about it or what sort of things you want your audience to pay close attention to?

Tomoko Kanazawa
: The song, "Black Butterfly"is a little more refined. Up until now Juice=Juice has of course had a number of adult-like songs but even among those this one especially has a really mature, sophisticated sound. I think there are also a lot of parts that are very feminine. This time, for the first time we tried out a tango number. The word "tango" also comes out in this song a number of times. Also, at the high point of our song we all come together in our dance and in honor of our song title we form a butterfly. Until now we would usually take turns dancing one at a time but for this all five of us will be dancing together so I hope people will notice that.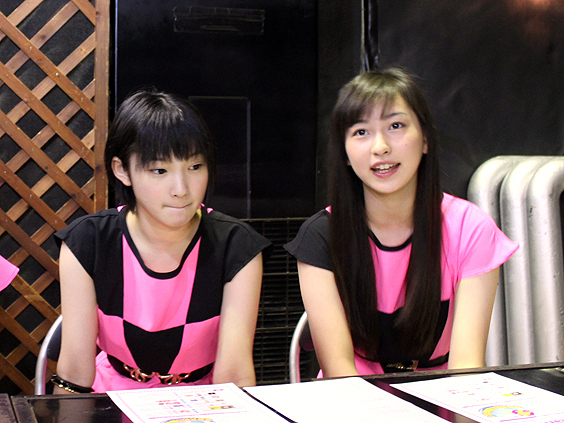 Akari Uemura
: Our costumes for the "Black Butterfly" stay in theme and our costumes have a butterfly motif and I'd like for people to see that. While what we are wearing for this song is pretty uniform, each of the costumes have their own unique flair and I also would be happy if people were to pick up on those small difference.
Karin Miyamoto
: I felt the lyrics to our song, "Kaze ni Fukarete" were very deep. Even if you just read the lyrics you can see the change in feelings that take place as the main character and who they are in love with changes throughout the song so please be sure to read the lyrics, if you can. Our costumes are also very refreshing in that they flutter in the wind. I really hope other girls will also try wearing something similar.
I think it's really kawaii when people speak in dialect.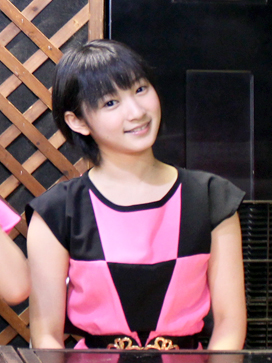 Q. At asianbeat we do a lot of feature atricles on manga. Are there any manga you like in particluar? Tell us what you like about Shojo manga!

Karin Miyamoto
: Ah, Shojo manga...I think what we like will differ from person to person but I like cell phone novels, in which I can input my own name as the main character. I do this often.
Everyone
: Haha!
Yuka Miyazaki
: I didn't know that(lol)
Karin Miyamoto
: Whenever I have quiet time alone, I'll often read that. By the way, I think it's really kawaii when people speak in dialect. Sometimes when we have a meet-and-greet, whenever the girls and boys who attend speak to me in a regional dialect, my heart starts to race a bit.
Q. I understand that for your live concerts you've had to travel all around Japan, so in that way you've probably been exposed to a lot of different regional dialects. Is there any particular one which stood out?

Sayuki Takagi
: Fukuoka dialect is my favorite one!
Q. Oh really? Thank you!

Sayuki Takagi
: I'm really jealous of Fukuoka girls! Fukuoka dialect sounds really cute! (lol) That's why I'm so envious.
Yuka Miyazaki
: We've got someone that speaks Osaka Ben (dialect) in our group.
Akari Uemura
: Yes, I speak Osaka Ben but we also have someone from the Ishikawa prefecture!
Yuka Miyazaki
: Yes, that would be me. (lol)