Interview Now - Yuthana Boonorm & Violette Wautier -(3/3)

It's good to see people see traditional things interesting, they still value things like this!
ab:We went to Hojoya today, what did you guys think going to this very traditional festival.

TED:First I think it's close to what we have in Thailand to a temple fair, in a more organized way. Yeah the font, the color of each stall they stand out and combined and the whole picture still looks good, but then it's peaceful in a very Japanese way, and I love Japanese food, there is so many Japanese street food to choose from and it's very interesting.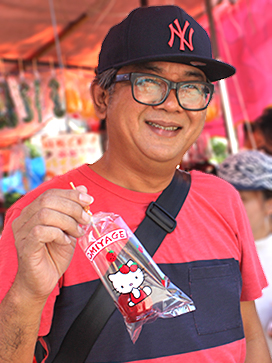 Violette:I also like how a lot of people still come to these local festivals. In Thailand we have this similar thing in temple fair but not a lot of people go to it anymore. So it feels good to see people see traditional things interesting, they still value things like this!

TED:Especially that haunted house, in fact like the same way of thinking it's very simple one, then it's the thing is the go to haunted house in noon it's supposed scarier in night. But those actors, the people try very hard to scare us. (laughs)

Violette:I also like that I got the gold fish, I made friends (haha)

TED:Oh this my first time to try that gyoza with the chicken skin, I have never seen this before, It's best of both worlds, I like gyoza but I don't like the dough of the gyoza, I like whats inside and I like chicken skin!
ab:There was so much variety of food and stuff, we didn't get to eat all of it, but if you ever came back what would you like to try next in a Japanese festival?
TED:I got one, the Japanese Pizza "Okomonikyaki," because the way that they cook was "Whoa" it looked really good, with the egg on top of it, had bacon, mayonnaise, I will try it next time.

Violette:Me, I'm not that very creative with food. But if anyone gives me food, I will eat it. I would try them all. (laughs)

ab:Violette this is your first time in Fukuoka, what was you impression of Fukuoka coming here for the first time?

Violette:I think it's a very hip town. I met a lot of musicians and I heard that Fukuoka is a city for musicians, so it's a good place to be in. The town is really nice. I've been walking around the city and I think it's really easy to visit places. You guys have everything here. You have food. You have shops. You have places to chill. And it's everything you need in this area.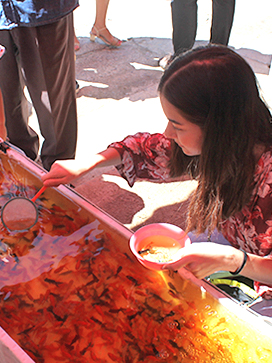 It almost feel like home.
ab:You've have been in Fukuoka many times, did you find anything good this trip this time?
TED:The thing is every time I come to Fukuoka I find new thing always, maybe because I'm lucky that I have many friends from Fukuoka, who always happy to take me to many new places like today we had lunch in restaurant that had, I would never go in there by myself like it's too small and low profile, and if we go there we don't know how to order and then we have something like slimy ("tororo-gohan: Grated japanese mountain yam over rice") but how can I say (laughs) but it taste special and I'll say that I like it but that's every time I come to Fukuoka and I find new thing always and it almost feel like home.

Violette:Yes, He's been giving us advice "oh, you should go here" and such.

TED:I can walk from here to anywhere really easily and yeah I love everything in Fukuoka, the people, the FOOD really nice.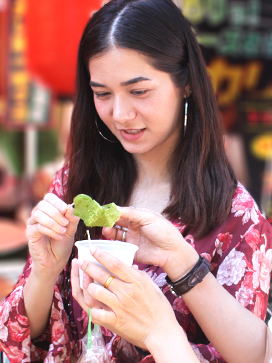 Violette
:The city is really cute. There are not too many buildings, not too urban and not too countryside. It's a good mix. Like the Tenjin area for example, you stand there the big department store and only walk 200 meters and you're in a small street and surrounded by small shops. This kind of Fukuoka the big and small, live together. Easy way!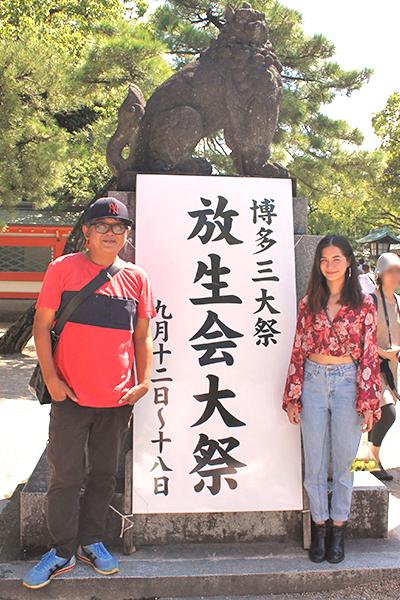 Yuthana Boonorm's (TED) Profile
Violette Wautier's Profile
Related Articles
External Links