Interview Now - FAKY -(2/3)

We really want to give something back to all the fans.
ab: You are also gaining the attention of many people across various fields, including dance and fashion. In a word, what does "FAKY" represent to you?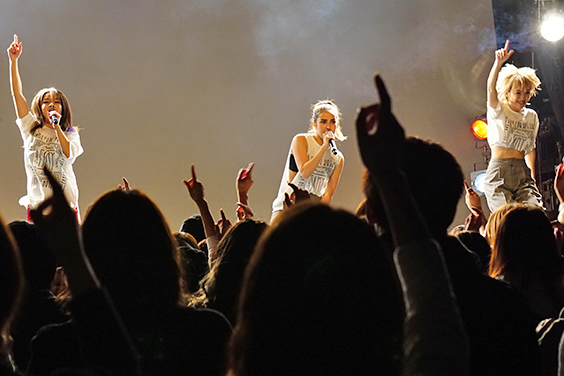 Everyone
: Oh, that's tricky! We'll leave that one to the leader, Anna (lol)!
Anna
: It has lots of meaning. The word "diverse" comes to mind. We've all got completely different backgrounds and personalities. We want to challenge ourselves so that we are not limited to one style of music or a specific genre. It feels like there's all kinds going on. That is why I think "diverse" is the appropriate phrase.
Everyone
: Oh, nicely put!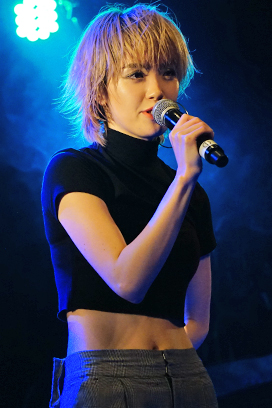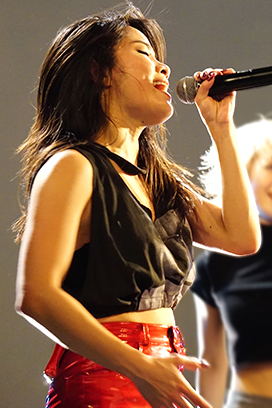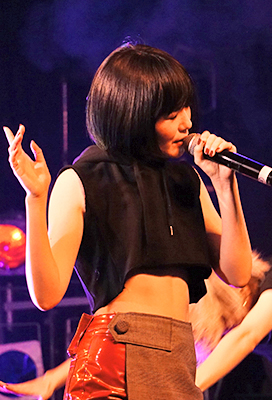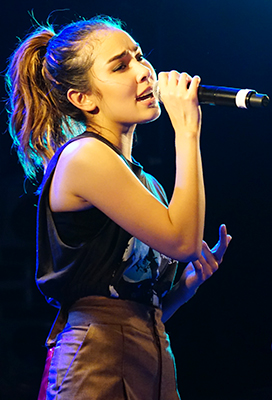 ab: You came back in to 2015 with a new line-up after about a year and a half hiatus. It's been five years since you first formed. Have you done the things you set out to achieve when you first made your debut on the scene?Lil' Fang
: We have had the chance to headline a show, which has been a goal since we first formed as a five-piece. In terms of becoming a headline act, a big aim was to perform solo live outside of Tokyo. And we're achieving that today with this live show in Fukuoka!
ab: Congratulations! Do you have any goals or aims for the future? Mikako
: This group of four people will overcome a lot of challenges.. Headlining a show was always our first dream, now I want to aim for the dome…
Lil' Fang
: What, next?!
Everyone
: Yeah! (Cheers from all the members)
Mikako
: We'd love to play Tokyo Dome, but as Fukuoka is my hometown, I really want to perform in the Fukuoka Yahuoku! Dome! I cherish the fans that are here with us, and we want to give something back to all them. I feel like I want to take them with us, I'd love them to see FAKY at our absolute best! I hope that is something we can create all together.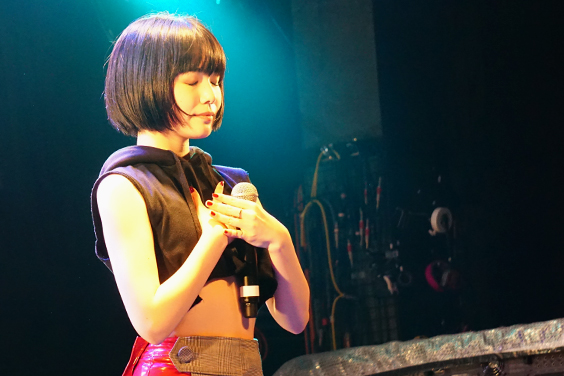 With a tear in her eye Mikako said, "This is a very important place to me, I am so happy to be able to headline a show in Fukuoka."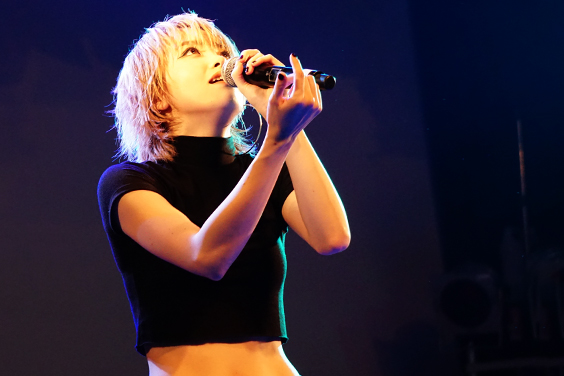 ab: Your videos have had more than 5 million hits in YouTube! They've captured the imagination of so many people! What tips would you give to all those people who are thinking "I want to sing and dance like FAKY!"Akina
: Just don't be afraid to express yourself being scared of what other people might think of you because you can't get to the top if you're trying to be somebody else!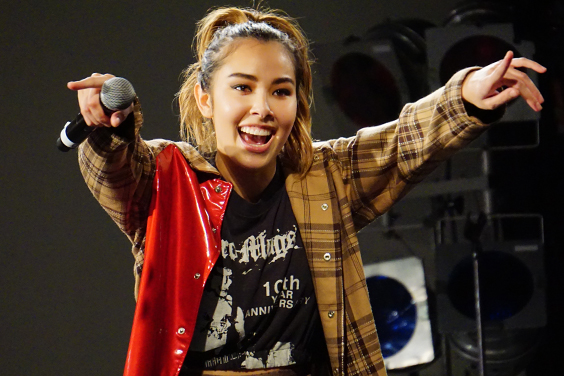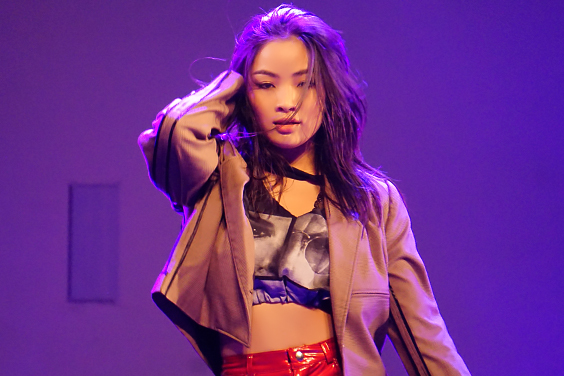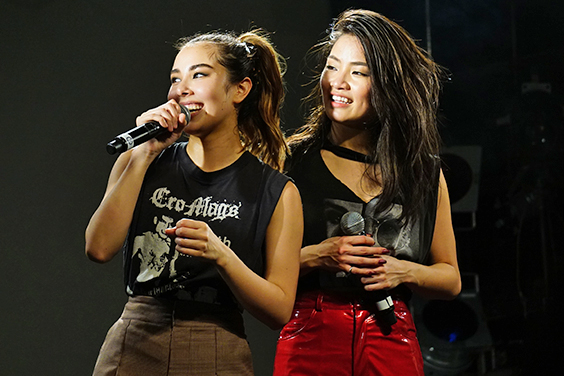 ab: So many people from overseas leave comments under your music videos on YouTube! You've already had some tracks appear in the Top 10 on overseas music / streaming sites like Spotify and Billboard. What has the response been like in general from abroad?

Lil' Fang: From a Japanese point of view, my image is that the acts that top the charts on Billboard or Spotify are usually really famous overseas, so I never thought I would see our name amongst some of those artists! It's like a dream! Sometimes, we receive messages sent in simple English from non-native speakers. Even short phrases like "I LOVE YOU!" mean so much. When I read those kinds messages it makes me realize that there is actually people supporting us overseas. I still feel so lucky (lol)!

Anna: We wanted to be international from the very beginning. It was always our aim to be an international kind of group. But when you read those kinds of comments, you start to realize that we are really getting love and support from fans overseas. I thought that J-POP had spread overseas, and that it would only be these kinds of people that were interested, but that's not necessarily the case. There's actually a lot of people who say that they like FAKY's music who haven't even heard of J-POP. Little-by-little, I hope that we can attract new fans and really have an impact on people who are not familiar with the J-POP scene.

Mikako: I've always said how much I want to work overseas. I feel like we're arriving at a place where that is a reality, and that gives me a lot of confidence. When I'm not feeling so self-assured, the messages from all our fans give me an amazing lift. I am so grateful for that. I hope that we can go out and meet people from all over the world as soon as possible!

Akina: I'm from America, so it has really special place in my heart to be able to rank in the same categories as people that I listen to and that my friends listen to. And so I feel really grateful for all the fans that have brought us to this position. And so just like Mikako said, we're really excited to have any kind of chance to meet them.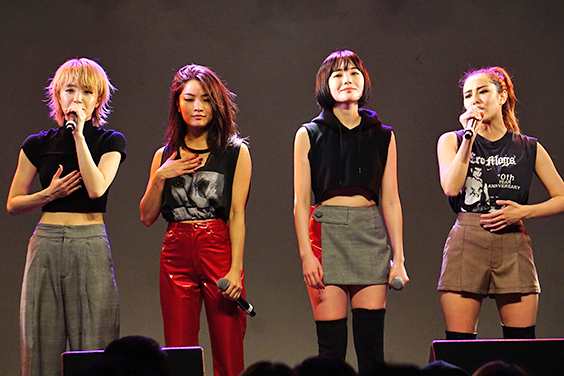 The members spoke from their hearts as they expressed their strong determinations and aims for the future, stating "Change makes us stronger. Without change, there's no progress. We want to keep on moving forward with that kind of firm conviction."
Click the image and it will automatically go to the next.