TV anime season 1 "Free!" and season 2 "Free! -Eternal Summer-", a look back!

Who's your favorite? You'll no doubt be fascinated by these characters, who are filled with individuality!
The TV anime "Free!" was broadcast in July 2013. In the story, the central character Haruka Nanase is a high school student who is truly immersed in, and has special feel for water and swimming. Haruka along with Makoto Tachibana, Nagisa Hazuki, Rin Matsuoka were in the same swimming club in their elementary school days. And are later joined by Rei Ryugasaki, in this anime which depicts the deepening friendships and relationships that are fostered through swimming.

And then "Free!-Eternal Summer-" was broadcast in 2014. A coming of age story about relationships forged between Haruka, Makoto, Nagisa and Rei in their daily lives as they entered the final year of high school, faced with questions about their future and career paths. At the same time it shows how Rin tries to move forward on his own path as he struggles to overcome his past.

With "Theatrical Edition: High☆Speed! -Free! Starting Days-" now released in Japan, let's take a look back at the TV anime series "Free!" and "Free!-Eternal Summer-!"
Season1
(Broadcast from July to September 2013)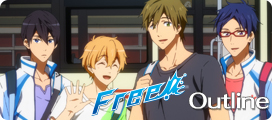 The first series of the TV animation "Free!" earned a great deal of popularity for its lively depiction of a group of high school boys enjoying their youth and exploring themes, such as relationships, friendships and swimming. The scenes that depict the real, transparent quality of water are startling in their accuracy, as is the lifelike quality of the young swimmer's muscular bodies. It really is one surprise after another! As the plot unfolds, we get the chance to really witness the distinctive characters of Haruka, Makoto, Nagisa, Rei and Rin develop before our very eyes. The story continues along with striking images depicting the friendships, relationships, and frictions that exist in the world of swimming.
As the series comes to a close, you get so drawn into the captivating world, that you can't help but miss it when the last episode finishes. Starting with them joining the swimming club, "Free!" depicts, in detail, the deepening of mutual bonds, whilst also showing the tensions that exist between rivals, and the struggles to grasp victory that arise when competing with friends in competitions.
Season2
(Broadcast from July to September 2014)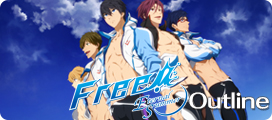 With the appearance of a new character Sosuke Yamazaki, the relationships between the characters - Rin and Sosuke, Sosuke and Haruka, and Haruka and Rin, becoming even more complex. Why is it that Sosuke, who was Rin's closest friend during elementary school, has been transferred to Samezuka Gakuen (Samezuka Academy)? His appearance on screen really gets the viewers hearts racing. With the growth and development each character experiences, they reach the last summer of their high school years, deepening their relationships in the process. These bonds will last forever and the title of the show symbolizes the future of their friendships.
There's so much to see in "Eternal Summer!" Watching the journeys of Haruka, Makoto, Nagisa, Rei, as well as Rin and all of the students at the Samezuka Academy, will make you want to see more and more of their future!
(C)2015 おおじこうじ・京都アニメーション/ハイスピード製作委員会
External Links