Big in Korea and Taiwan. Scoop interview with Suzuki Ami
Suzuki Ami heats up the "it girls" event in Fukuoka
Suzuki Ami became a top idol back in 1998 when she won the final of the vocalist audition on the popular TV show ASAYAN, and followed up with hits BE TOGETHER and OUR DAYS.

Since Ami transferred to the Avex label in 2005 she has been even busier with collaboration projects, anime tie-ups etc. Recently Ami is trying her hand as a club DJ.

We met up with her and asked her about her performance as a DJ in the "it girls" event that was held at the Hakata Riverain eeny meeny miny mo on May 22.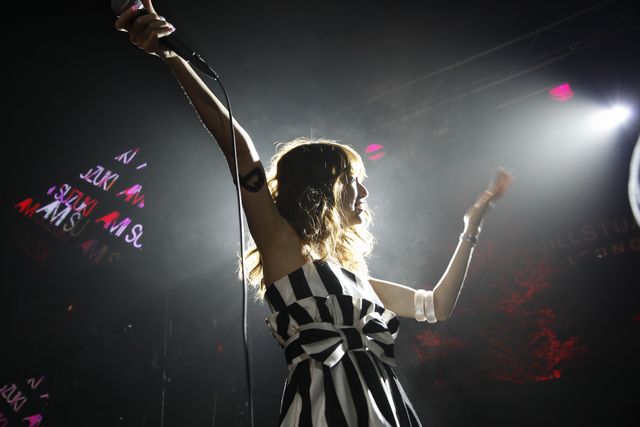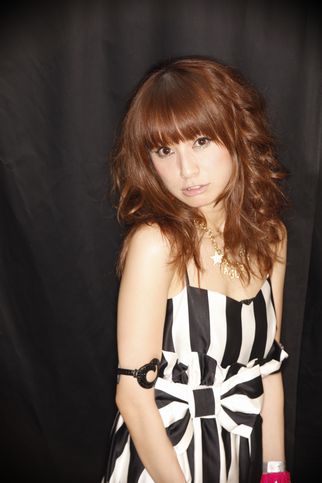 ─ Firstly, what was it like appearing in "it girls"?
Suzuki: The venue was great, the vibe was good and I just couldn't help but to get into it!
─ Your DJing has been a topical point, when did you start?
Suzuki: Back in July last year. I am still learning the ropes, but I am trying to show up at as many places as I can and get people going.
─ Recently you are trying your hand at club music. Did you always want to get into it?
Suzuki: Yeah. I sort of wanted to get into it, then I met Nakata Yasutaka, and things started moving.
─ DJing on the stage and singing must be worlds apart. How do your performances differ?
Suzuki: Basically I decide how I will perform for both, but the club audiences are not really my fans, so that is a big difference. But even if they are not my fans, the fact that I can draw them in and communicate with them could make it attractive.
Suzuki Ami is doubling as a singer and a new DJ queen. But her popularity is not confined to Japan. We asked her about how she felt about the differences in Japanese and Korean culture at her recent event at the club ANSWER in Seoul Korea which was held on April 3.
Suzuki Ami – an artist evolving with new encounters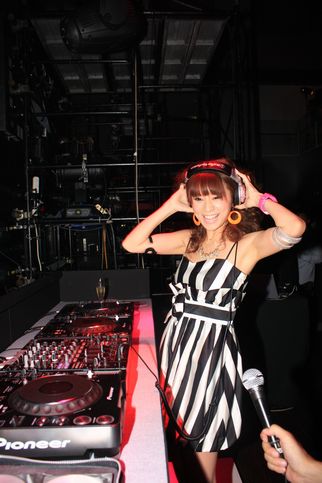 ─ Last April you DJed overseas for the first time at the HOUSE NATION in Korea event. What was the audience's reaction?
Suzuki: The Korean DJ music scene is not so much songs, but more electro and techno, and the people and music are really cool. Of course the audience didn't know me, and it was like "who is she?" This made the performance all the more worth it.
─ How did you feel about your experience in Asia?
Suzuki: Asia felt really close, but then again, I learned new culture and customs every time. That made it fun. I felt that the level of entertainment in Korea was extremely high. Their singing was great, and dance was world class. It made me want to improve myself.
─ We are looking forward to more international success, is there anything in the pipeline?
Suzuki: Yes! In June this year I am going to go to Club Café in Shanghai. I can't wait. I hope your readers can come and see it!
Suzuki Ami is evolving through her exchange with overseas artists and culture. We look forward to her being at the cutting edge of the Asian music and DJ scene.
※1
"it girls" is a fashion party that started in Fukuoka in 2009.
A multi-faceted event with fashion, music and entertainment for girls who like fashion and partying. More are scheduled for Osaka, Nagoya and Tokyo. Ami's DJing was a big hit in Fukuoka and she will be on stage at it girls in Osaka (June 6) and Tokyo (July 18).

WEB SITE
it girls official web
※2
Nakata Yasutaka is one of Japan's premier music producers/music composing DJs.

Mainly working with his own unit "capsule", and has also worked with Perfume, MEG, Aoyama Thelma and other of other major artists.

He has produced Suzuki Ami's albums "Supreme Show" and "FREE FREE".

LINK
PRESENTS
All the info. on asianbeat's present campaign!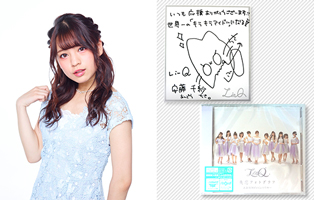 * Win a CD & a card signed by LinQ Chisa Ando!
[Details] Click
HERE
!