Takahashi Rumiko is an artist who has created a number of hit manga including Urusei Yatsyura and Inu Yasha.
Her manga, popular with all generations, feature many intriguing sidekicks and lead characters with quaint personalities. Her stories are high-pace and draw a smile as well as a tear from her fans throughout the world.
An exhibition of her original artwork is being held at the
Kitakyushu Municipal Museum of Art
, Riverwalk Gallery, on the 5th floor of the Riverwalk Building in Kitakyushu City Fukuoka Prefecture.
This exhibition features the first appearance of 150 items including rare colour illustrations from her four mega-hit manga
Urusei Yatsura, Maison Ikkoku, Ranma ½
and
Inu Yasha
.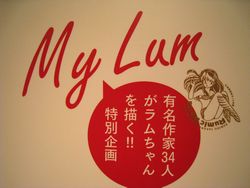 A special attraction at this exhibition are illustrations of the everlasting favourite character from the manga Urusei Yatsura "Lum" in the "My Lum Corner", drawn by 34 renown artists such as
Adachi Mitsuru
of
"Touch"
and
Aoyama Gosho
of "
Detective Conan
".
The way that the manga artists express Lum is really cute. It really conveys their individual taste and the much loved character Lum.