- Special Edition - Huang Jing-Xiang - Interview(1/2)
Maybe it's not that surprising that I'm working as an actor!
Q: Can you tell us a little about how what got you interested in cosplay?

I first found-out about cosplay when I was a junior high school student and then got into cosplaying at university through some friends who were cosplayers.

Q: What was the first character you cosplayed? Do you have any favorite characters, or characters you're good at doing?

The first time I cosplayed was a character from the Chinese game "Swords of Legends 2 (古剣奇譚2)." Tsurumaru from "Touken Ranbu" and 楽無異 from "Swords of Legends 2" are some of the characters that have give me the most satisfaction.

Q:Do you get creative when you put together your costumes and do your make-up?

When it comes to the costume, I get almost fixated on recreating everything perfectly, even down to the finest detail.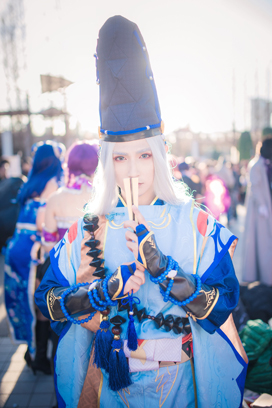 Abe no Seimei from "Onmyoji" at Comiket.
I always do my own make-up and I take a lot of care figuring out how I can make myself resemble the original character. For example, I spent a lot of time trying to get the eyes right for Abe no Seimei from "Onmyoji." That was because of the red eye shadow I used (lol).

Q: Are there any characters you want to cosplay in the future?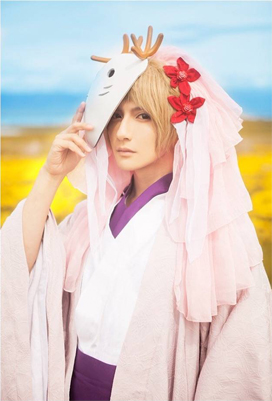 Natsume's Book of Friends Four: Hoduki-kami (豊月神)
I would like to try a character that has a different type of personality. But as to what character that is going to be, is it alright to keep it quiet for a little while longer? I want it to be a surprise (lol).

Q:Do you have any advice for people who are just starting to cosplay?

Regardless of what kind of character you decide to become, make sure you really understand them well. In order to create something good, I think it's crucial to really know all the details about the character, including their personality and clothing.

Q:Recently you've been active as an actor and model. What got you into acting?

I was originally a performance major, so maybe it's not that surprising that I'm now working as an actor (lol). I also love photo-shoots. I really like taking photos and being photographed. That's why I worked as a model when I was a student at university.
Q: With the pieces that you've appeared in to date, have you had any really memorable scenes or any challenges getting into character?
Last year I played Cheng Yichen (程亦辰), one of the lead roles in a film called "双程" (A Round Trip to Love). I loved the character and really challenged myself so that I could express all the changes that were supposed to be taking place in his heart. I had to try particularly hard in the scenes where I needed to cry.
Q: As a cosplayer, actor and model you have a lot going on. Are there any things that you try and keep an eye on in your everyday life?
I think balance is important. I want to try to make sure that I keep a balance between work and rest. I think that I'm in the best possible condition when I manage to do that.
Here is Huang Jing-Xiang in his normal clothes.
>> Click here to continue reading