Fukuoka Kawaii Trip ♥ - Kamado Jinja (竈門神社) -
Famous for its connection to love and marriage, the Kawaii Ambassadors were excited to pay a visit to Kamado Jinja!
"Kamado Jinja" lies at the foot of Mount Homan, alive with 1350 years of history. Tamayori-bime is deified at this beautiful shrine, which is famous for its connection to marriage and love. Designed by a world renowned interior designer, the shrine has a stylish, modern looking omamori (amulet or charm) reception counter and proves tremendously popular with women. With Dazaifu known for Ume (plums) and "Kamado Jinja" for sakura, the area is often busy with people enjoying hanami (cherry blossom viewing), or climbing the surrounding mountains. During the autumn foliage, visitors can enjoy picturesque scenery, superb views and stunning landscapes. Fusing together ancient history and modern buildings, this shrine is truly a rare gem. So only one question remains, what do you think the Kawaii Ambassadors wished for?
Fukuoka Kawaii Trip ♥ Photo Gallery "Kamado Jinja (竈門神社篇)"
Kamado Jinja (竈門神社)
Address: 883 Uchiyama, Dazaifu-shi, Fukuoka-ken
Prayers received: 09:00-16:00
Omamori (amulet or charm) reception counter: 08:00-19:00
Telephone number: 092-922-4106
Official Website:
http://kamadojinja.or.jp/
PRESENTS
All the info. on asianbeat's present campaign!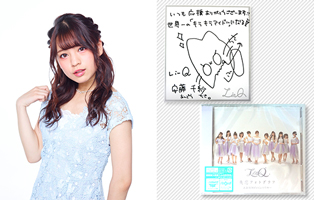 * Win a CD & a card signed by LinQ Chisa Ando!
[Details] Click
HERE
!