Fukuoka Kawaii Trip ♥ - Fukuoka Yokamon Hiroba (福岡よかもんひろば) -
Awaken your senses! See, feel and eat the best Fukuoka has to offer!
"Fukuoka Yokamon Hiroba" is located on the 11th floor of the Fukuoka Prefectural Office. On the northern side they not only sell and display local Fukuoka products, but also serve delicious food in the "Yokamon Café." Be sure to try their lunch menu, which is made with top notch locally sourced ingredients.

The southern side has tourist information for the prefecture, as well as easy-to-understand displays exhibiting charming, traditional handicrafts. It also offers a fantastic view that overlooks Higashi Koen Park below, with Mount Homan and the mountains of Chikushino areas in the distance. Whichever direction you face the scenery is fantastic, and with benches right beside the huge window where visitors can sit back and unwind, the Kawaii Ambassadors made sure to make the most of the environment and get a real feel for Fukuoka.
Fukuoka Kawaii Trip ♥ Photo Gallery - Fukuoka Yokamon Hiroba (福岡よかもんひろば) -
Fukuoka Yokamon Hiroba (福岡よかもんひろば)
Address: 11th Floor Fukuoka Kencho (Fukuoka Prefectural Office), 7-7 Higashi Koen, Hakata-ku, Fukuoka-shi
Hakata-ku, Fukuoka City East Park 7-7 Fukuoka prefectural office on the 11th floor
Opening hours: 08:30 to 17:15 (Weekdays)
(Yokamon Cafe opening hours: 08:30-17:15. Lunchtime: 11:30-14:00)
Telephone number: 092-645-1835
Facebook:
Fukuoka Yokamon Hiroba (Fukuoka Prefecture Products and Tourism Exhibition Room)
PRESENTS
All the info. on asianbeat's present campaign!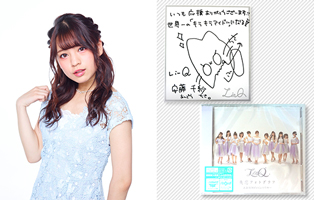 * Win a CD & a card signed by LinQ Chisa Ando!
[Details] Click
HERE
!