Fukuoka Otaku Map #02 Toy Collector(1/6)
Text/Interview:トク(1093)
■ One of the most impressive collections of otaku goods in Fukuoka
This is the second stop on the map for our tour of Tenjin Kita – one of the major otaku areas of Fukuoka.
The "Daiei Shoppers Fukuoka Store" is well known to the people of Fukuoka, and while it may appear that "otaku culture" is in no way connected to the commercial complex, there's actually a whole otaku utopia just waiting inside.
You'll find these otaku shops lined up along side insurance vendors and an event hall, and it's the stores of this peculiar space that we will introduce to you here.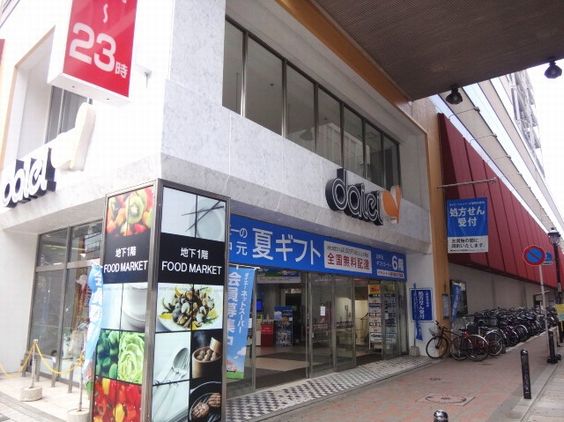 ● The shopping complex is mostly filled with items for everyday needs…
mostly
.
The store I visited is called "Toy Collector." You'll find it on the 6th floor, immediately to the side of the escalator in a long narrow space. Even from outside the store you can tell that the number of products they deal in is vast.
In this lineup of goods, of what is most likely a 10,000+ collection, you can find collectors toys (prize toys, the free toys that come with candy/food products, etc.), capsule toys ('
gachapon
'), figurines, trading cards and more.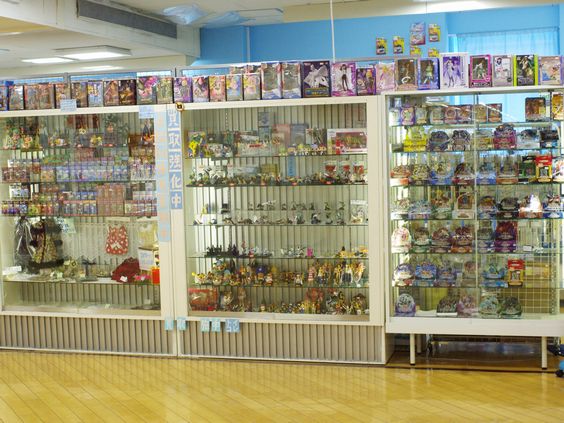 ● In the left of the photo is the far-stretching '
gachapon
' (capsule toy) corner (too far-stretching to fit in the photo!).
First up, let's take a look at the showcases. These are '
shokugan
' (free toys that comes with a particular candy or type of food product) of the world famous Japanese monster series, "Godzilla." They're only about 5cm tall but the modeling is superb and the detail of the wrinkles in the skin and the craftsmanship of the surface of the pedestal is really impressive.
The next thing to catch my eye was the "Shocker" figures. The underlings of the evil organization are depicted in various comical poses but the detailing is top-notch.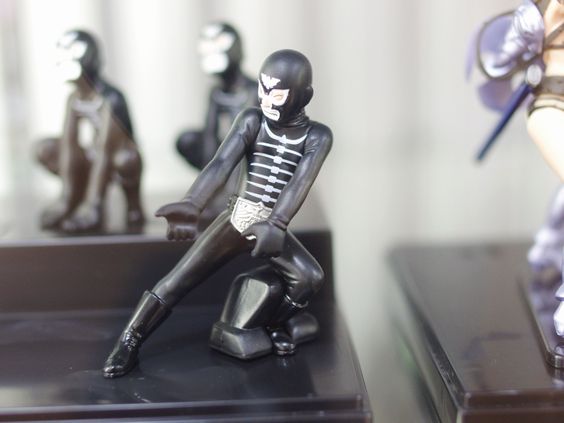 ● Love these figures!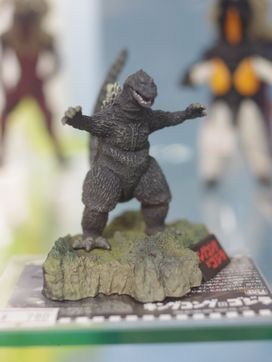 ● The world famous Godzilla. The coloring, the expression – flawless modeling beauty!
Owner and store manager, Tejima-san, used to make "garage kits" (small scale production model kits) as a model maker, so he's quite passionate and particular about the products he sells. He's so passionate, in fact, that he even made a real-life replica of the red motorcycle that Kaneda rides in Ootomo Katsuhiro's "Akira." He's recognized as the only person in the world to have made a real-life version that actually runs on public roads!
Check out this site for more info:
https://www.ana-cooljapan.com/contents/dreams/movie/bike/INT13071023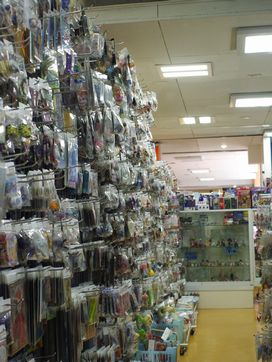 ● You're going to need a fair bit of time to go through this collection.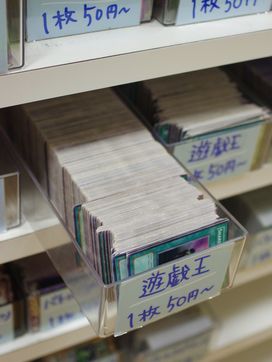 ● The setup is like a filing system for old records.
According to the store manager, "Toy collector is the indies label of Fukuoka's otaku shop industry! We stock items that the bigger shops don't. It's not about stocking goods from well-selling lines; our mission is to bring our customers modeled objects that have a soul, items that can be enjoyed regardless of generation or gender." Inside the store there's a trading card battle space, you can look through data books of all the different cards, collectors toys ('
shokugan
,' etc.) are sold individually – a range of services all offered with the user/buyer in mind.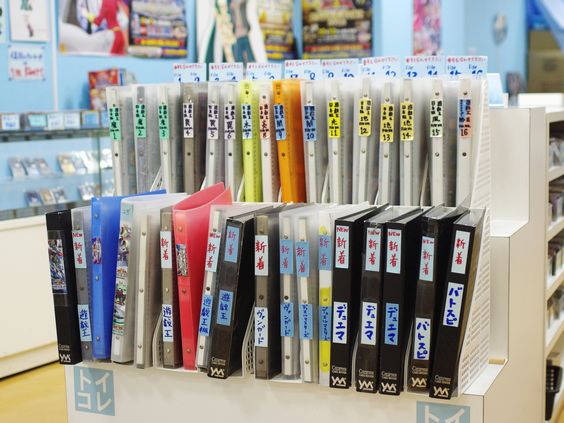 ● Trading card data books. These are worth a look!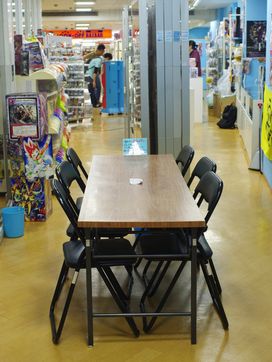 ● Space set up for trading card battles. They hold events here too.
I asked the manager for his most recommended item. That would be the collector toys and capsule toys from "choco-eggs" and 'gachapon,' he told me. There are the anime character modeled toys, but there are also the educational ones that have been modeled on cultural items, so they can be fun for children and adults alike. At the moment, the mushroom, crab and cicada series have been quite popular, with a lot of female fans in particular, apparently. After hearing that "Girls will come, buy a polka dot frog, then go," I was a little skeptical, but after seeing the quality of the designs and how life-like these toys look, I was satisfied.

In summary, this is a great store filled with the passion and sentiment of its owner and overflowing with unique items that you won't find anywhere else in Fukuoka.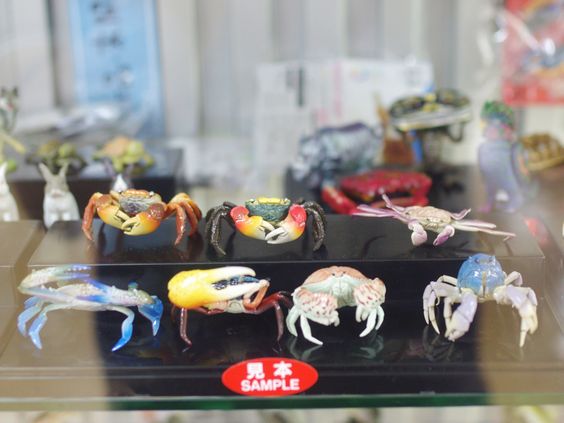 ●
Gachapon
–
Nippon Kani Daizen
series. They even have moveable claws!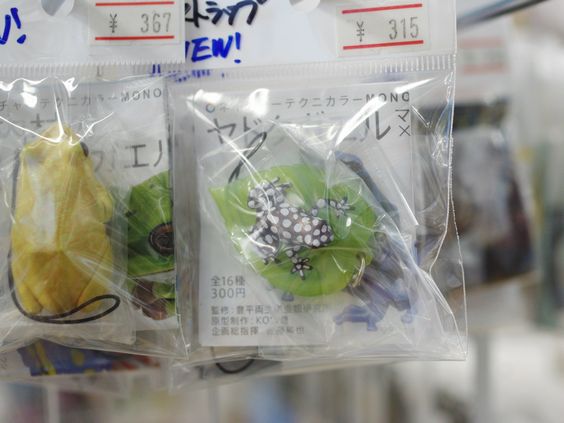 ● The manager recommends the
Nature Color
series.
Toy Collector is HERE!
Toy Collector (Toycore)
■Products: Collection toys, Capsule toys, Figures, Trading cards
■Service: Duel Space
■Address: AEON Shoppers Fukuoka 6F, 4-4-11 Tenjin, Chūō-ku, Fukuoka-shi, Fukuoka Prefecture
■TEL:092-731-7072
■Business Hours:11:00 - 20:00 (Open daily except otherwise noticed)

*All information correct as of October 2013.