Menya Maruichi Torimachi Honten (麺家 まるいち 鳥町本店)

Original noodles made using Fukuoka Prefecture "ra-mugi!"
The tonkotsu (pig bones) used for the soup are cooked in one go using a unique pressure cooker, which draws out the umami, yet has almost no smell at all. This restaurant boasts a tonkotsu stock that is so tasty you will want to drink up every last drop. Their unique noodles are made using 100% "ra-mugi,(wheat made exclusively for ramen)" which has been grown in Fukuoka Prefecture specifically to make ramen. Diners can choose from two types of noodle, medium/thick or thin! Whatever takes your fancy!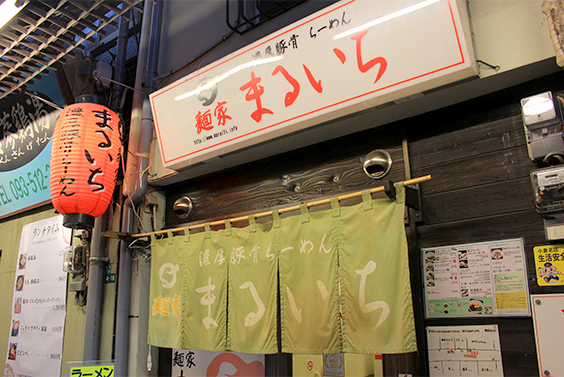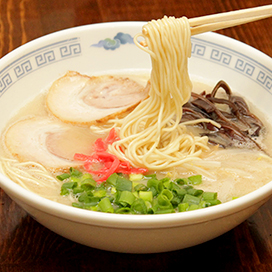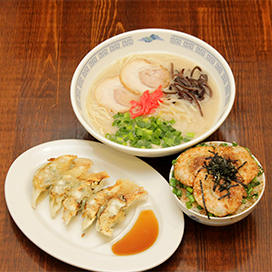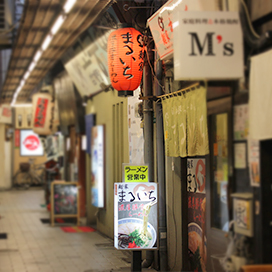 With 70 years of history, "Menya Maruichi" is a well-known restaurant in "Torimachi Shokudogai," which has stood since the Showa period. It is well-worth tasting their stock, which is rich, but not too heavy.

It is specifically worth giving their "Tokusei (Special) Maruichi Ramen" (850 yen) a go! Topped with various Kyushu ingredients, this excellent dish was born out of the wish of someone travelling through the area who wanted to eat a bowl of Kyushu-style tonkotsu ramen and feel a 100% satisfied!

If you are a fan of Fukuoka's culture of kaedama (second servings), make sure to try both the thinner and thicker noodles (one for each helping). The menu also includes side dishes, such as "Aburi Char Siu Don" (rice topped with roasted pork fillet).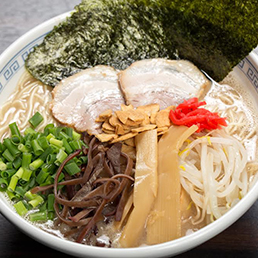 Menu
Maruichi Ramen ...650 yen (Mini ...380 yen)
Maruichi Aka (red) Ramen ...700 yen
Additional Toppings (boiled egg, spring onions, bean sprouts, 3 pieces of char siu, wood ear mushrooms) ...100 yen (each)
Kaedama (second serving) ... 100 yen
Tokusei Gyoza (special dumplings) ...300 yen (5 pieces)
Aburi Char Siu Don (rice topped with roasted pork fillet) ...380 yen (large), 400 yen (large with spring onion), 280 yen (mini), 300 yen (mini with spring onion)
etc.
Menya Maruichi Torimachi Honten (麺家 まるいち 鳥町本店)
Torimachi Shokudogai 1-4-16, Uomachi, Kokurakita-ku, Kitakyushu-shi, Fukuoka-shi
Telephone number: 080-4487-0225
Number of seats (capacity): 13 seats
Opening hours: 11:00-15:00/17:00-01:00 (weekdays) 11:00-25:00 (weekends)
Closed: Monday
* All information correct as of August 2016.
Related Articles