Ramen-ya Hourin - Haruyoshi Branch (らーめん屋 鳳凛 春吉店)

Ramen-ya Hourin - Haruyoshi Branch (らーめん屋 鳳凛 春吉店)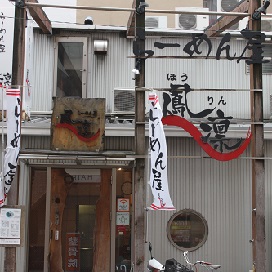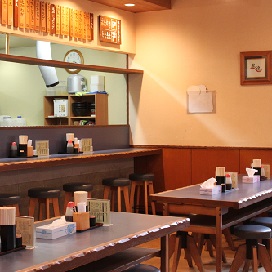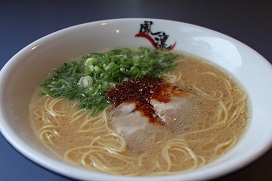 Soup: 100% tonkotsu soup. It has a rich, hearty flavor with a light after-taste.
Noodles: Hand-made straight, thin noodles. You can choose from "cho-kata" (super hard), "kata" (hard), "kihon" (regular), or "yawa" (soft) noodles.
Karamidare: It's not just hot; it's flavorsome and adds another dimension to the taste. The flavor of the soup changes completely depending on how well the karamidare (spicy sauce) is mixed in. You can choose whether you want "oome" (a lot), "kihon" (regular serving), "hanbun" (half serving) or "nashi" (none) of the karamidare too.
Topping: The most popular topping is the "ajitsuke tamago" (seasoned egg). The yolk is nice and gooey.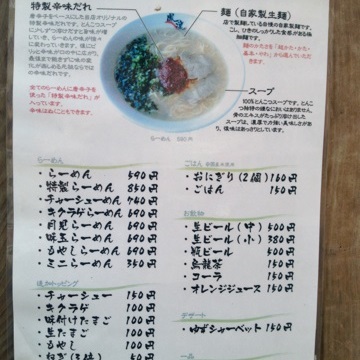 [Menu]
Ramen…¥590
Special Ramen…¥850
Char siu Ramen…¥740
Kikurage Ramen…¥690
Tsukimi Ramen…¥690
Ajitama Ramen…¥690
>> The most popular ramen!
Moyashi Ramen…¥690
Mini Ramen…¥350
Kaedama (extra noodle)…¥350
Mini Kaedama…¥60
Gyoza…¥350  etc..
Ramen-ya Hourin - Haruyoshi Branch (らーめん屋 鳳凛 春吉店)
Address: 3-21-15 Haruyoshi, Chuo-ku, Fukuoka City, Fukuoka Prefecture
TEL: 092-716-6755
* All the information is as of January 2014.
Related Articles