Number One Nagahama Branch (ナンバーワン長浜店)

Number One Ramen… A taste that has long been loved!
As the name suggests, the Number One ramen restaurants have a reputation for being some of the most popular around the Nagahama area! This branch carries on the yatai spirit. The tonkotsu (pork bone) soup is a little bit lighter than it looks, while the delicious super thin noodles are a sign that you are being served a traditional bowl of Nagahama ramen! And that's not all, one of the standout items on their menu are the handmade gyoza (dumplings) that are made using fresh vegetables, domestically sourced minced pork, and an exciting mix of nine condiments! So, make sure to visit Number One Nagahama to enjoy delicious dishes that has long been loved!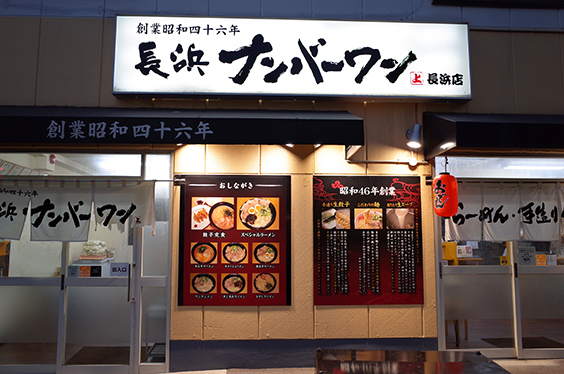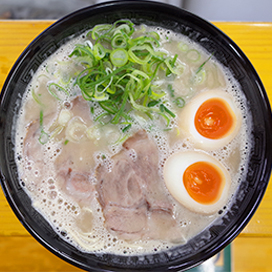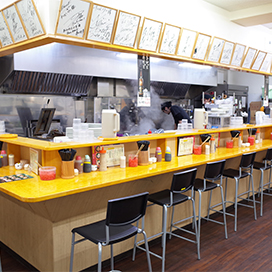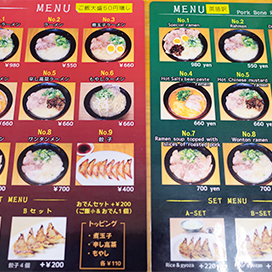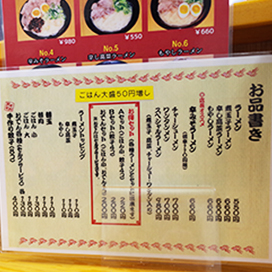 Menu
[Ramen Dishes]
Ramen: 550 yen
Special Ramen: 980 yen
Nitamago Ramen: 660 yen

[Set Menu]
*Served with one of the ramen dishes
Rice and Gyoza (Dumplings): 220 yen
Gyoza (Dumplings) (4 pieces): 200 yen

[Individual Dishes]
*Gyoza served without a ramen dish
Gyoza (Dumplings): 400 yen

[Extra Toppings]
Nitamago and various other choices: 110 yen (each)
Number One Nagahama Branch (ナンバーワン長浜店)
Address: 2-5-22 Nagahama, Chuo-ku, Fukuoka-shi, Fukuoka-ken
Telephone Number: 092-725-5545
Opening Hours: 10:30-05:30
*All information correct as of March 2016.

Related Articles