Ramen stall Pyonkichi (屋台屋 ぴょんきち)

Ramen stall Pyonkichi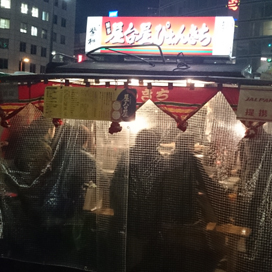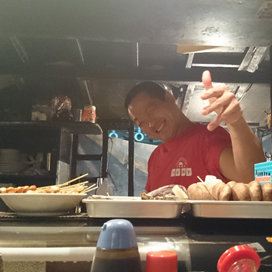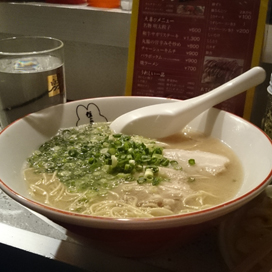 When we inquired what the most popular thing on this menu at this restaurant was, we were told that it really depends on the person and can span from "Ramen", "Mentai Gyoza (Mentai Fried Dumplings)" to "Bara Bokkeum (Fried Ribs)" or "Yaki Ramen (Fried Ramen)."

The owner did mention, however that you can't go wrong with the "Ichioshi" (top item on the menu).
For women, he recommends trying the collagen-rich pig's foot.

He is a very lively man, who seems to love going around and having a chat with his customers.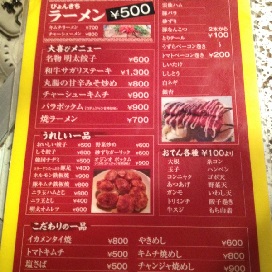 [Menu]
Pyonkichi Ramen…¥500
kimchi Ramen…¥700
Char siu Ramen…¥800

Mentai Gyoza…¥600
Japanese Beef Sagari Steak…¥1,300
Char siu Ramen…¥800
Sweet and Spicy Fried Miso Marucho (Intestine)…¥800
Char siu Kimch…¥900
Bara Bokkeum…¥900
Yaki Ramen…¥700

Tonsoku (Pig's trotters)…¥400 etc.
A Guide to Some of the Best Food Stalls (in Fukuoka)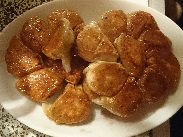 Mentai Gyoza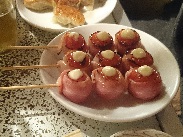 Tomato roll with bacon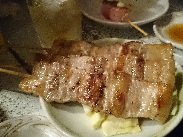 Pork libs (Buta-Bara)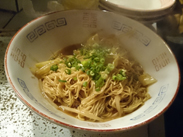 Yaki Ramen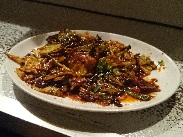 Bara Bokkeum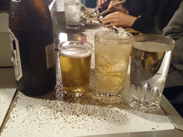 Drinks
Ramen stall Pyonkichi (屋台屋 ぴょんきち)
Address: 1-4-1 Tenjin, Chuo-ku, Fukuoka City, Fukuoka Prefecture (In front of Daimaru Department Store)
TEL: 090-8911-6582
* All the information is as of Feburary 2014.
Related Articles