Story & Film Information

The manga has left its mark worldwide, now get ready for the electrifying live-action version!
The manga "Shingeki no Kyojin ATTACK ON TITAN," which depicts a jaw-dropping world of immense size and scale, has had a huge impact on its readers, and now finally has been made into a live-action feature film! Some of Japan's most creative and innovative leaders across various fields, including Hajime Isayama (creator), Shinji Higuchi (director) and Katsuro Onoue (special effects director), have joined forces with a stellar cast featuring Japan's top acting talent. Haruma Miura leads the pack as Eren, one of films key protagonists.

The long awaited first volume of this film series "Shingeki no Kyojin ATTACK ON TITAN," which was filmed together with it's sequel, has been creating a huge buzz and received a great reception since it finally premiered on August 1st in Japan. The story, which depicts an awe-inspiring world, where the peaceful tranquility of everyday suddenly comes to a crashing halt as humankind engage in all out warfare with giant Titans, will unfold with the release of the second film on September 19 in Japan! This live-action "giant" of a project, which is garnering a great deal of attention both in Japan and overseas, is something you are just going to have to experience for yourself!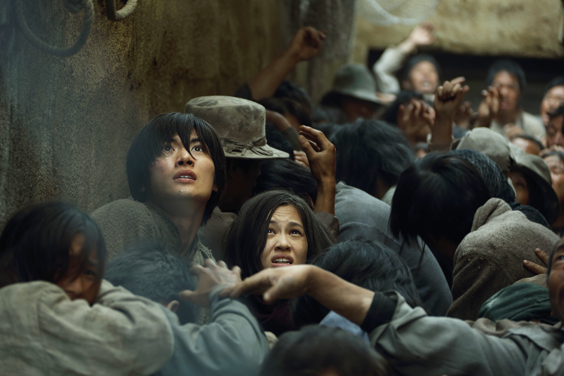 ©2015 映画「進撃の巨人」製作委員会 ©諫山創/講談社
その日、人類は思い出した―。
That day, humanity remembered...
百年以上前、突如現れた巨人たちに、人類の大半は喰われ、文明は崩壊した―。
100 years ago, Titans appeared and devoured almost all of the human race,
leaving civilization on the brink of complete annihilation.
この巨人大戦を生き残った者たちは巨人の侵攻を防ぐため、
巨大な壁を三重に築き、内側で生活圏を確保して平和を保っていた。
In order to defend themselves against the attack of the Titans, the small number of humans who survived this great battle, constructed three giant concentric walls and managed to live peacefully within the barricades.
だが百年、壁が壊されなかったといって、
今日、壊されない保証はどこにもない―。
Even though the fences have not been never breached for 100 years,
There are no guarantees they won't be falling today...
まだ見ぬ壁外の世界を夢見るエレンは、
壁に守られ安穏と暮らす人々に日々苛立ちを募らせていた。
しかし、そんな日常はある日、音を立てて崩れ去る―
Eren dreams of seeing the outside world,
and has grown increasingly frustrated at spending day-after-day quietly living inside the walls,
however, on a day like any other, a huge crashing sound sends shock waves throughout the land.
想定外の超大型巨人によって壁は破壊され、
穿たれた穴から無数の巨人が壁の中へと侵入してきたのだ。
無残に喰われていく人々。響き渡る断末魔。
The barriers are brought crumbling down by Colossal Titans,
And with the fortification broken, a countless number of Titans storm their way through,
cruelly eating large numbers of humans in cold-blood. The screams of death reverberate far and wide.
長年にわたる平和な代償は、惨劇によって支払われることとなった―。
Humanity is about to pay the tragic price of spending years in peaceful tranquility...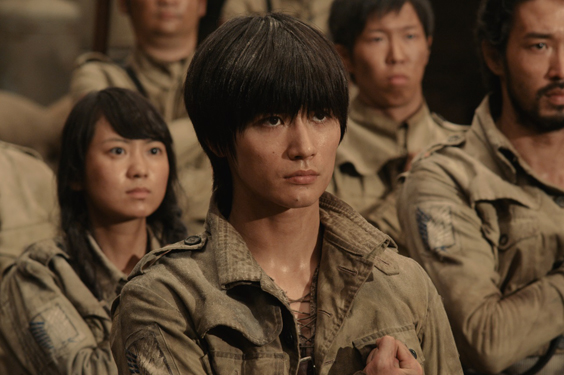 ©2015 映画「進撃の巨人」製作委員会 ©諫山創/講談社
[Project Beginnings]
Hajime Isayama's comic "Shingeki no Kyojin ATTACK ON TITAN," which won the Shonen category at the Kodansha Manga Awards in 2011 and has been serialized in the Bessatsu Shonen Magazine (a spin-off of Weekly Shonen Magazine) since 2009, tells the story of truly shocking world. Since early on there has been numerous production companies, including film and television companies, competing for the film rights to create a live-action version of this world famous manga.
Amidst all this interest and speculation it was decided in the autumn of 2012 that the film adaptation would be directed by Shinji Higuchi. Director Higuchi was aware of the story from the early stages, "when volume 2 of the comic came out, I was fascinated and got totally drawn in by the huge, human-like Titans on the front cover. The 3-D Maneuver Gear, which the characters use to fight the giant Titans and makes them look half-human, half-robot, also caught my eye. It was the combination of all these factors, many of which I hadn't seen before, that really got me interested in the series. So the two things that I found really interesting were the giants and the 3-D Maneuver Gear. And as I have a great deal of enthusiasm for "Kaiju," I wanted to see it replicated into a live-action film, and possibly directed it myself.
At that time director Higuchi decided to adopt a kind of hybrid system of VFX. Using computer graphics and human-actors to depict the Titans, and tokusatsu (a Japanese form of special effects, which makes use of miniature sets). As well as physical effects, which employs a number of people to operate the Colossal Titans, in much the same way as Bunraku puppets (a traditional form of Japanese theater in which performers operate puppets.)
"It would have been possible to create the Titans using only computer graphics alone, but above all else we wanted to create physiologically scary giants that really get in your head, and we came to the conclusion when developing the Titans that we weren't sure whether it was the right move to finish them off using computer graphics. There was a possibility that once we finished we wouldn't be happy with what we'd created and then it would be too late. We got people to perform in make-up, and felt that we would be able to really touch-up and tamper with their proportions. We tested out this method in the summer of 2013 and felt really confident that this was the way forward. The two people who played the role of the giants in our tests, also appear in this film."
The bunraku-like physical effects that were used to operate the Titans in the upcoming movie took the special effects that were used in the director Higuchi's 2012 short film "Kyoshinhei Tokyo ni Arawaru" as a point of reference. It was during this process of deciding what methods to employ for the visual effects, that the idea suddenly came to director Higuchi of of using Hashima Island (which is commonly known as "Battleship Island" or "Gunkanjima"), Nagasaki Prefecture, a place he had visited some years early, as a location that had the appropriate characteristics for shooting the live-action film "Shingeki no Kyojin ATTACK ON TITANS."
From the Meiji period through to the Showa period, Battleship Island prospered as an undersea coal mine. After its closure in 1974, the city fell into total disrepair and within these ruins director Higuchi saw a location that is depicted in the original manga, a place where humanity is totally cornered with no way out. And it was from this initial idea that filming truly got underway.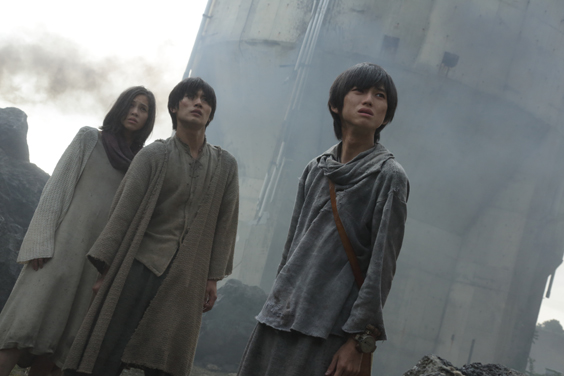 ©2015 映画「進撃の巨人」製作委員会 ©諫山創/講談社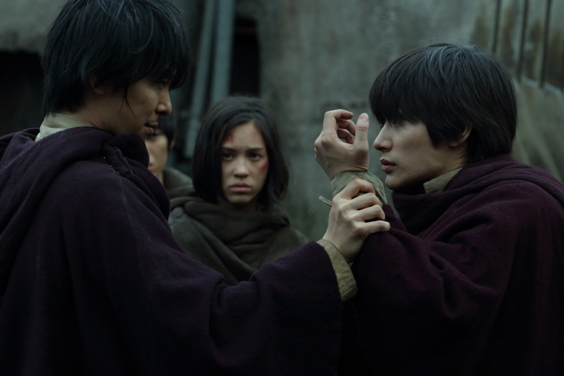 ©2015 映画「進撃の巨人」製作委員会 ©諫山創/講談社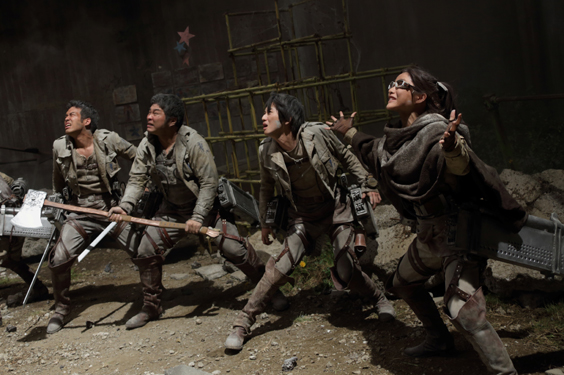 ©2015 映画「進撃の巨人」製作委員会 ©諫山創/講談社
PRESENTS
All the info. on asianbeat's present campaign!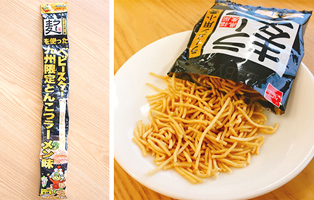 * Win a packet of "Ramugi Baby-Star (Kyushu limited edition tonkotsu ramen flavor)"!
[Details] Click
HERE
!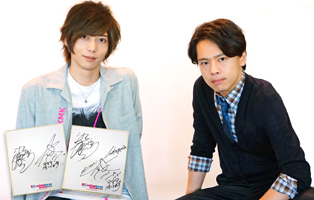 *Win a card signed by Akinori Nakagawa & Toshiyuki Someya!
[Details] Click
HERE
!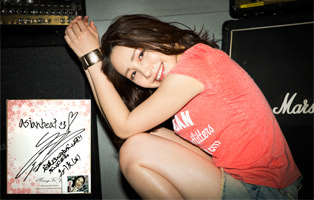 * Win a card and a cheki (photo) autographed by You Kikkawa!
[Details] Click
HERE
!