MANDARAKE: your one-stop otaku goods shop!(1/2)
MANDARAKE was established in 1987, and with 11 stores located all around Japan, it has grown into what is arguably the largest otaku goods chain in the world.

This is "Otaku"oka - Part 2 - MANDARAKE
The MANDARAKE store in Fukuoka moved to Daimyo at the end of April this year and is now just a convenient 2 min walk from Tenjin Station (exit no.1) and a stone's throw (quite literally) from Akasaka Station. Inside the two storey complex everything is divided into their relevant categories. On the first floor you'll find CDs, DVDs, manga, anime, figurines and video games. On the second floor, cosplay attire, manga for girls, girl's doujin (fan-published) manga and male idol collectables. MANDARAKE specializes in retro and rare, hard-to-find items, so if you're a collector of a particular series of figurines or manga (or just about anything really!) than you definitely won't want to overlook this store! It truly is an otaku wonderland!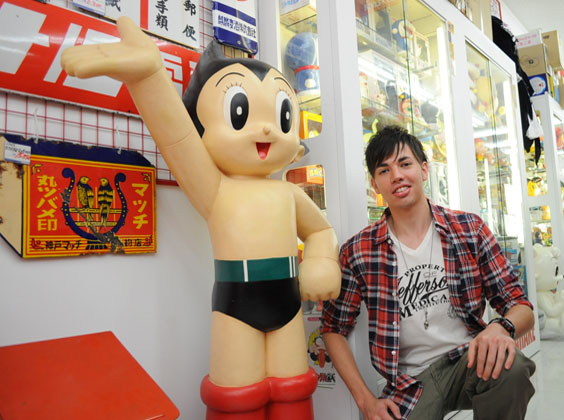 Most of the items that MANDARAKE stock are second-hand. The manga seems to vary in levels of condition and quality but the figurines, for the most part, are still in their original packaging! The isles are literally overflowing with toys and figurines, both retro and modern, and not limited to items originating from Japanese manga/anime series either; there were plenty of good-old American favorites like Batman, Star Wars, Ninja Turtles, etc. buried amongst it all too. The glass case items come with glass case price tags, obviously, but the items stacked in the isles come at a mere fraction of the original prices! If you dig around for long enough you're bound to strike gold eventually.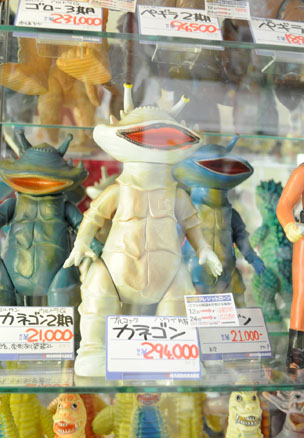 ● Kanegon...your price tag befuddles me.
As MANDARAKE deal in secondhand items the stock in each store is different. According to the staff, the hardcore collectors will regularly go on an otaku goods "pilgrimage" of sorts, travelling around to each of the stores scattered all over the country, in seek of those elusive "rare gems." I asked the staff at the store I visited to direct me to their most prized possession, and surprisingly, it turned out to be this strange creature from the Ultraman series known as "Kanegon." This particular Kanegon was originally released in Hawaii and therefore somehow adds to the value…but 294,000 Yen!? ($3000) I also noticed a much smaller placard attached to the price tag informing potential buyers of the 12 month and 24 month loan scheme available in case they don't want to (or more likely, ) pay the full amount upfront…
⇒ This is "Otaku"oka - Part 2 -
MANDARAKE cont'd!