[Report from A.s.Kitsune in Taipei] Interview with Famous Needlework Designer Ikeuchi-san and his Experience in Japan
Hi, A.s.Kitsune here from Taiwan!
In this report, I'd like to introduce a designer Ikeuchi-san who graduated from Japanese Bunka Women's University and Graduate School, Faculty of Fashion Science. Ikeuchi-san (Real name: Hou Shiyuan) is originally from Taiwan and is currently running his own embroidery design studio in Taipei. In 2012 executive Yuan of Taiwan's Council of Labor Affairs produced a film centered on young business-people. This film clearly showed Ikeuchi-san's dreams and struggles as a young entrepreneur.



In this report we'll take a look at what effect the culture shock brought on by the experience of studying in Japan has had on Takeuchi's creative work and embroidery design.
I always loved drawing, ever since I was a child. Originally I wanted to be a tattoo artist!
Q(Kitsune):What was your major in university in Taiwan?
A(Takeuchi): I studied metalwork, using silver and copper to to make craft pieces.

Q :Why did you decide to study in Japan?
A: I've always been interested in the beauty of the whole body and doing a total coordination. I can make metallic accessories so why not clothing? That's what I was asking myself, and I did my best to study abroad in Japan. I thought that the fashion industry in Japan was the most intense and interesting.

Q :What was the reason for going to Bunka Women's University?
A: Bunka Women's University* has an 80 year history and is Japan's number one fashion school. It's also a sister school to Taiwan's Shih Chien University. The well known Yohji Yamamoto and Rei Kawakubo are both products of this relationship.

*Bunka Women's University changed its name to "Bunka Gakuen University" in 2011.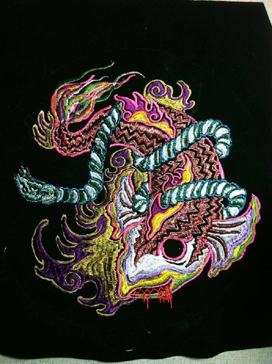 Q :What are the differences between Bunka Women's University and the universities in Taiwan?

A: I think both Japanese and Taiwanese institutes give students a basically free environment. However, Japanese schools educational plan is to guide students towards new challenges. Ideas are so important, thinking up something and making everyone's eyes light up is really fun. You're taught to take on more and more new challenges and throw away your old ways of thinking.
Q:Why did you choose to focus on embroidery?

A: I've loved drawing ever since I was a child. Originally I wanted to become a tattoo artist but my parents opposed it. Thinking about it, I didn't want to anger my parents so I gave it up. However, I didn't really want to give it up so I thought I'd take up embroidery. In the end, I resumed using a needle to produce images, just like tattooing.

Q:Do any of your design pieces draw inspiration from your experience in Japan?

A: Getting back to basics as well as pursuing new things, but more than that, putting together new things with my traditional culture and making something else new is one of the important things I learned. My whole way of thinking changed. And the reason why I changed my thinking: I realized that if I could do that, I could do even more.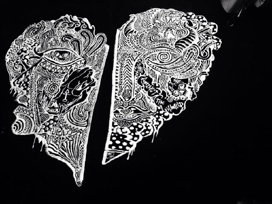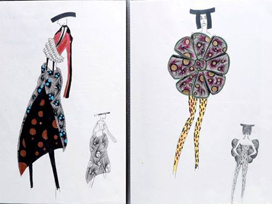 Q: Are there any parts of Japanese culture that you consciously try to put into your work?
A: Defiance, cynicism, rebellion, splendor, disconnection, conflict, ambiguity.
Japan has many different ways to express extremes. Love and anger, it's all the start of something beautiful, just like women going on to wear some of my clothing pieces.

Q: How do Japanese crafts and culture exist together with your art?
A: It's affected by Japanese ways of thinking and doing, rather than Japanese techniques. I love the attitude of choosing the raw materials and then steadily building something up.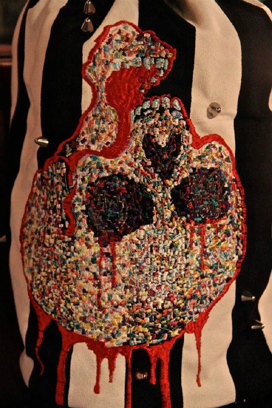 Q: When you were in Japan did you have a private design studio for your embroidery?
A: Back then I didn't have much money so I worked in a very small space. I had to make do with limited resources but even so it was really fun. Now here in Taiwan I have my own studio, in comparison it's way more convenient but remembering everyone working so hard is definitely nostalgic.

Q :Tell us about the art work you had nominated for the 83rd SOEN Award?
A: I was just starting out in making clothes so I was totally uninhibited with my expressions. I felt I could change the body's shape freely.I did a design where I imaged making it like an insect. At the time I had an interest in embroidery too I used lots of colors add on the patterns of faces. Unexpectedly having my first attempt nominated for the SOEN Award was a huge encouragement.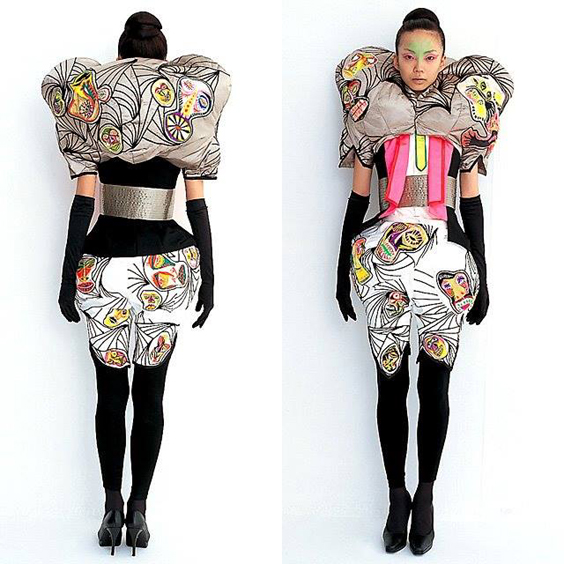 ▲The art work nominated for the 83rd SOEN Award. SOEN Award is a longstanding, respected fashion competition in Japan.
Q: Of your recent works, which one is the best showcase of Japanese needlework?
A:It's a piece which viewed one way looks like a skull, but if you look more closely there are many overlapping animals embroidered with complex vivid colors. It's a comparatively big work so I spent a long time working out the color scheme. When I was studying in Japan my teacher gave me advice on my plans for the design, this design draws on the patterns of Ukiyo-e and Nou(traditional Japanese masked dance-drama) performer's clothes. Going from the original disorganised patterns and fixing it up pulls out new abilities in yourself.

Q: And finally, what is your message for all the designers studying in Japan?
A: In the future, let's meet in the fashion world!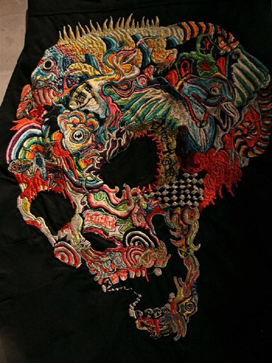 Overseas correspondent A.s.Kitsune PROFILE

A.S.Kitsune resides in Taipei Taiwan and has a broad interest in Japanese youth culture. She was appointed the Taiwanese Kawaii Ambassador in April 2013 and now strives day and night to expand the cultural links between Japan and Taiwan.
A.s.Kitsune's Facebook